News Archive 2022
News Archive 2022
Congratulations BSc Medical and Health Sciences Class of 2022: First graduates of this new multidisciplinary programme

Congratulations to the first graduates of the new CK707 BSc Medical and Health Sciences, who will be conferred with their degrees at the College of Medicine and Health Conferring Ceremony on Friday 28th October 2022.
This innovative and exciting new cross-College BSc degree programme in Medical and Health Sciences (CK707) was conceived and developed by a team led by Professor Aideen Sullivan, Department of Anatomy and Neuroscience. With its first student intake in 2018, the course has attracted students with a keen interest in the biosciences and in medicine and health. It provides students with an in-depth scientific knowledge of the medical and health sciences, state-of-the-art research methods, and an insight into how research impacts human health and medicine.
Speaking about the success of the BSc Medical and Health Sciences, Professor Aideen Sullivan, Academic Director, explains that the innovative programme was designed to have a strong focus on research and is very successfully taught by research-active academics in a wide range of disciplines spanning the biological and medical sciences. Feedback from students has been very positive; they have enjoyed receiving up-to-date current knowledge in the fields of biomedical, clinical, and public health sciences, while also being encouraged to foster their own analytical study skills and critical thinking.
Professor Sullivan congratulates the class of 2022 as they begin careers in the medical, pharmaceutical and healthcare sectors, and embark on their journeys to develop and implement innovative healthcare of the future.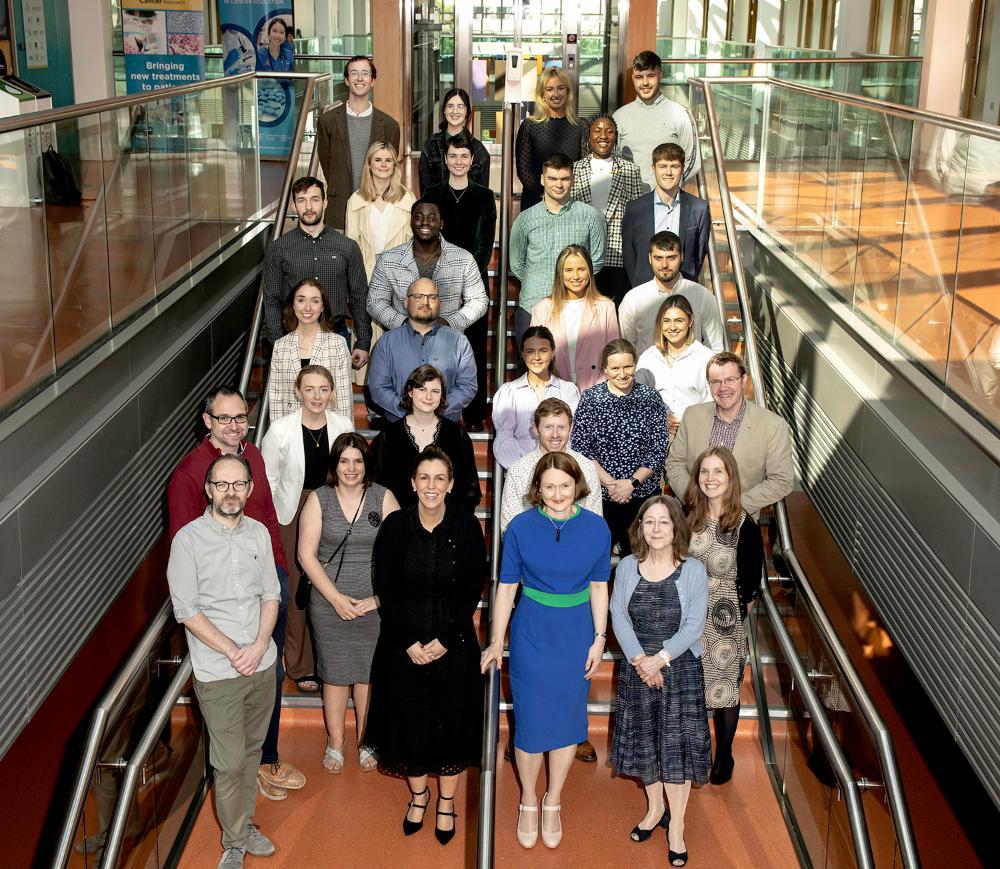 Photo: BSc Medical and Health Sciences Academic staff with 2022 graduates (back row from left to right)
● Daniel Joyce, Alanna Denny, Maedbh Heaney, Paddy O'Brien,
● Fionnuala Wilson, Chelsey Minehane, David O'Keeffe, Joan Omosefe Osayande, William O'Connor,
● Ruslan Volkov, Clinton Gbolahan, Ciara Leahy, Isaac Sylvester,
● Sally Anne Murphy, George Crombie, Eimear Kelly, Dr Collette Hand, Ava O'Flynn, Professor Ken O'Halloran,
● Professor Gerard O'Keeffe, Aoife Casey, Ciara Gavin, Dr Cian Mc Cafferty, Dr Karen Matvienko-Sikar
● Dr Cathal McCarthy, Dr Róisín Kelly-Laubscher, Dr Louise Collins, Academic Coordinator, BSc Medical and Health Sciences, Professor Aideen Sullivan, Director, BSc Medical and Health Sciences, Professor Clare Stanford, Professor of Translational Neuropharmacology UCL (External Examiner)
For more on this story contact:
News story and photographs Bereniece Riedewald