News 2020
News 2020
Women in STEM Panel Discussion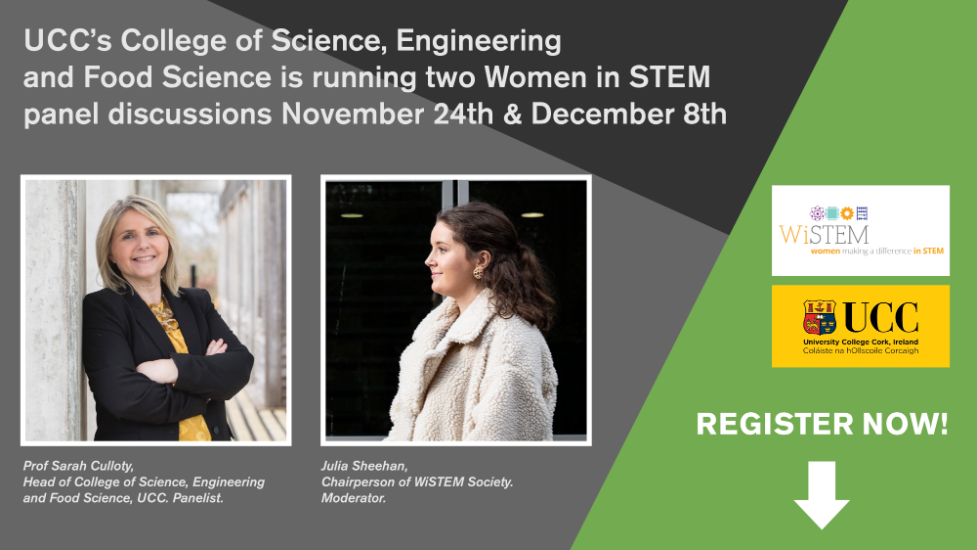 From Astronauts to Zoologists – A UCC STEM degree leads to some of the most exciting and rewarding careers on the planet.
Our understanding of Science, Technology, Engineering and Mathematics is of fundamental importance to the way in which humankind, and this planet we call home, will develop during the 21st century and beyond.
Exciting careers await female graduates of UCC's College of Science, Engineering and Food Science. On 8th December, the College will host a short panel discussion where female scientists, technologists, engineers and mathematicians will talk about their fulfilling careers and the way in which they have had a significant impact in areas such as health and the environment.
Register for Tuesday 8th December – Panel Discussion at 18.00 GMT.
https://conference.ucc.ie/women-in-stem-panel-webinar-2/international/Site/Register
This is a great opportunity for undergraduate and postgraduate students to learn more about career options after college.
Julia Sheehan, Chair of the WiSTEM Society here in UCC, will be moderating the panel.
The Panellists are as follows:
Prof Sarah Culloty, Head of College, Science, Engineering and Food Science, UCC
Dr. Kellie Dean, College Lecturer & Researcher, School of Biochemistry and Cell Biology, UCC
Dr. Denise Gabuzda, College Lecturer & Researcher, Department of Physics, UCC
Dr Michele Conroy, Science Foundation Ireland (SFI) Analog Devices Research Fellow at the University of Limerick
Ms. Ali-Rose Sisk, CEO of SafeCare Nursing Software, PhD student at the Faculty of Brain Science, University College London