News 2020
News 2020
Lilly Research Scholarship Winners 2020-2021 Announced
Many congratulations to James Harte, BSc (Hons) and Aoife Slyne, BSc (Hons), winners of the 2020-2021 Lilly Research Scholarships.
Professor Sarah Culloty, Head of the College of Science, Engineering and Food Science, extended her congratulations to the recipients. "Both students have excelled in their chosen field and the College is very proud of James and Aoife, recognising the commitment — the early mornings and late nights — that has brought them the success they deserve. All of our students are constantly stretching academic boundaries, both for themselves and for the staff who teach them, and this has a hugely positive impact on the College and our research. I would like to thank Eli Lilly for their continued support of the College of Science, Engineering and Food Science; initiatives like the Lilly Research Scholarships enable our high performing students to reach their potential by undertaking research at the highest levels."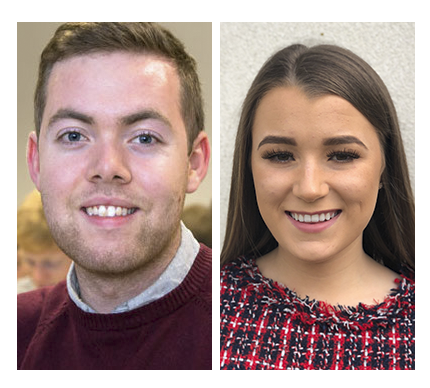 James Harte is early-career medical scientist, with a strong desire to leave a positive, long-lasting impression on clinical decision-making through a combination of laboratory medicine, advanced practice and academic research. In 2019, James graduated from Cork Institute of Technology and University College Cork with a first-class honours degree in Biomedical Science. During his time as a student, James established a strong record of academic excellence: he was awarded the highly competitive Quercus University Scholarship (2017) and, upon graduation, was awarded two Best Student Awards (2019). He also has well-documented experience with independent, interdisciplinary research, including a prestigious, internationally competitive Amgen Scholarship (2018) that enabled him to conduct research at the University of Cambridge. Most recently, James was awarded his Diploma in Clinical Laboratory Practice, and is currently working in the Haematology Department at Cork University Hospital. He also has a keen interest in teaching and learning, working as a mentor and tutor to students at second- and third-level. One day, he hopes to lecture in medical science. Under the Lilly Research Scholarship, James is delighted to advance his academic career, under the supervision of Dr Justin McCarthy (School of Biochemistry and Cell Biology, University College Cork) and Dr Caroline Vaughan (Department of Biological Sciences, Cork Institute of Technology). His research aims to investigate the role of a novel gamma-secretase substrate in the pathogenesis of SARS-coronavirus-2, the causative agent of COVID-19, in an effort to define molecular pathways for SARS-coronavirus-2 transmission and therapeutic intervention.
Aoife Slyne will graduate with a First Class Honours BSc (Hons) degree in Physiology in October 2020 from the College of Science, Engineering and Food Science, University College Cork. During her undergraduate degree, Aoife displayed a passion for biomedical science and a strong desire to deliver high quality scientific research. Aoife received the Physiological Society Undergraduate Award for her performance in her final year research project, entitled "Respiratory muscle dysfunction in the mdx mouse model of muscular dystrophy: Role of NADPH oxidase (NOX)?". In July 2020, Aoife presented her research findings at Future Physiology 2020, a meeting of The Physiological Society (UK & Ireland), during which she received the Rob Clarke Abstract award and the Rob Clarke Presentation Award from The Physiological Society. Aoife is honoured to be a recipient of a Lilly Research Scholarship and is delighted to have the opportunity to pursue postgraduate training at University College Cork. Aoife will continue research in Duchenne muscular dystrophy (DMD), a genetic disease characterised by an absent structural protein, dystrophin, which is ordinarily expressed in muscle and nerves. DMD is characterised by profound skeletal muscle weakness, which extends to the muscles of breathing. Aoife will pursue an ambitious line of enquiry, seeking to examine neuromuscular control of dystrophic muscles in pre-clinical models of DMD, with the aim of targeting deficits within the system using genetic approaches designed to protect and improve breathing in DMD. This project will be supervised by Dr David Burns and Professor Ken O'Halloran, University College Cork.
The Lilly Research Scholarships were established to promote research excellence in one of the following disciplines: Chemistry and Pharmaceutical Sciences; Biotechnology related areas and Chemical Engineering. These scholarships aim to support students and integrate them into the academic, social and cultural aspects of University College Cork. First offered in 2017-2018, the scholarships are targeted at high performing students proposing to undertake impactful research at the highest level in the broad areas of these disciplines, under a supervisor or supervision team with significant experience in the area.