SCENARIO
SCENARIO

Paving the way towards a performative teaching, learning and research culture
Welcome to SCENARIO!
Explore our site to find out more about what we do and why and how you can encourage performative teaching, learning and research in your part of the world.
There are 5 distinctive pillars of SCENARIO around which we base our activities:
SCENARIO JOURNAL
SCENARIO BOOKS
SCENARIO FORUM
SCENARIO ARCHIVE
SCENARIO CORRESPONDENTS
SCENARIO's strategic priorities are reflected in the RECOMMENDATIONS FOR A PERFORMATIVE TEACHING, LEARNING AND RESEARCH CULTURE which arose from the 6th Scenario Forum Symposium (21-22 September 2018).
The German version of the recommendations can be accessed here: EMPFEHLUNGEN ZUR FÖRDERUNG EINER PERFORMATIVEN LEHR-, LERN- UND FORSCHUNGSKULTUR
7th Scenario Forum Symposium – marking Manfred Schewe's retirement
Dear colleagues,
It is with great pleasure that we are announcing the following event:
7th Scenario Symposium: Principles and Perspectives in Performative Teaching and Learning
Saturday, May 4th, 2019, Creative Zone, Boole Library, University College Cork, Ireland
Please register here as soon as possible and by April 19th, 2019: https://goo.gl/forms/SMqiC700ML3rJdQ32
A special thank you to the three speakers who are going to travel all the way from North America to Cork:


John Crutchfield (University of North Carolina, Asheville), Susanne Even (Indiana University, Bloomington) and Barbara Schmenk (University of Waterloo).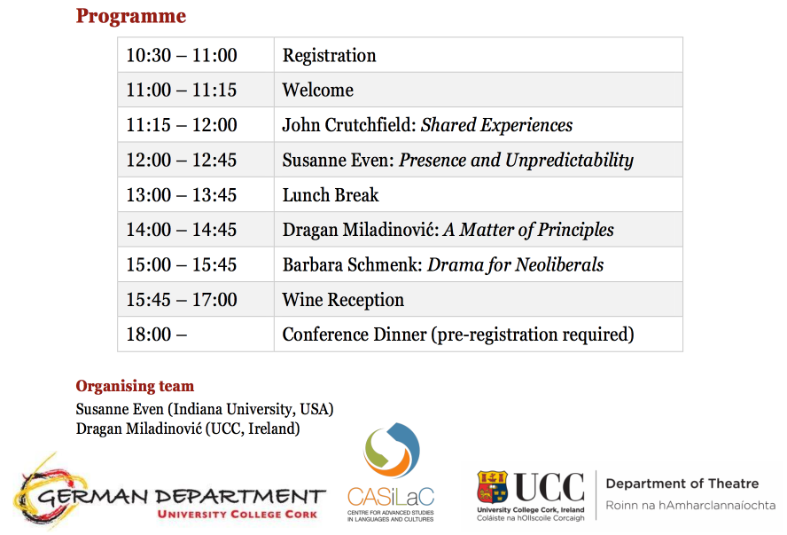 Kind Regards
Susanne Even (Indiana University, USA)
Dragan Miladinovic (UCC, Ireland)
Should you need further information please contact: dragan.miladinovic@ucc.ie