DPR News
DPR News
Big Friendly Guide to the European Union - Graduation 2019

Deputy President & Registrar Professor John O'Halloran welcomed over 500 students, teachers and parents to the Devere Hall today, where he officiated at the 2019 BFGtoEU Graduation Ceremony, and made a presentation to guest speaker Rob Heffernan.
240 children, from 3 primary schools Kilmurry NS, Gaelscoil Mhachan and Riverstown NS, who have completed the BFGtoEU programme about Ireland and the EU graduated in a fun ceremony hosted by UCC. My Big Friendly Guide to the European Union is an innovative teaching and learning programme led by Dr Emmanuelle Schön-Quinlivan, Lecturer in European Politics, Department of Government and Politics.
Established in 2018 this programme aims at developing awareness, knowledge and debate at primary school level on the European Union and Ireland's role within it. It is student-led and teacher friendly allowing the students to learn about but also question the European Union, running over 6 weeks. Crucially, it fits perfectly into the current Social Personal and Health Education curriculum, particularly when discussing citizenship.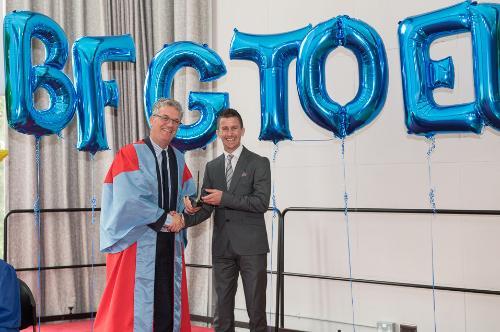 Deputy President & Registrar, Professor John O'Halloran, making a presentation to
Olympian, Rob Heffernan at today's graduation ceremony
For more on this story contact:
Dr Emmanuelle Schön-Quinlivan, Lecturer in European Politics, Department of Government and Politics, 021 4902325 or e.schon@ucc.ie