2021
2021
100% effort yields 207% result with €1,040 raised for CF Ireland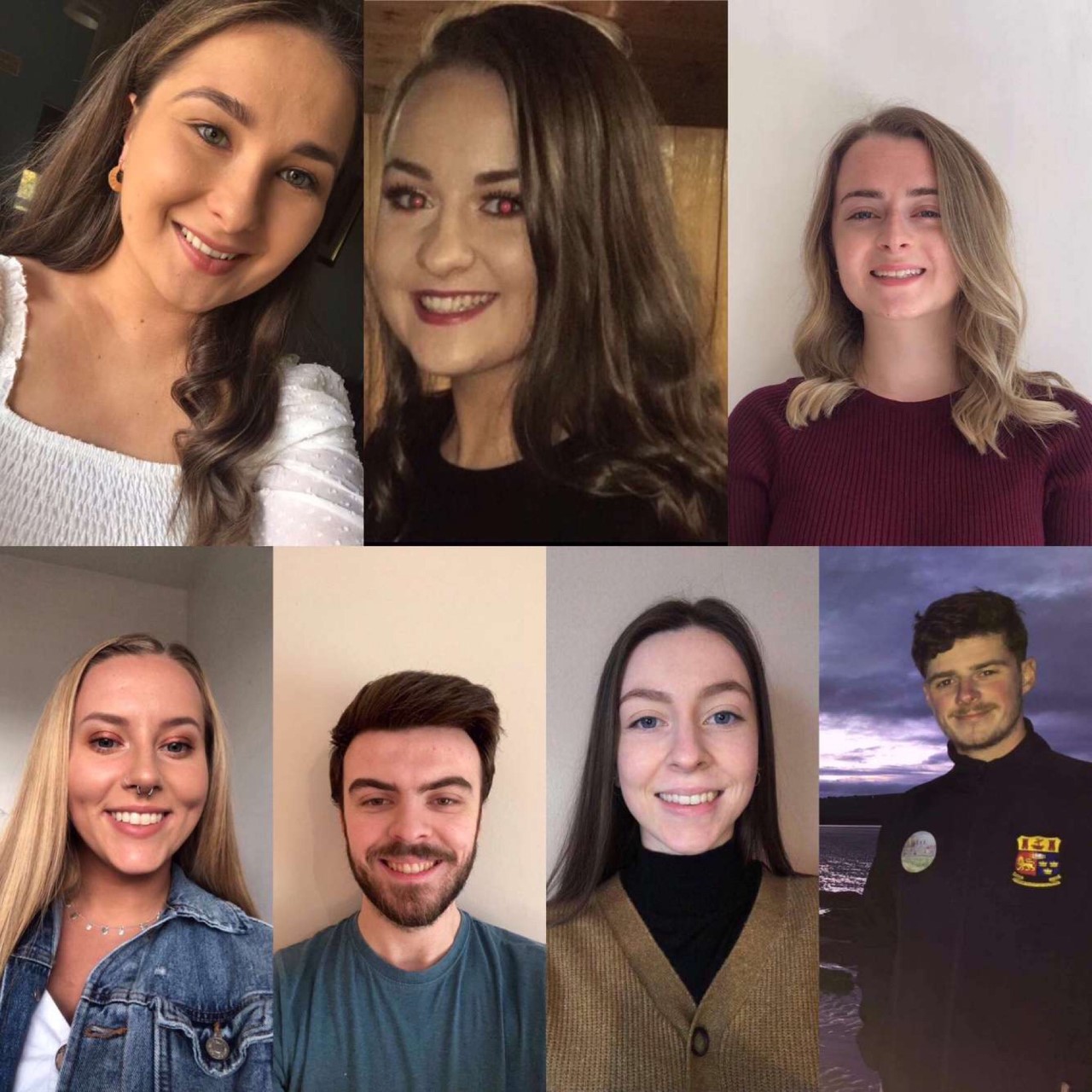 L-R (Clockwise): Sinead Landers (Chairperson, Final Year Biotechnology), Lisa Kingston (Vice-Chairperson, Final Year Physiology), Sinead Marsh (Entertainments Officer, Third Year Biotechnology), Aine O'Regan (Webmaster, Second Year Biological Sciences), Cian O'Brien (PRO, Third Year Biotechnology), Kate Kearney (OCM, Second Year Biological Sciences), Kieran Maher (Ex-officio, Final Year Plant Biology).
Every October, Autumn becomes Fall as Dr Patrick Harrison takes a short break from Semester 1 and the Physiology Department to attend the North American CF Conference; but this year he chaired the session on CF Gene Editing Technologies from his kitchen! He also attended the virtual CF Science Appreciation Dinner, normally a lively celebration on the final evening of the conference bringing together CF scientists and families of those with CF from all across North America, organised by fund-raiser extraordinaire, Bob Emmelkamp, a.k.a. Computer Bob.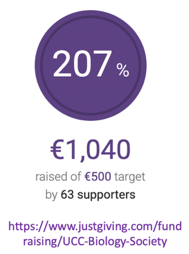 Never one to miss a fund-raising opportunity, Bob decided to reinvest the money saved from hosting the dinner virtually by issuing a simple challenge to all those who attended, "if you have a personal cystic fibrosis research fundraiser, I will donate $177 to your efforts". Dr Harrison passed on this challenge to his new 4th year project student, Lisa Kingston, who immediately drafted in her colleagues from the UCC Biology Society, to set up a fund-raising event for CF Ireland. Lisa and colleagues asked Rory Tallon to speak as a CF advocate, and "volunteered" Dr Harrison to give a short talk on CF drugs and the role of Gene Editing as part of the CF Foundation's Path to a Cure initiative.
And on the evening of Wednesday 10th March, the two talks were hosted online, and four lucky winners got prizes from a raffle to help boost funds with generous donations from local sponsors listed on their JustGiving page https://www.justgiving.com/fundraising/UCC-Biology-Society. By the end of the evening, 62 generous benefactors had donated €808, just over 160% of their original target a fabulous achievement during a time of limited resources. And then just before midnight, a visitor to the website from North America donated not just $177, but an amazing $277, smashing the total through the €1,000 barrier; go raibh maith agat Computer Bob!
Bob Emmelkamp – Health Care Heroes Philanthropic Champion
https://www.bizjournals.com/phoenix/news/2019/11/25/health-care-heroes-philanthropic-champion-winner.html
UCC Biology Society JustGiving Campaign
https://www.justgiving.com/fundraising/UCC-Biology-Society
UCC Biology Society Instagram
https://www.instagram.com/uccbiosoc/
Rory Tallon – CF patient advocate
https://www.irishexaminer.com/lifestyle/arid-30837050.html
CF Ireland
Dr Patrick Harrison – CF Gene Editor funded by CF Trust (UK) and CF Foundation (USA)
http://research.ucc.ie/profiles/C008/pharrison
CF Trust (UK)
https://www.cysticfibrosis.org.uk
CF Foundation (USA)