2021
2021
Physiology Career Options and Opportunities: Series of Career Talks!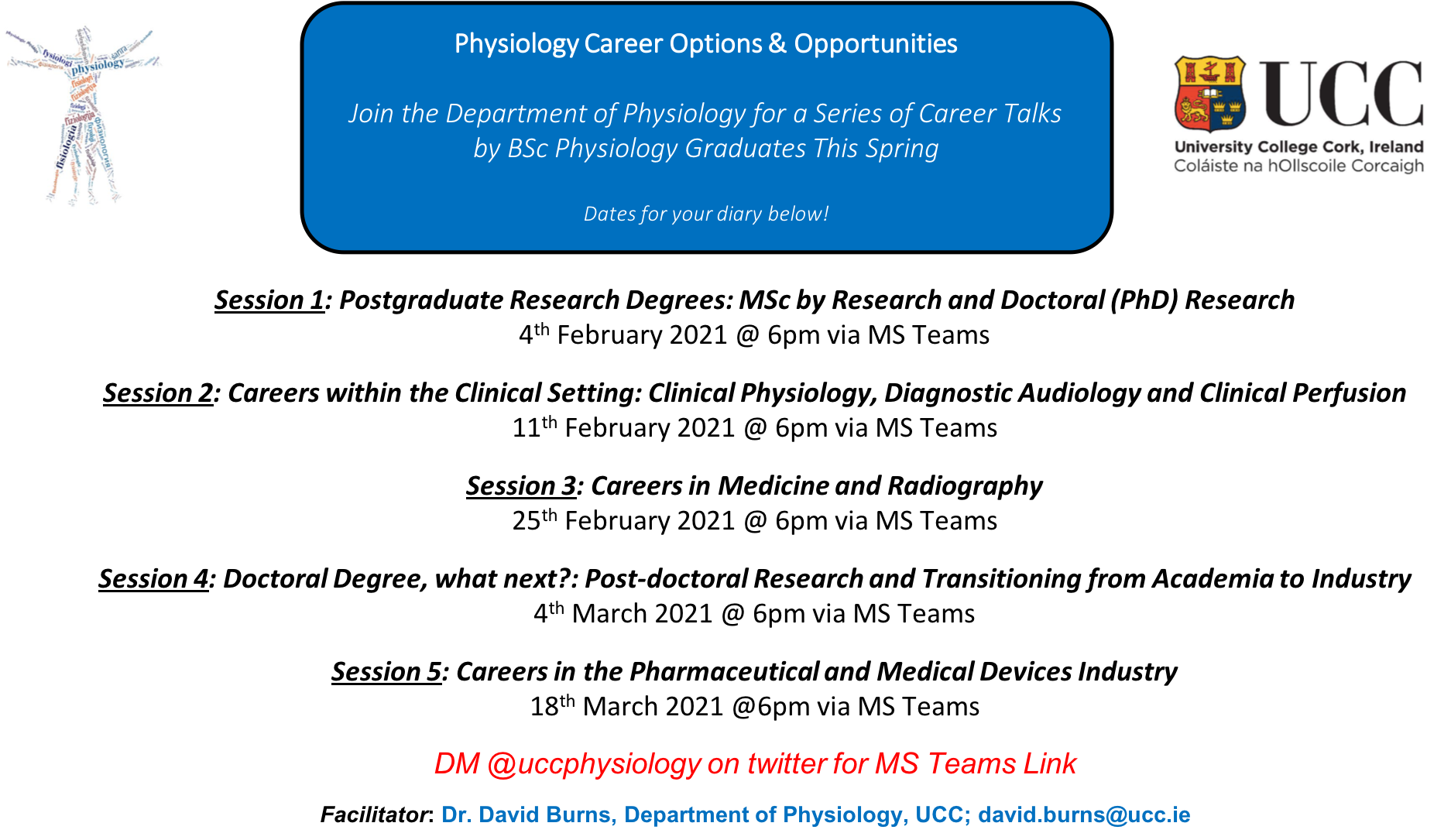 This Spring, the Department of Physiology is hosting a number of alumni and friends of the BSc Physiology degree programme.
For this series of career talks, speakers will bring us on a journey along their career paths following their primary degrees and discuss training opportunities and new exciting roles following graduation. We will learn of the challenges and rewards of diversifying in new roles and entering new fields of study and research. Graduates will outline how they transitioned into new fields and roles within the clinical setting, pursued additional study, embraced international roles in North America and Europe, along with changing roles during a global pandemic!
We will welcome a broad range of speakers (15+ speakers) during the series with combined experience in the biopharmaceutical industry, healthcare, medical devices sector, medical sales, academia and medicine.
Session 1: Postgraduate Research Degrees: MSc by Research and Doctoral (PhD) Research
4th February 2021 @ 6pm
Chair: Dr David Burns
Ms Aoife Slyne, BSc Physiology
PhD Trainee & Lilly Research Scholar, Department of Physiology, University College Cork
Ms Sarah Drummond, BSc Physiology
PhD Trainee & Senior Technical Officer, Department of Physiology, University College Cork
Mr Jack Leacy, BSc Sport and Exercise Science, MSc Clinical Exercise Physiology
PhD Trainee, Department of Physiology, University College Cork
Session 2: Careers within the Clinical Setting: Clinical Physiology, Diagnostic Radiology and Clinical Perfusion
11th February @ 6pm
Chairs: Ms Roisin Coady & Dr Fiona McDonald
Ms Ella Murphy, BSc Physiology, MSc Audiology
Diagnostic Audiologist at Beacon Audiology
Dr Aidan Karr, BSc Physiology, PhD
Gastrointestinal Clinical Physiologist Trainee, Mercy University Hospital
Ms Lorraine Browne, BSc Physiology, MSc Clinical Perfusion
Clinical Perfusionist at Cork University Hospital
Session 3: Careers in Medicine, Clinical Perfusion and Physicians Associate
25th February 2021 @ 6pm
Chairs: Ms Roísín Ni Dhonnabhain & Dr David Burns
Dr Michael O'Sullivan, BSc Physiology, MB, BCh, BAO, MCAI
Specialist Anaesthesia Trainee, University Hospital Limerick
Dr Kevin Barry-Murphy, BSc Physiology, MB, BCh, BAO
Medical Intern, South-South West Hospital Group
Mr Eoin Hanrahan, BSc Physiology, BSc Diagnostic Radiography
Diagnostic Radiographer, Guy's & St Thomas' NHS Foundation Trust, London
Ms Orla Brett, BSc Physiology, MSc Physician Associate Studies
Physician Associate in Upper GI Service, Beaumont Hospital, Dublin
Session 4: Doctoral Degree, what next?: Post-doctoral Research and Transitioning from Academia to Industry
4th March 2021 @ 6pm
Chairs: Ms Aoife Slyne & Dr David Burns
Dr Fiona McDonald, BSc Physiology and Pharmacology, PhD
Lecturer & SIRG Investigator, Department of Physiology, University College Cork
Dr Andrew O'Leary, BSc Physiology, PhD
Technical Scientist, BioTherapeutics Development API at The Janssen Pharmaceutical Companies of Johnson & Johnson
Dr Karen O'Connor, BSc Physiology, PhD
Technical Scientist, BioTherapeutics Development API at The Janssen Pharmaceutical Companies of Johnson & Johnson
Session 5: Careers in the Pharmaceutical and Medical Devices Industry
18th March 2021 @6pm
Chair: Ms Billie Mae Giltenane & Dr David Burns
Ms Deirdre Keena, BSc Physiology, MSc Bio-therapeutics and Business
Quality Control Sample Management Analyst, Pfizer
Mr William Hickey, BSc Physiology, MSc Biomedical Science
Research & Development Engineer, Boston Scientific
Ms Jean Ryan, BSc Physiology
Senior Global Marketing Manager (Limb reconstruction), Smith and Nephew
Dr Edward O'Connor, BSc Physiology, PhD
Medical Science Liaison, EMEA at 3M