2020
2020
Physiology Flourishing at the 2020 BT Young Scientist & Technology Exhibition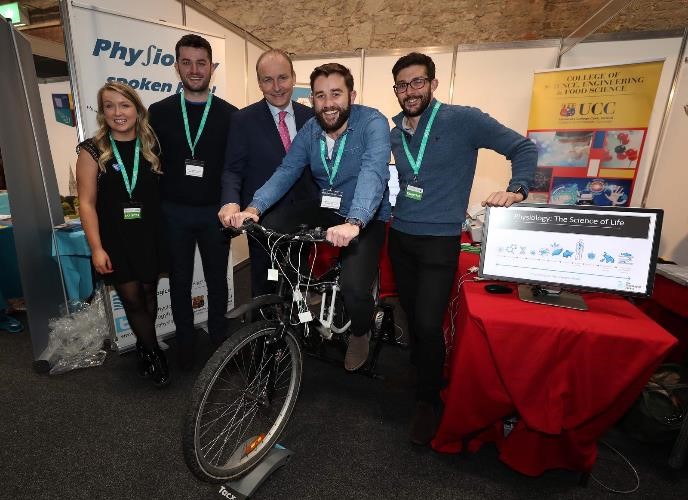 L-R: Ms Sarah Drummond (Senior Technical Officer), Mr Jack Leacy (Lecturer), Micheál Martin (TD), David Burns (Lecturer) and Dr. Eric Lucking (Senior Technical Officer).
UCC Physiology was represented by Sarah Drummond, Jack Leacy, Eric Lucking and David Burns at the BT Young Scientist & Technology Exhibition, RDS Dublin, on Thurs 9th to Saturday 11th January 2020. Hundreds of primary and secondary school students from all corners of the country visited UCC Physiology at the UCC Science Engineering and Food Science (SEFS) exhibit at the 2020 BT Young Scientist and Technology Exhibition (BT YSE), RDS Dublin, on Thurs 9th to Saturday 11th January 2020.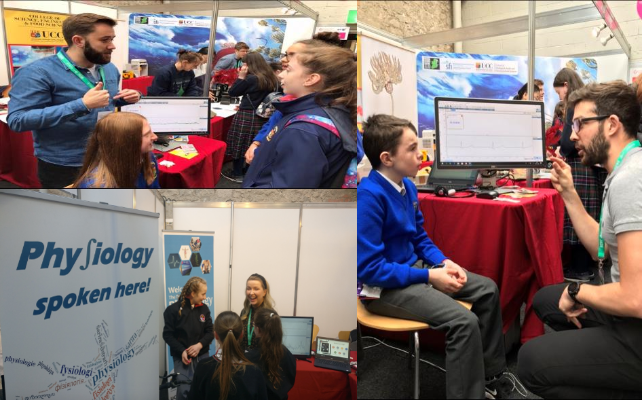 L-R (clockwise): Dr David Burns, Dr Eric Lucking & Ms Sarah Drummond showcasing the discipline of physiology at the 2020 BT YSE.
The group gave a warm welcome to students, families and teachers who visited the exhibit to learn about the discipline of physiology and discover what is on offer for prospective students at UCC. Micheál Martin TD, leader of Fianna Fáil and UCC graduate, visited the UCC Physiology team and learned of the effects of exercise on cardio-respiratory physiology. Students had the opportunity to perform electrocardiogram (ECG) recordings and spirometry measurements on their classmates during rest and exercise, analyse visual and auditory reaction times, demonstrate neuromuscular fatigue using dynamometers to measure grip strength and measure lung function including forced vital capacity (FVC) and forced expired volume (FEV).

400+ projects were presented by secondary school students at the exhibition. Students competed for a total of 120 prizes. Several projects were mentored and advised by staff at the Department of Physiology, UCC. One such project examined the stress of social media on teenagers and adults. Cork students Olivia Lynch, Meabh Murphy and Kate Burns presented the findings of their project entitled: "Does Instagram stress you out? Understanding the Physiological and Psychological Implications of Photo-sharing".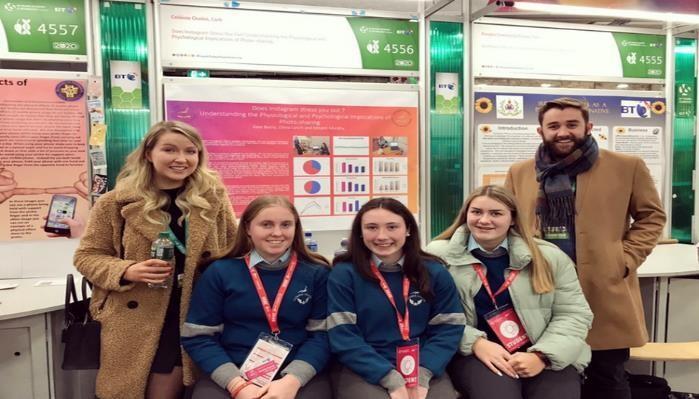 L-R: Ms Sarah Drummond, Ms Olivia Lynch, Ms Meabh Murphy, Ms Kate Burns & Dr David Burns.
Colaiste Choilm (Ballincollig, Cork) students, Cormac Harris and Alan O'Sullivan, took the top prize for their project entitled "A statistical investigation into the prevalence of gender stereotyping in 5-7 year olds and the development of an initiative to combat gender bias". An amazing achievement for Alan and Cormac, their parents, families, teacher (Ms Karina Lyne) and school. Cork schools dominated in many categories with multiple prizes awarded to students from Kinsale Community School, Colaiste Treasa, Presentation Brothers College, Colaiste Choilm, St Aloysius College Carrigtwohill, Boherbue Comprehensive School, Bandon Grammar School, Gaelcholáiste Charrig Uí Leighinn, Coláiste An Spioraid Naoimh, Millstreet Community School, St Brogan's College, St Mary's Secondary School Mallow, St Angela's College, Colaiste an Phiarsaigh and Mount Mercy College.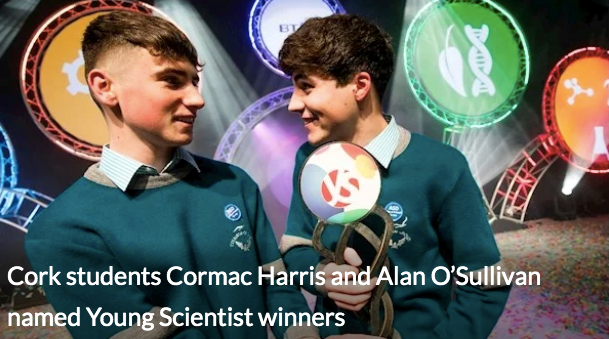 L-R: Alan O'Sullivan and Cormac Harris, Colaiste Choilm, Cork (Photo: BreakingNews.ie).
For a full list of projects exhibited at the event click here.
For a list of all prize winners click here.