2016
2016
UCC Physiology in Nepal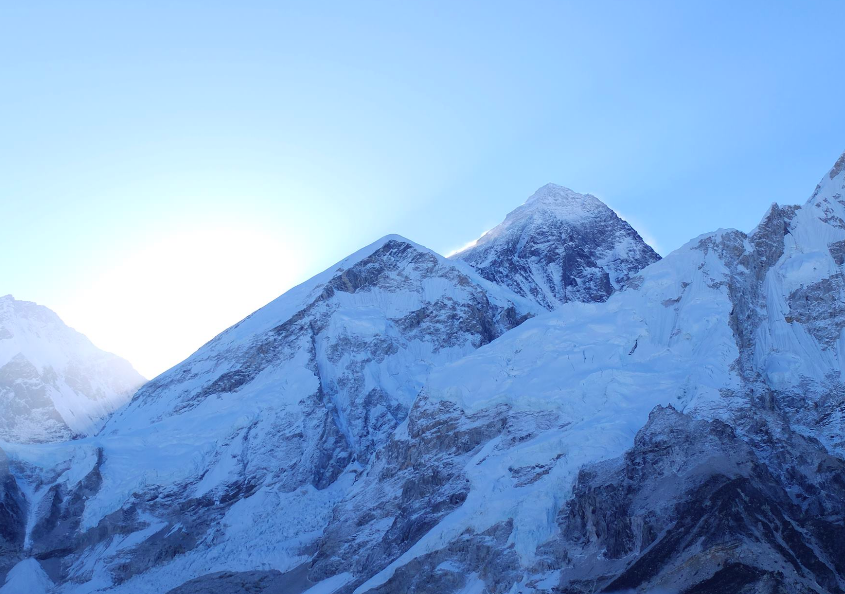 UCC Professor of Physiology Ken O'Halloran and PhD Trainee David Burns visited the Himalayan mountain range on a high altitude scientific expedition to Mount Everest Base Camp in May 2016.
The work led by Canadian researcher Professor Trevor Day (Mount Royal University, Calgary) set out to examine acclimatisation to high altitude (the process by which the body adapts to low oxygen) and examine the efficacy of portable measures in assessing ventilatory control at high altitiude.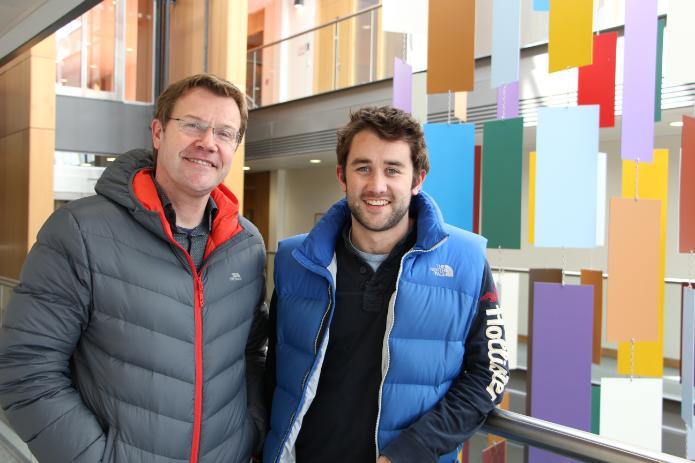 In late April 2016, researchers, study participants and adventure-seekers embarked on their jouneys from Canada, Ireland, New Zealand and the United States of America to Nepal, South Asia. The group of 23 scientists and non-scientists met in the city of Kathmandu, where a few days allowed for recovery from travel, time for the group to integrate, and (of course) some data collection! These rest days in Kathmandu (1,400m) provided a baseline for our first "daily measures" of cardio-respiratory function.
On May 5th, the group anxiously flew into Lukla Airport (2,860m), perhaps the most dangerous airport in the world. The runway at Lukla (Tenzing-Hillary) aiport is positioned on the side of a mountain, next to a cliff face and strategically placed on an incline to aid small aircraft in slowing down on landing and gaining momentum on take off. Our cheerful local guide, Nima Sherpa introduced us to his team of local guides and porters who would guide us safely to our much anticipated destination, Everest Base Camp.
From Lukla, the team trekked for 10 days through Sagarmatha National Park, villages of the Khumbu Region, and across suspension bridges over the Khumbu valley. This is a popular hiking trail which has full view of Everest, Nuptse, Lhoste, Pymori, Ama Dablam and many other peaks on clear days.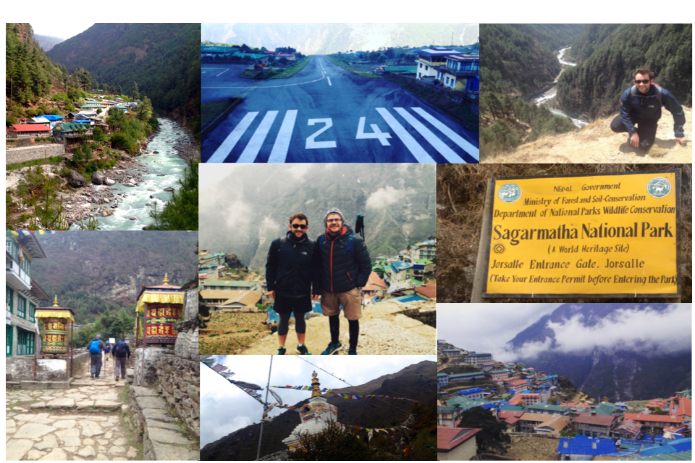 From Lukla, we trekked to Monju (2,838m) and then Namche (3,440m). Namche is beautifully positioned on tiers at the mountainside and closely resembles an amphitheatre overlooking a valley. On our rest day in Namche, we visited Namche Monastery, the first of many along the trail. A group of neuroscientists on the trip were privelleged to measure "brain waves" revealing aspects of brain function in Buddhist monks during meditation.
Following Namche, after difficult days on the trail, came Tengboche (3,860m) and Pheriche (4,371m) which each had a rest day. These days allowed our bodies to adapt to the higher altitude, which was taking its toll, and provided opportunity to embark on acclimatisation hikes, following the "Climb high; sleep low" approach. Rest days were also important for Prof. Day's group of enthusiastic trainees to perform more comprehensive measures to assess physiological responses/adaptations to the high altitude (this required building a laboratory in guest house dining rooms!). We visited the Himalayan Rescue Association, where clinicians delivered a lecture to the group in Pheriche on the symptoms of acute mountain sickness (AMS) and the current treatments (descent!). An aspect of the focus of our expedition was to correlate physiological changes with symptoms of AMS. Are there early signs in an individual's physiological signature that predict the onset of AMS?
Lobuche (4,940m) and Gorak Shep (5,164m) were up next and were certainly the less luxurious of the villages. These are the two final settlements at the outskirts of the Khumbu Glacier on the route to Everest Base Camp (5,380m). We were kindly offered a tour of the Italian Pyramid Laboratory (world's highest terrestrial laboratory), where Prof. Day spent several weeks in 2012 on a previous expedition. The Italian Pyramid Lab is uniquely positioned for international researchers with varying interests to visit and perform studies at this high altitude.
On May 13th, we arrived at Everest Base Camp, at the edge of the Khumbu Icefall. Here we were greeted by Phurba Tashi Sherpa with hot tea and Yak cheese. Phurba holds the world record for the highest number of Everest summits! Along the trail to Base Camp we heard the exciting news from porters of the first summits of the 2016 season (none in 2014 & 2015). While at Base Camp we heard bells ringing from different expeditions celebrating the successful summits of their respective teams.
The morning after reaching Base Camp there was the option of a h to the summit of Kala Patthar for those who had escaped symptoms of AMS. The group set off at 4am to view Everest at sunrise, an unforgettble highlight of the trip!
On our descent from Everest Base Camp, we detoured and visited other Khumbu villages such as Khunde and Khumjung. Dr. Kami Sherpa kindly welcomed us to the Khunde Hospital (3,840m), founded by Sir Edmund Hillary in 1966, which serves 8,000 people from the Khumbu region. The hospital is remarkably supported by the local community, donations from visitors and the Sir Edmund Hillary Foundation. Other trips included the Hillary lookout memorial and the Khunde school.
Prof. Day and his trainees are currently busy analysing data from the expedition, which in addition to daily cardio-respiratory measures, also examined Central Sleep Apnea at altitude. Scientists from the University of British Columbia, Queen's University, Kingston and University of Victoria who collaborated with Day on the expedition, examined cognition at high altitude and the possible beneficial effects of exercise.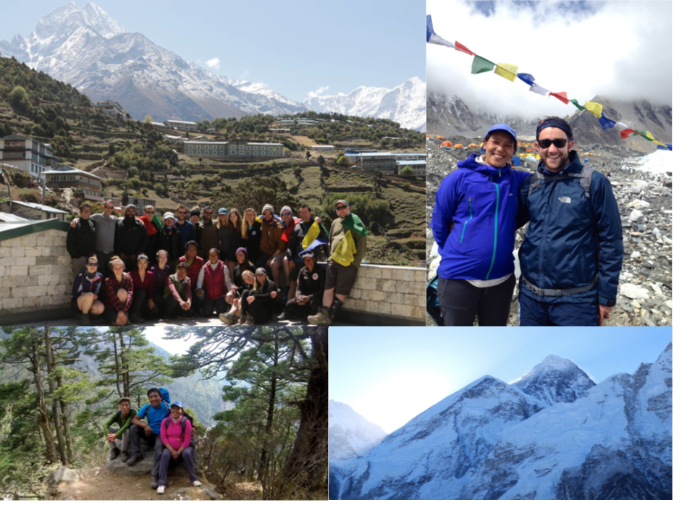 The trip provided participants with ample opportunity for learning and discussion in addition to personal journeys of reflection in the peaceful region. We are extremely grateful to Nima, Ang, Fura, Kalden, Nawang, Bobby, Finjo, Rai and Kanchha for welcoming and guiding us so safely through the Khumbu region and for their gracious hospitality when visiting their hometowns. The group was incredibly humbled by the extraordinary nature of the Sherpa people who show resilience and great love for their homeland.