2016
2016
Hypoxia Symposium Cork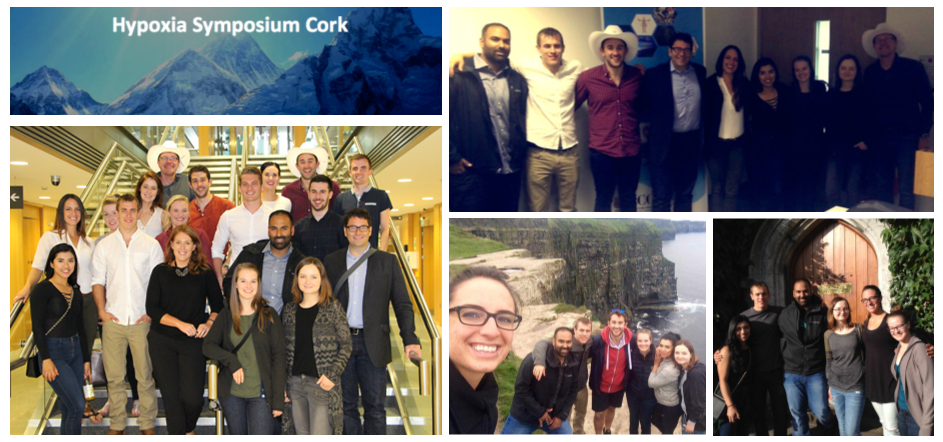 David Burns (PhD trainee) organised a research symposium on Tuesday 26th July as a satellite event in the run up to Physiology 2016, the joint meeting of the American Physiological Society and The Physiological Society in Dublin.
‌The symposium included work from Professor Ken O'Halloran (Physiology, University College Cork) and Professor Trevor Day's (Mount Royal University, Calgary) research groups. The symposium consisted of alternating talks from UCC Physiology and Mount Royal University trainees. ‌
As part of the symposium, Professor Day delivered a lunchtime keynote seminar sponsored by The Physiological Society as part of the Department of Physiology Seminar Series.
"Descending the oxygen cascade: Portable measures of high altitude adaptation on an ascent to Everest Base Camp".
Professor Day presented a fascinating and entertaining account from his 2016 expedition to Mount Everest Base Camp addressing cardio-respiratory acclimatisation to high altitude and the logistics involved in conducting field studies in challenging environments. David Burns and Ken O'Halloran were part of the 23 person team led by Day on the Everest expedition.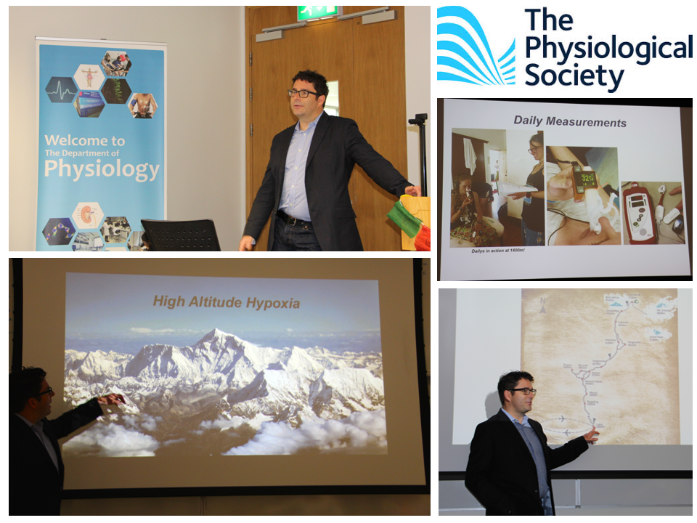 Professor O'Halloran's group presented updates from several research projects including work from national and international collaborations with Prof. John Cryan (Anatomy & Neuroscience UCC; APC Microbiome Institute), Dr Deirdre Edge (Trinity College Dublin) and Dr. Richard Wilson (University of Calgary).
Professor Day's group presented David and Ken with white Smithbilt hats, a long standing tradition in Calgary and a symbol of their Western hospitality and good cheer! During some downtime before heading to the international conference in Dublin, the Canadian group visited the local sailing village of Kinsale and the Cliffs of Moher, following a detour to Desert O'Dea castle, perhaps an ancestor of Trevor! Well done to all trainees who presented their work at Hypoxia Symposium Cork and Physiology 2016!
Oral Communications by UCC Physiology
Eric Lucking: "Cardio-respiratory monitoring in animal models of disease."
Andrew O'Leary: "Acute hypoxic stress causes diaphragm muscle weakness."
Sarah Drummond: "Effects of chronic intermittent hypoxia on breathing, metabolism and diaphragm muscle contractile properties in adult male mice."
David Burns: "Respiratory control in the dystrophin deficient mdx mouse."
Karen O'Connor: "Microbiota and respiratory control: Blunted ventilatory responsiveness to hypercapnia in adult male rats following chronic antibiotic treatment."
Oral Communications by Mount Royal University
Nique Bruce: "Hypoxic ventilatory response magnitude is not correlated with breath hold duration during voluntary apnea."
Jamie Pfoh: "Can we predict tolerance to high altitude based upon unacclimatized chemoreflex measurements?"
Andrea Linares: "Hysteresis and cardiorespiratory variables: Quantifying the magnitude of acclimatization to high altitude."
Marie Abrosimova: "The effects of tilt on the magnitude of respiratory sinus arrhythmia."
Lauren Lavoie: "Assessing the magnitude of respiratory sinus arrhythmia during rest and moderate exercise stress."
Gary Saran: "Assessing the magnitude of respiratory sinus arrhythmia during high altitude ascent."