News and Events
News and Events
Student Spotlight: USI Mature Student of the Year Eithne Kavanagh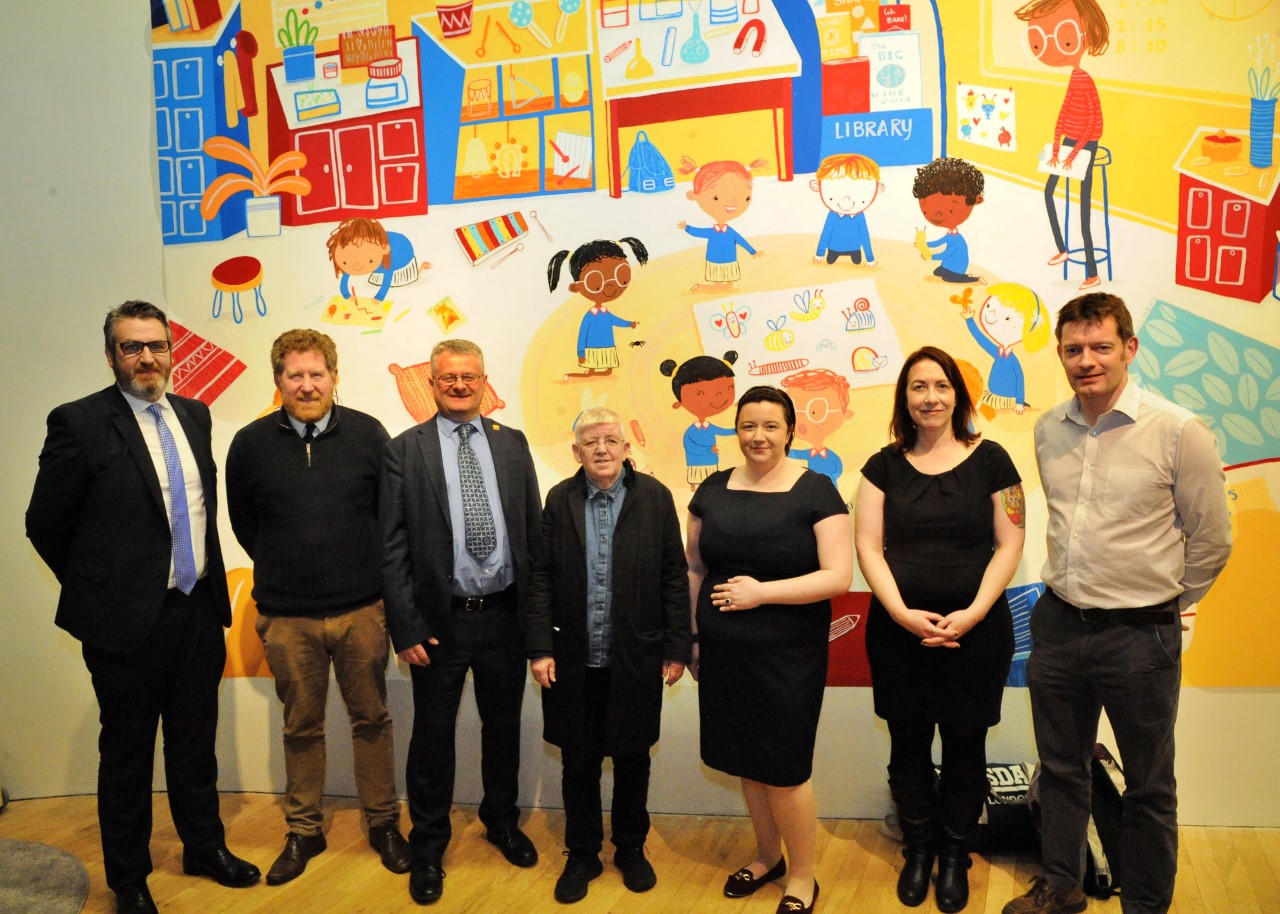 Final Year BCL student Eithne Kavanagh shares her experience of winning the Mature Student of the Year Award at the USI Student Achievement Awards 2020.
This year's USI Student Achievement Awards were held remotely due to the ongoing COVID-19 pandemic. At the UCC School of Law, we were delighted to see not one, but two of our students nominated in the Mature Student of the Year category – Eithne Kavanagh and Natalie O'Regan. Eithne Kavanagh was victorious on the night, and the School couldn't be more proud of both her and Natalie.
We asked Eithne a few questions about her win, and her experiences as a mature student at UCC. In the below short interview, Eithne reflects on the awards ceremony with a difference, and offers some advice to anyone thinking about joining the School of Law as a mature student.
Congratulations, Eithne! What does winning Mature Student of the Year at the USI Student Achievement Awards mean to you?
It's a strange one, as I really didn't expect to win. So when they said my name I was completely shocked. Due to the COVID-19 pandemic, a virtual ceremony took place, so my husband was literally jumping up and down in the kitchen. After a while it sunk in and I did feel really proud of myself. It was nice to have everything I've done recognised. I'm not a 1.1 student (not for lack of trying), so it was incredibly special to have all that I have achieved recognised. I'm also always very hard on myself (as I think a lot of mature students are) and it's hard to not compare yourself to other students who are excelling academically. For the last two years especially, I've made a particular effort to do non-academic activities to attempt to integrate better, but also I'm very aware as a mature student I may not get the opportunity again.
Can you tell us a bit more about your win?
I first heard of the awards when our Mature Student Officer for the SU Natalie O'Regan put it on one of our social media pages. The next thing was when I finished my first exam on the 24th of April I checked my email and there was the notification I had been shortlisted. There were 4 people shortlisted. Natalie O'Regan from UCC had also been nominated. There were also two other nominees, one each from LYIT and CCSU. I had the misfortune of contracting COVID-19 in March, so when it came to the award ceremony I was finally starting to feel like myself again. I even managed to have a glass of wine on the night, the weather was beautiful and I had makeup on for the first time in months. Hearing all the achievements of different societies and Student Unions, I really wasn't expecting to win, especially going up against Natalie, who I knew would be tough competition.
How was your experience of being a mature student at the UCC School of Law - what were the key highlights and challenges?
I've had a mixed experience going back to college, but I can definitely say it has more than lived up to my expectations. I have loved so many parts of it, but the main thing I think is that I appreciated the everyday experience so much more. I originally went to college straight out of secondary school, and it did not go well. I really wasn't ready for it then. This time around I embraced the opportunity. It was so hard at the beginning but it got easier as time went on. They say first year is always the hardest and they were right. Scheduling was the one of the hardest things, but it just required a lot of planning. I was lucky to have help from my parents and in laws who would come down to help with babysitting. Some days it would mean leaving college in the middle of the day to do school runs and then head back in. It wasn't easy trying to explain to my 4 year old boy why I wasn't around as much anymore. He has an autism diagnosis and was starting in Sonas Special School, and he was not happy with me leaving. Even now he tells me 'I'm doing work for too long'. I have a 10 year old who was super understanding and tells me she wants to go to UCC now.
Most of my fellow students were great and I've made lifelong friends here. I had a few moments when I was asked why I never went out and had to remind people that I have two kids at home so going out on Thursday night is not an option for me! As I also suffer from arthritis I have pain and fatigue to contend with too. I don't think people really understand the complexities in the lives of mature students. The adjustment of going to class and study was very odd. I went from a senior position in my job, where I was the expert, to being the person without a clue. Basic things like, making a schedule, learning how to print a PowerPoint presentation to how to take notes, were the valuable skills. People are willing to help you, and more than likely you'll end up helping someone else too.
The highlight of my degree was Moot, I started in 2nd year but really wish I started in 1st year. I took part in competitions here in UCC, and externally in Maynooth. Maynooth was a great experience , even though we didn't make it to the semi-finals, we got to go out for dinner and drinks with fellow competitors, organisers of the events, and the judges. I made great contacts during these events, some which lead to making great friends and other leading to research opportunities. My other highlight was joining the Free Legal Advice Center, I had such a good time and was proud that I was part of an organisation that was making law more accessible. We organised a conference, which was a great success.
COVID-19 really changed things, I never thought I'd miss a library like I missed the Boole library. With my final year being cut short we never got to say goodbye to each other but I'm hoping to be back in September to do a Masters. I'm really hoping we can all get together for graduation to celebrate at some stage this year.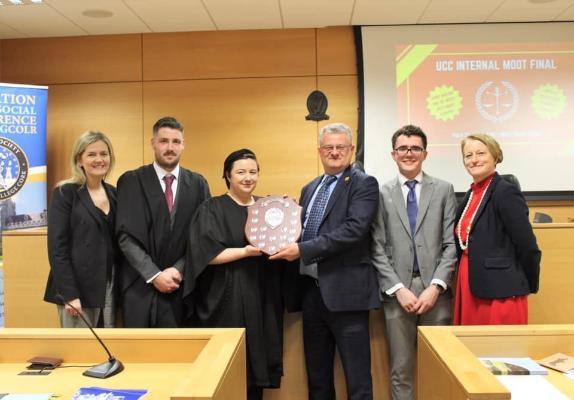 Do you have any advice for people considering undertaking a Law degree at UCC as a mature student?
Studying law is hard but rewarding. I've had so many 'ah ha' moments it's almost comical. It helps you understand so many things while opening a whole new world. Come to law with an open mind, listen to your lecturers and your peers. Hearing other people's opinions and views are so import. Often the different ways people have of explaining things will end up helping you understand or learn them better. There is a lot of reading involved so if you're like me and struggle with reading, don't be afraid to ask around for guidance. I found out about having books or articles read to me on my computer, which made life so much easier. If you can divide up the work with a study group, do, and focus on subjects that interest you, it may be easier as it's so hard to learn a subject you have zero interest in. Pay attention in your skills classes, the skills you learn are used in every module you'll do, they are invaluable.
Enjoy your time off and don't overdo it. 99% of the time when I came home from college and I didn't do any work, I'd spend time with my kids, or husband or friends. But to be honest I was so tired I was in bed most days by 9pm. I'm the kind of person who cannot function without sleep, there was no pulling all-nighters for me. Saying that, life gets in the way sometimes, things happen no one could have predicted and you have to go with the flow and that means not beating yourself up.
I've a few pieces of general advice for mature students:
If you have a question ask it
Do not worry about other people
Be honest
If you're struggling, tell someone
Set a schedule
Start the work as soon as you can
Be kind, to yourself and others
Mind yourself
Put yourself out there, but know your limits
Unless you are 100% confident you aced your exam, do not compare answers after!
Remember why you chose to be here.
Never forget, you've earned your seat here, embrace it and enjoy it!