News and Events
News and Events
Student Spotlight: Pippa Willows, Evening BCL 3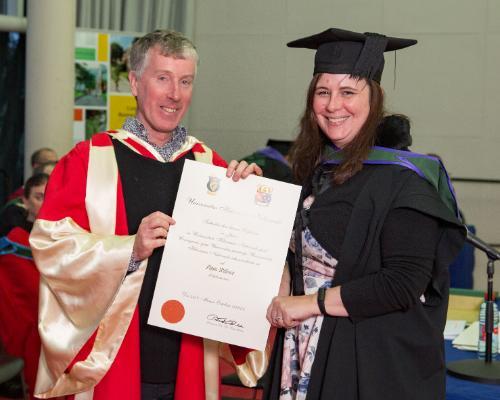 Before Christmas, our third year Evening BCL students received their Diplomas in Law at the College of Business and Law parchment ceremony in Devere Hall.
We caught up with third year Evening BCL Class Rep Pippa Willows after the ceremony to ask her about her highlights of the programme so far, how she feels the EBCL is benefitting her career, and what advice she would offer to anyone considering the degree programme.
Can you tell me a little bit about your career to date?
I studied Legal and Insurance Secretarial Studies in the College of Commerce from 2000-2001. I got my first job as a legal secretary working for a large firm on the South Mall and worked there for three years. I now work in Noonan Linehan Carroll Coffey Solicitors on North Main Street in Cork. I have worked with the firm for 15 years. I love my job and the people I work with.
What made you decide to pursue the Evening BCL at UCC?
Every two years the Evening BCL is offered and I have thought about applying. I have two children and every time it was offered I told myself the children were too young, I'll apply next time. Eventually it got to a point where I realised that if I didn't do it now then I would have to wait until my own children were through university so I grabbed the opportunity while I could. I would describe it as something that has always been on my bucket list. I have always wanted to study for a degree. I did not get high points in my Leaving Certificate and then I had my children young. It has been something in the back of my mind that I wanted to achieve, for me. As a legal secretary for over ten years I could have applied to study the FE1 exams without a degree, but the degree was something I really wanted to achieve for myself.
What have been your favourite parts of the course so far?
Being conferred with a Diploma in Law after two years. Meeting new people and having interesting discussions. Seeing things from a completely different perspective, learning to think outside the box. Being chosen by my class to be their Class Rep. Being selected to go on the EU trip. Realising that I can actually do this!
Has there been anything about the EBCL course that has surprised you?
When I started studying law I thought with so many years as a legal secretary under my belt that I would have a great knowledge. Obviously this has stood to me, but I have found that studying law is like learning a different language. I see my job from a completely different perspective now. When preparing court documents I now understand what I am preparing and why. I view my work through a different lens.
How do you feel that studying for the EBCL is helping you in your career?
As mentioned I now see my work through a different lens. I analyse things much more closely and question things a lot more. I am asked to do a lot more research and analysis tasks now and have been given more responsibility. My workplace is very supportive of me and are willing to assist and if needed give me that push. It has also increased my confidence in the work I do, I do not second guess myself as much as I used to.
What advice would you give to someone considering applying for the EBCL?
Go for it! If this is something that has been niggling at the back of your mind for a while, just do it! It is not easy but it is so worth it. The experiences you will be offered, the opportunities that you can avail of, the people you meet and the self-confidence you gain. Now is your time!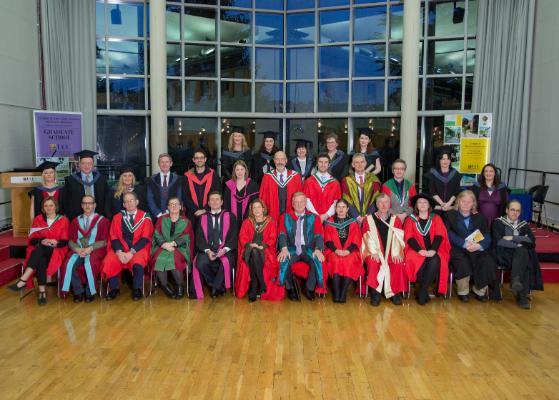 Evening BCL at UCC School of Law: Further information
The Evening BCL (EBCL) Degree at University College Cork is the longest running and most successful programme of its kind in Ireland. After completing the first two years of study, students will be awarded a Diploma in Law (Dip. L.). Although a student may decide to end his or her studies at this point, in practice the majority of students remain on to complete the BCL Degree Programme over a further two years.
The programme will be of interest to, amongst others, those who wish:
to enhance career prospects, whether in existing employment or a new career
to acquire an insight into the application of law to business, current affairs and society generally
to improve reasoning, communication and analytical skills
The EBCL runs on a four year cycle with a new intake of students every two years. The next intake will be in September 2021, subject to approval. To find out more or make an enquiry about the 2021-2025 cycle, visit https://www.ucc.ie/en/study/undergrad/courses/eveningbcl/.