News and Events
News and Events
Spotlight: We celebrate Tom Walsh, customs law expert and successful UCC PhD candidate who proves that age is but a number!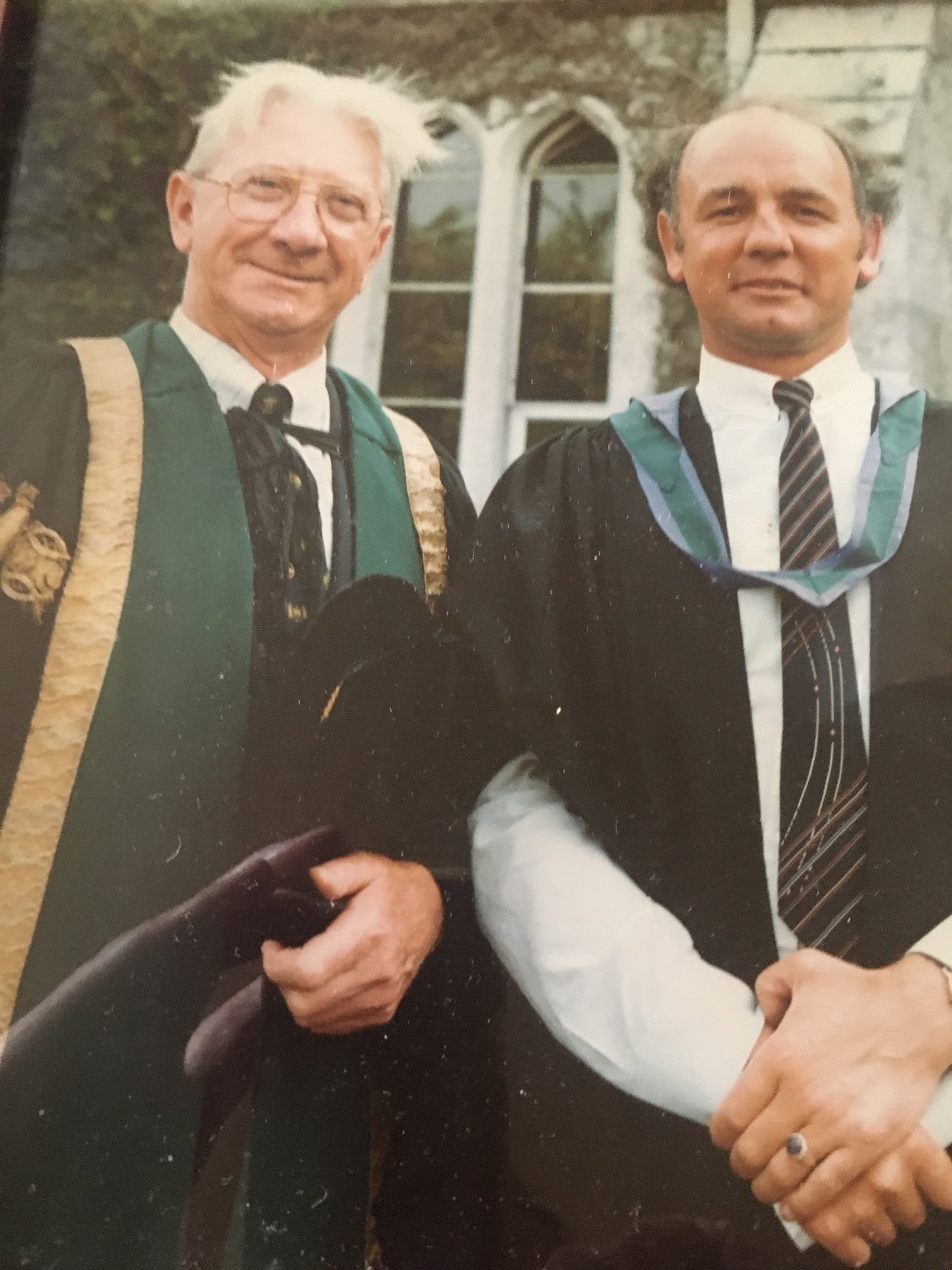 The UCC School of Law is delighted to congratulate soon-to-be Dr Tom Walsh on his recent successful defence of his doctoral thesis, The Identification, Elaboration and Legislative Implementation of the Principles of Customs Law: National, Regional and Global Experience.
Tom's supervisor was Professor Owen McIntyre. The School of Law's Dr Bénédicte Sage-Fuller acted as Internal Examiner at Tom's PhD viva, where the External Examiner was Prof Dr Hans-Michael Wolffgang of the University of Münster in Germany – a world-leading expert in the field.
Whilst completing a PhD is a huge achievement at any age, it is perhaps all the more special in later life. Tom is 80 years old, and thus a testament to the adage "education is not the preparation for life; education is life itself".
Tom is an acknowledged international expert on customs law and practice. His seminal publication, The Customs Code of the European Union, is widely regarded as one of the standard reference books on EU customs law, and has international reach, selling in 18 countries. The authoritative Oxford Encyclopaedia of European Law and Murdoch's Dictionary of Irish Law cite it as a reference. It is also cited in various language publications and PhDs on EU Customs law – English, Latvian, Lithuanian, German, Dutch and Italian, to name a few!
The story of how this book – Tom's first – came about is as interesting and unique as the man himself! At the time, he was working as a Consultant for PwC, who decided that it would be a good idea to write the first legal textbook in Europe on the Community Customs Code. Tom was tasked with the job and given a deadline of just one year – no mean feat in general, but made all the more challenging by the fact that Tom was still working full-time! What's more, being from the pre-computer era, Tom could not type at that point, so he instead dictated the entire book (containing over 1200 pages), with all its complex legal provisions and arguments!
As mentioned, the book proved a huge success. None other than Mr Donald Pogue, Chief Justice of the United States Court of International Trade, asked Tom for a copy of his book and subsequently wrote to him to say that the book is now a part of the US Customs Court's library. Tom describes the experience:
I was invited by the US and UK Governments to take part in a two-day seminar for Latvian Judges, prosecutors and Ministers. I shared the platform with Donald C Pogue – a Yale man, Vietnam veteran and great company on a night out.

He asked me for a copy of my book and wrote to me subsequently saying he enjoyed the craic, and that my book was a much 'appreciated and now a part of their library'.

In short, the great and the good invariably turn out to be the easiest to work with as they have nothing to fear and are secure in their own knowledge.
Tom's history with the School of Law stretches across many decades. After graduating with a BCL in 1984, he became the first person ever to start an LLM with the School. In 1984 the now-popular LLM programme did not exist, so Tom began his postgraduate studies by thesis only.
Tom's personal connections with the School run deep. Vice-Dean for Internationalisation, Declan Walsh, is Tom's nephew, and Tom graduated in the same LLM year as the School's Professor John Mee. On his very first day at the School of Law, Tom found himself sitting next to none other than Dr Vincent Power, now an Adjunct Professor at the School and Partner at A&L Goodbody. Dr Power recalls:
The Lottery of Life is amazing – as an 18-year-old, on my first day in UCC, I sat down beside a distinguished "mature" student. He turned out to be a colleague, an inspiration and a friend ever since. Tom has a worldwide reputation. He is the expert worldwide. Tom will forget more than everyone else will learn about his subject. But he has the uncanny ability to explain the complex in a simple way that everyone can understand. He epitomises the value of expertise and experience. He is one of the Lords of the Law!
Elsewhere across Tom's eclectic career, he has engaged in customs consultancy work, involving the review, revision and rewriting of customs law throughout Europe, Africa and Asia, and conducting studies on behalf of the EU and World Bank. Tom also drafted and achieved the enactment of the COMESA Customs Management Regulations 2009, now governing 21 countries with a population of 500 million. A further significant achievement was leading a multidisciplinary international team charged with the responsibility of examining all cross-border laws of Russia, Moldova, Ukraine and Belarus. The study resulted in the Russian Customs Code, that was, in the words of President Putin, designed to open the "iron curtain" to world trade. The implementing structural and equipment costs totalled $130 million.
Despite Tom's career taking him to far-flung destinations all over the world, he has always maintained his close connections to Cork, so it is only fitting that he should receive his PhD from his original alma mater of UCC. Tom speaks fondly of what he describes as "the golden era of law lecturers" at UCC, but notes that his PhD supervisor, Professor Owen McIntyre, could have easily fit into their company, owing in particular to his vision of fostering a PhD programme for non-academics who had years of practical experience in their chosen field of study – people like Tom himself.
Commenting on Tom's recent PhD success, Professor Owen McIntyre said:
Tom's immense life-long contribution to the field of customs law, and his continuing commitment to advancing and improving this specialist area of legal practice, should be an inspiration to legal scholars and practitioners everywhere. I am delighted to have had the privilege to work with Tom, from whom I have learned a great deal, on this ground-breaking doctoral research project. It is fitting that UCC School of Law should have this opportunity to acknowledge and honour Tom's outstanding role in the evolution of customs law globally.
Professor Mark Poustie, Dean of School of Law added:
Many congratulations on behalf of the School of Law to Tom Walsh on securing his PhD, an achievement which crowns his distinguished career as an expert in customs law and practice. The School is committed to lifelong learning and Tom's fantastic achievement really demonstrates that lifelong learning never stops.
It is only right that the last words of this feature should go to Tom Walsh himself, as he celebrates his successful viva and reflects on not only the years gone by, but what's next as he looks to the future.
The great thing about a UCC degree is that it allows you to hold your own anywhere throughout the world. Having worked with 40 odd countries, I found that it was an added bonus to be Irish in every sense of the word! As to the future, I would like UCC to be the first Irish university to provide for the study of customs law and practice.
Congratulations to Tom from all your friends at UCC School of Law!