News and Events
News and Events
Spotlight on PhD students in new special episode of UCC School of Law's Impact Series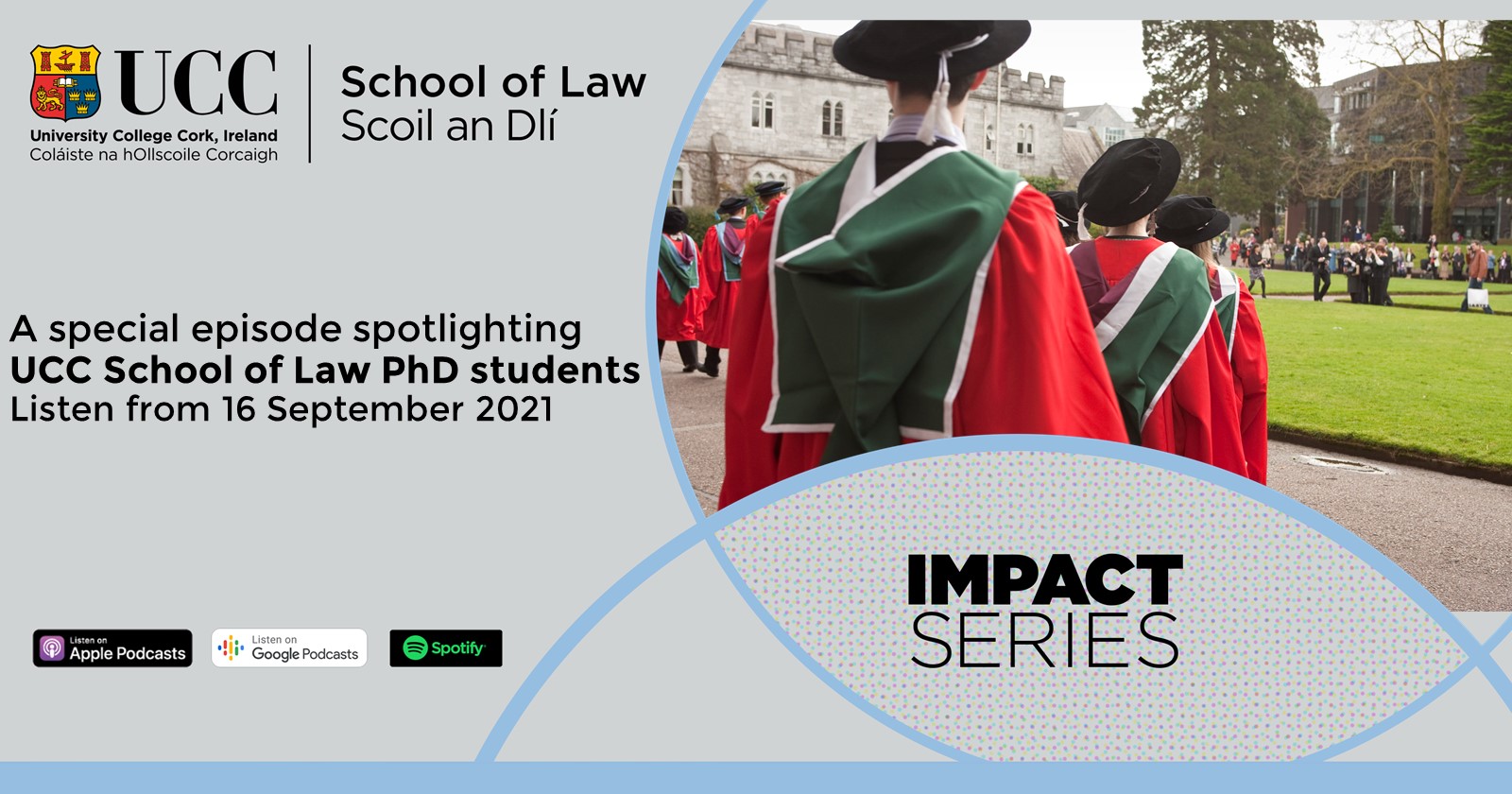 PhD candidates share insights on their research across a wide range of legal areas as part of our podcast series showcasing the resounding impact made by School of Law faculty – and, in this case, students – and their work.
UCC School of Law is proud to host Ireland's most successful graduate research programme in Law. Our PhD students are provided with an unparalleled experience within a well-established and vibrant community of over 40 graduate researchers, where they produce cutting-edge legal research contributing to national and international scholarship.
In this episode of UCC School of Law's Impact podcast series, nine of our PhD students share an overview of and insights from their fascinating research. The breadth of scholarship across so many legal areas – from family law to company law, gambling regulation to the environment – is indicative of the high-quality research undertaken in the School.
Our featured PhD students are:
Gordon Rumley and his research on methods of dispute resolution in family law
Luke Noonan and his research on mental condition defences
Deirdre Kelleher and her research on the life experiences and outcomes of young people detained at Oberstown Detention Campus
Michael Boland and his research on company law which is endeavouring to show that Irish company law takes an entity focused approach
Aisling Ryan and her research on administrative law, specifically examining how the courts control the powers exercised by public body decision makers
Bernard Long and his research on self-exclusion agreements in gambling
Deirdre Leahy and her research, also on gambling, but with a focus on the regulation of online gambling by the EU
Rhoda Jennings and her research on how scientific data is used in the development and application of environmental law
Alison Hardiman and her research on how Ireland can achieve its climate change targets, specifically its renewable energy commitments
Michael Boland organised this special episode with his PhD colleagues. Speaking in advance of its launch, he said:
I am very proud to be a member of the UCC School of Law's PhD team and to learn from and be inspired by colleagues who are already making an impact on the domestic and international stage. This special episode features just nine of us; however there are many more PhD researchers at the School of Law undertaking fascinating research in areas such as transnational environmental regulation, reckless trading, trademark law, assisted decision-making, hedge fund regulation, and access to environmental information in the context of the Aarhus Convention. The diverse research being undertaken by my colleagues reflects the wealth of expertise among the faculty members at the School of Law who are trail blazers in their respective fields.
UCC School of Law PhD programme
With easy access to supervisors who are internationally recognised experts in their fields and a suite of tailored supports, facilities, and activities, PhD students at the UCC School of Law are afforded a top-class research experience. Our students frequently present and participate in national and international conferences and discuss their research in the media. Graduates from UCC School of Law have gone on to take up academic posts in Law Schools across the world.
If you are interested in pursuing a PhD in Law at UCC, visit https://www.ucc.ie/en/law/courses/phd/ to find out more.
Impact Podcast Series
The Impact Series is available to listen as part of the wider UCC School of Law podcast, which is on Spotify, Apple, Google or wherever you get your podcasts.
Listen to episode three now: