News and Events
News and Events
School of Law, UCC hosts 'Discussion in Dispute Resolution 2022' marking the conclusion of the National Forum for the Enhancement for Teaching and Learning in Higher Education funded ADR Initiatives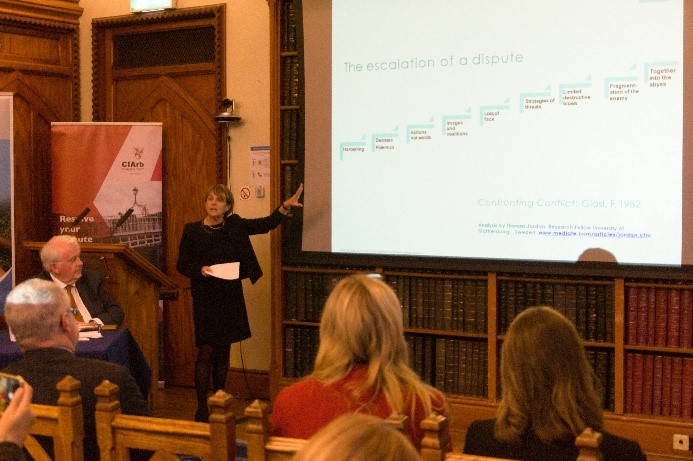 On the 13th October 2022, the School of Law UCC, in collaboration with the Chartered Institute of Arbitrators, Ireland, and the Irish Professional Mediators' Organisation, hosted 'Discussions in Dispute Resolution 2022: Understanding Conflict and Resolving Disputes' on the main UCC campus
This event was funded by the National Forum for the Enhancement of Teaching and Learning in Higher Education, as part of the SATLE2019 (Experiential learning for dispute resolution: Developing a curriculum for alternative dispute resolution (ADR) skills, theory, and practice) and SATLE2020 (Digital competencies in dispute resolution: Digital badge design and developing share resources) projects led by Dr Mary Tumelty.
Speakers at the event included Ms Nicola Wallace, Barrister and Mediator, 4 Paper Buildings, who gave the keynote address 'I hear what you say but what are you telling me? Understanding the language of disputes and using it to maximum advantage in Mediation'. Ms Penelope McRedmond, Solicitor, Lecturer, and Legal Writer, presented on 'The Mediation Act 2017: Intentional and Unintentional Consequences of Regulating Mediation'; and Ms Paula Murphy, F.C.I.Arb, FRIAI, spoke about 'Domestic Arbitration – Legal Framework and Uses'. The event was chaired by Mr Billy Morrissey, F.C.I.Arb
This event marked the conclusion of National Forum funded projects which sought to develop and enhance curriculum offerings in dispute resolution at the School of Law.
Whilst the projects have now formally concluded, their impact remains ongoing. Modules in alternative dispute resolution are available at undergraduate and postgraduate level in the School of Law. A digital badge in Negotiation and Dispute Resolution was developed as part of the SATLE2020 project and will be offered next semester to students across the University. The inter- and trans-disciplinary nature of negotiation and dispute resolution (relevant to a range of disciplines e.g. engineering; healthcare; commerce; social sciences; law) will appeal to students who want to develop and enhance transferable skills. Additionally, roleplay simulations designed to support the teaching of alternative dispute resolution at third-level have been developed, and a repository of these resources are now available open access.
Commenting on the conclusion of the project, Dr Mary Tumelty, Lecturer at the School of Law said:
"Sincere thanks to our speakers and collaborators for their participation and support of this event. Events, such as 'Discussions in Dispute Resolution 2022', provide a space for critical engagement with leading dispute resolution experts. The value of ADR (and associated skills) was apparent from speakers' presentations, and highlighted the increasing prominence of ADR within the civil justice system.
This event marked the official end of the National Forum for the Enhancement of Teaching and Learning in Higher Education funded projects. I would like to gratefully acknowledge the funding of the National Forum, as well as the support of the Dean of Law, Prof Mark Poustie, UCC colleagues, and industry partners who have significantly contributed to the success of these projects over the past two years.
In addition to events organised, most notably, this funding has supported the development of a curriculum in ADR at undergraduate and postgraduate level. Students across UCC may now also avail of the opportunity to complete a Digital Badge in Negotiation and Dispute Resolution. The badge is a distinct transdisciplinary offering, aimed at integrating the theory of negotiation with experiential learning to enhance skills development.
Although the funded projects have now come to an end, I believe the impacts will remain ongoing, and the connections developed both through events and the initiatives more broadly will continue to enrich student learning."
A call for applications for the Digital Badge in Negotiation and Dispute Resolution will be made shortly.
For further information, please contact Dr Mary Tumelty (Mary.Tumelty@ucc.ie).