News and Events
News and Events
Mental Health Advocate and Musician Niall Breslin, 'Bressie', presented with the Mutatio Factorem award by UCC Law Society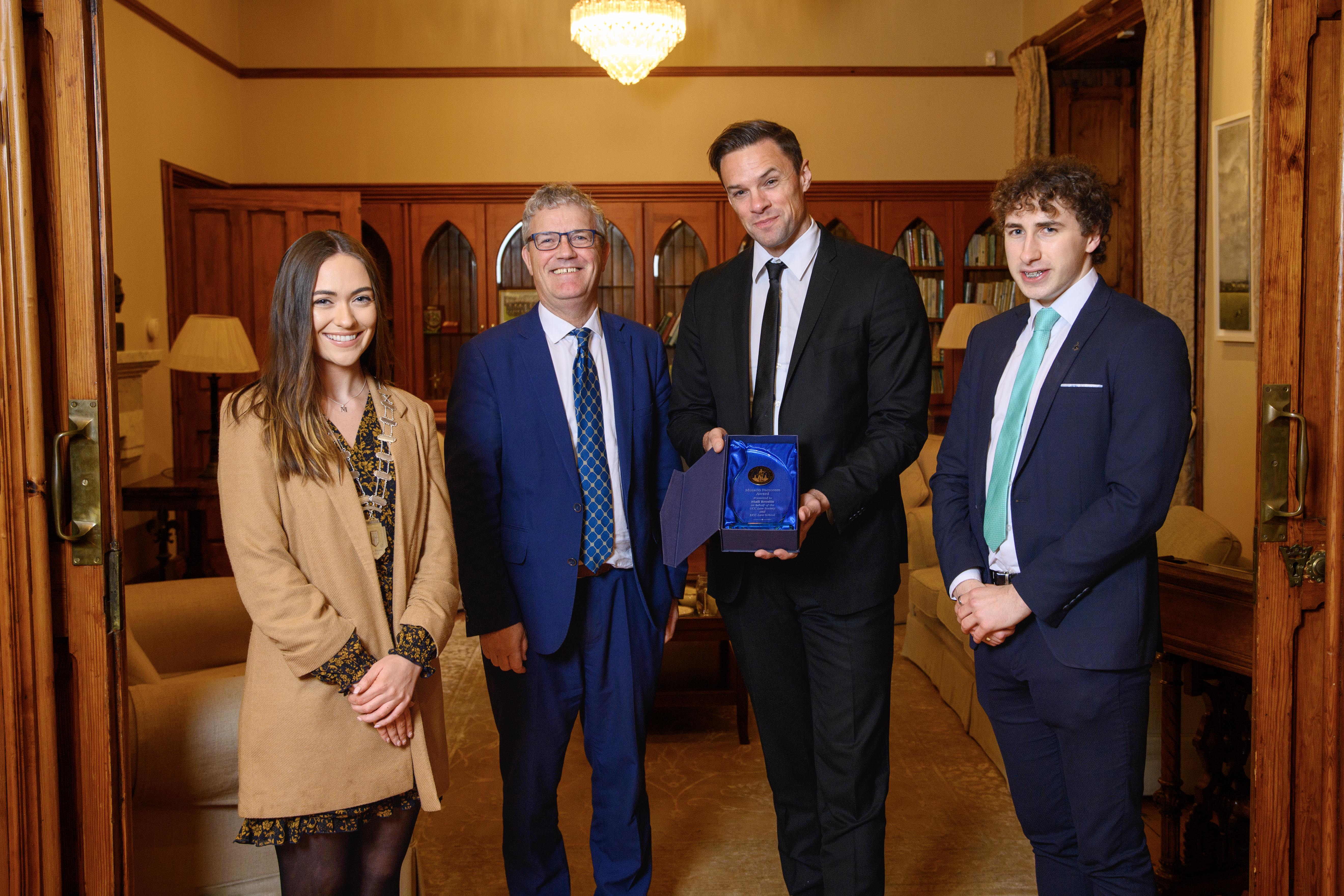 Translated from 'change maker', The Mutatio Factorem Award is given to people who have brought about significant change and inspiration.
UCC welcomed Niall Breslin , better known as Bressie, to campus on 21st November 2022 to award him with the UCC Law Society's Mutatio Factorem award.
Bressie received this award in recognition of his outstanding contributions to mental health advocacy.
A founder of the charity 'A Lust for Life', Bressie has made a significant contribution to the evolving conversation around mental health in Ireland. Across his podcast, 'Where is My Mind?', his books and public events, he aims to normalise conversations around mental health and emotional well-being.
Bailey Lane, Ex-Officio, UCC Law Society said:
"It is our great honour to award the 'Mutatio Factorem' award to Bressie, a most deserving recipient. The award translated to 'change-maker' is given to people who have in their career and or life brought about significant change, inspiring courage, action or empowering individuals or communities. As a mental health champion, Niall promotes the importance of identifying and stopping the stigma associated with mental health. He tirelessly strives to create awareness around mental health issues, with a special focus on the needs of younger members of society."
Founded by former President Mary Robinson, who was the first recipient of the award, Bressie is the forth person to be honoured with the Mutatio Factorem Award, following actor Stephen Fry who received the award last year and musician and activist Bob Geldof, who received the award in October of this year.
The event was supported by the UCC School of Law and chaired by Dr Claire Murray, School of Law.