News and Events
News and Events
Professor Ursula Kilkelly Reflects on Her Tenure as Dean of UCC School of Law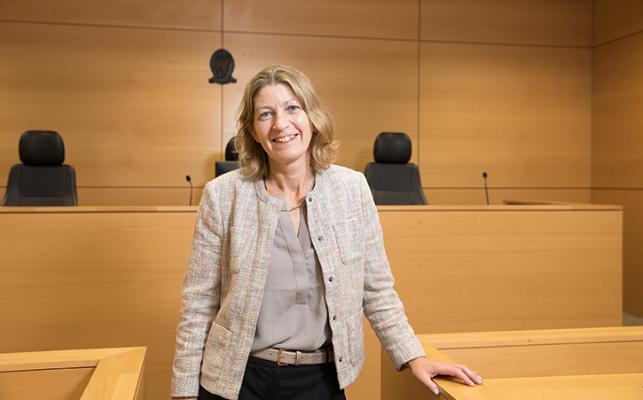 Seven years after her appointment, Professor Ursula Kilkelly stepped down as Dean of UCC School of Law this week.
In April 2012, I was appointed Head of the Department of Law at UCC by President Michael B Murphy. Simultaneously - as was the system at the time – I was elected Dean of the Faculty of Law. Seven years later, in April 2019, as I move on to my role as Head of the College of Business and Law, it is timely to reflect on what has been achieved at Law, UCC under my leadership.
Law has been taught at UCC since the founding of the University in 1849 and when I took responsibility for the school over 160 years later, I was acutely aware of Law's distinguished heritage. The leadership of previous Heads/Deans, including Professor Steve Hedley, Professor Caroline Fennell, Professor Irene Lynch Fannon and Professor David Gwynn Morgan (to whose chair I am proud to have been appointed, following his retirement in 2011) meant that I was truly standing on the shoulders of giants. It was evident then that as a result of those who went before, the fundamentals of the department were very strong – a student-focussed ethos and committed lecturers delivered solid academic programmes at all levels, with positive student demand. Research active faculty gave the School an enviable scholarly reputation and our proud tradition of external engagement meant as a Law School we live our social conscience, visible for all to see. In 2012, it was evident too that the University and the Law School faced many challenges, including a diminished resource base. Internationally, the role of the Law Dean is changing, becoming more strategic and executive in focus. Responding to these challenges without losing the key strengths of a collegial, academic law school, was an important priority as I took up my first major leadership role.
In my first year as Dean, I led the process of Quality Review for the School. This provided a timely opportunity to question and review all our activity, while we used the self-assessment analysis to prioritise areas for improvement. The review involved important internal and external consultation on our strengths and weaknesses and the process produced a blueprint for the strategic planning process that set out the School's direction under my tenure. I took further vindication of our strengths from the Research Quality Review undertaken by the School in 2014. While recognising the many excellent features of our research performance, the external panel prompted us to stretch our ambition, widen the reach of our dissemination activity and seek to amplify our impact internationally. Taken together, I used these processes to shape the priorities that formed the backbone of our school strategy. Routinely asking 'why', but also 'why not', my approach as Dean has been to strengthen and enhance that which worked well, while routinely refreshing and renewing areas where improvement or change may be required, bringing colleagues along on the journey.
I am immensely proud of the School's many achievements over the last seven years. The key developments that took place under my leadership included:
Reform of the undergraduate programme to enhance student choice with the adoption of the BCL Pathways model, incorporating the BCL (Clinical) and the BCL (International) programmes, maximising student opportunity for placement and study abroad;
Introduction of the new joint honours programme with the Business School – the BCL (Law and Business);
Introduction of new LLM programmes to map against the School's research strengths, including the LLMs in Business Law, Environmental Law and the especially innovative LLM Marine and Maritime Law created in association with the Irish Naval Service;
Supporting the establishment of new research centres to support research clustering and raise the profile of our research specialisms in the areas of Environmental Law, Children's rights and Family Law, Sports Economics and Law (with Economics) and the European Business Law Network, building on the strengths of the Centre for Criminal Justice and Human Rights;
Consolidating the Child Law Clinic and promoting the development of three new clinics in the areas of Family Law, Sports Law and IT Law affirming our commitment to innovation and the integration of teaching with research;
Promoting a clearer articulation of the School's identity, captured in our motto: 'Creating a Just Society Since 1849' to frame all that we do;
Rolling out a plan of greater engagement with our alumni, promoting prestigious adjunct and visiting professor (Fulbright) appointments to connect us with our partners and employers and internationalise our impact.
We hosted many excellent seminars and conferences during this time, and our calendar now contains flagship events in the areas of EU Law, Environmental Law, Mental Health and Human Rights Law for example. The School's horizons have widened with the strengthening of our international partnerships, extending our reach into India, China and Canada. Under my leadership we renewed our communications with our alumni and have begun our philanthropy journey, with positive early impact. We cemented our credentials as a European facing Law School with prestigious Adjunct Professor appointments and our first alumni event in Brussels, which exemplified our commitment to the local and the international. More exciting news of this soon.
Undoubtedly, one of the highlights of my term was the visit to Cork and UCC of the Supreme Court of Ireland – the first outside Dublin – in 2015. This coincided with the delivery by now Chief Justice Frank Clarke of the inaugural lecture in memory of his friend and colleague High Court Justice Kevin Feeney (RIP). We continue to value our special relationship with the professions – and this lecture is now a shared event, with the Southern Law Association and the Cork Bar, due to take place again in November 2019.
Some colleagues chose to move on to pastures in recent years and as Dean, I appointed outstanding new staff who have added fresh ambition and impetus to the School. Age old debates about our structures, the status of the faculty etc, were finally put to bed in 2014 when I led the process to restructure the College of Business and Law and to establish Law as a School. We now operate under new governance arrangements under the Law School Rules and this required the restructuring of the School's professional services to better align our supports with our areas of priority.
Not all of this change was easy but it was necessary ground-work to position the School for the challenges and opportunities of the future. In addition to these structural changes, other elements of the School's development were perhaps less visible. Building on our strong research culture, I was determined in my role as Dean to ensure that every member of staff had the opportunity to fulfil personal ambitions while meeting University objectives. I led with a proactive approach to sabbatical leave, introducing a Dean of Law Strategic fund to support research engagement and pump prime new ideas. Our exceptional success in internal promotion and external competitions across all categories of staff is evident that our environment is indeed supportive of professional development, while this success says much of the calibre of my colleagues too. I am exceptionally proud of the School's exemplary record of public service both within the University and outside in the community where we are known locally, nationally and internationally for our selfless commitment to the causes of social justice. Building on the School's long established ethos, I led from the front here when I was appointed to Chair the Board of Management of Oberstown Children Detention Campus in 2016.
Leading the School of Law as its Dean has been the privilege of my career. The School is a remarkable place, full of achievement and ambition, commitment and heart. It is also a warm place, where the seriousness with which we take our work and its impact is always matched by good humour and a genuine commitment to collegiality. I have always sought to amplify our strengths so that future staff and students can continue our work shaping a just society, for many years to come.
The School is now in the hands of our new Dean Professor Mark Poustie, who took up his three year term on 1 May 2019. As a full professor, my research and teaching in youth justice and children's rights will continue as before as part of the Centre for Children's Rights and Family Law and the Child Law Clinic, especially on the international stage. Dr Conor O'Mahony has taken over as director of the Child Law Clinic. As Head of the College of Business and Law, to which I was formally appointed in April 2018, my focus now is to work closely with UCC President, Professor Patrick G O'Shea, to ensure the Schools' development in line with the University's strategic plan. As I move on from seven great years as Dean of the School of Law at UCC, I look forward to using my leadership skills to strengthen both Law and Business at UCC, to develop children's rights and to fulfil my other, external commitments, with renewed impact and focus.
30 April 2019