News and Events
News and Events
Arthur Cox Announce Student Scholarships
University College Cork and Arthur Cox announce philanthropic gift which will provide vital support to enable student access.
Irish Law Firm, Arthur Cox, leads the way in access to third level education by funding scholarships which will enable up to 40 students per year access an education in UCC's renowned School of Law. The scholarships will be awarded to students through the UCC PLUS+ Programme, which aims to increase the accessibility of third level education to under-represented and economically disadvantaged communities.
The generous philanthropic gift was announced in the Aula Maxima on March 27, where an audience of UCC staff, students, and representatives from Arthur Cox gathered to celebrate its launch. Speakers included UCC President, Prof. Patrick O'Shea; Prof. Ursula Kilkelly, Dean of the School of Law, Olive Byrne, Head of Access and Participation, representatives from Arthur Cox, and a student representative.
Speaking before the event, Professor Ursula Kilkelly, Dean of the School of Law said, "I would like to thank Arthur Cox for their generous support which will benefit current and future students of our School of Law. We have worked closely with Arthur Cox for many years and this next step in our partnership highlights their commitment to education and the development of future talent in the field of Law".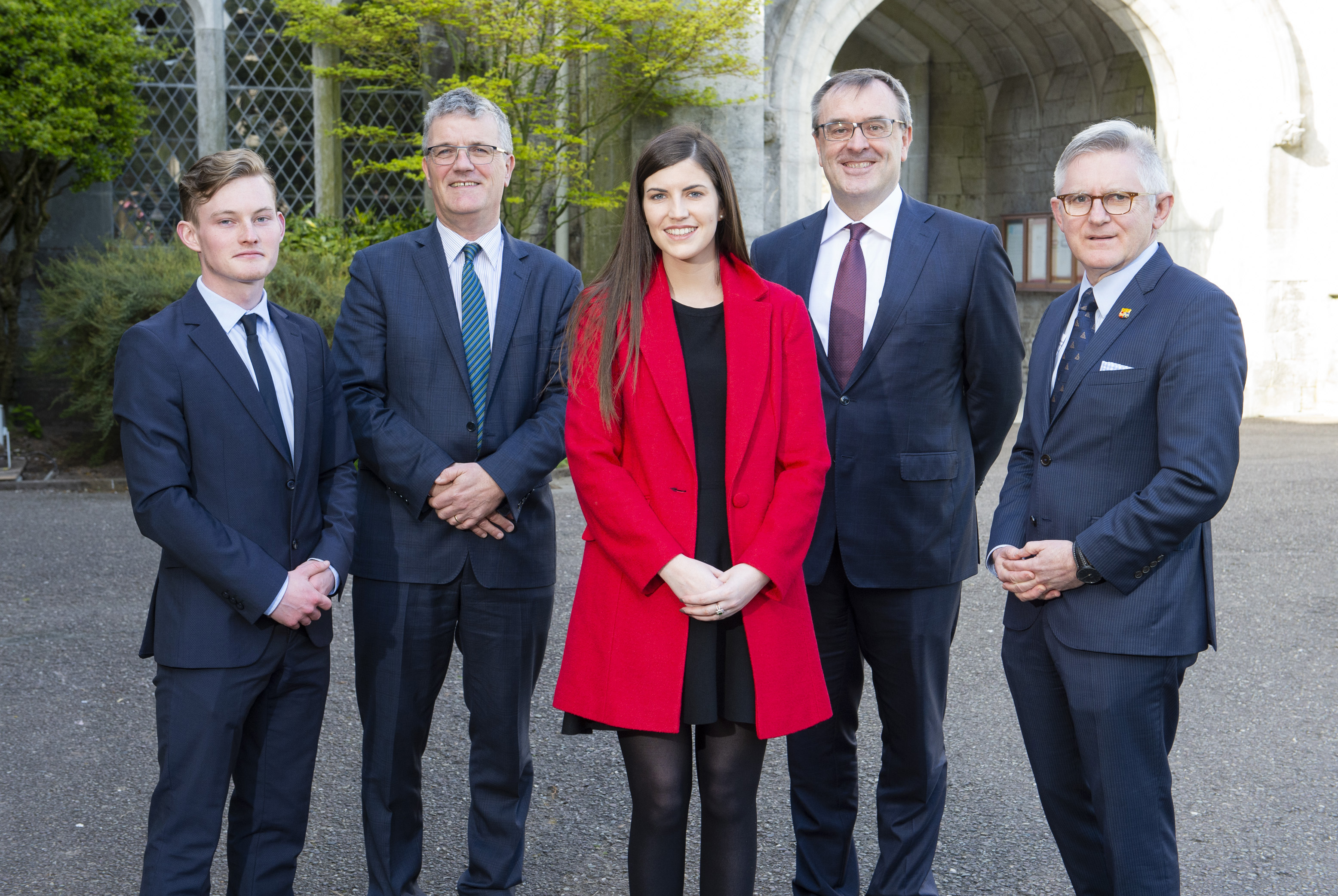 In addition to this donation, Arthur Cox have committed to providing a pilot mentorship programme for students studying in the School of Law. The programme aims to nurture talented students and offer guidance and support from staff at Arthur Cox. The firm will also host an annual careers evening at UCC which will be open to students from all academic backgrounds to highlight the diverse range of career options within the legal sector.
Ailish Finnerty, Partner at Arthur Cox added, "We are delighted to announce this partnership with UCC which will assist traditionally under-represented students to study Law at the university. We are also excited to work with the School of Law to prepare the next generation of legal professionals for a career in the sector".
UCC has a long heritage of promoting equality, diversity and inclusion for all. It was the first Irish University to admit female students in 1885 and the first to appoint a female professor in 1910. This tradition has continued into the present day with the launch of the Equality, Diversion and Inclusion Unit in 2017. UCC is currently a leader in access to third level education with over 23% of UCC's undergraduate intake being students with disabilities, mature students and other non-traditional college goers. This announcement highlights the University's on-going commitment to improving access to third level education for under-represented students.
Olive Byrne, Head of Access and Participation at UCC explained the impact of Arthur Cox's donation, "these scholarships actively help students to participate fully in student life and reach their full potential".