News and Events
News and Events
ELPIN workshop moves online for first time
The second in a series of Ethics, Law and Pregnancy in Ireland Network (ELPIN) workshops took place virtually on Friday 29th May 2020
The ELPIN project held a successful and well-attended virtual seminar on Friday 29th May 2020 to which 27 of the network members attended from across Ireland and the UK. The seminar was the second in a series of workshops and was originally intended to be held at the UCC School of Law. However, due to the COVID-19 restrictions, the workshop had to be moved online and delivered via Google Meet.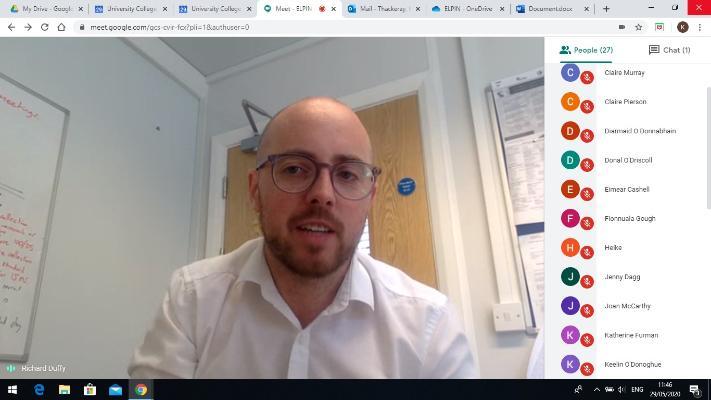 Dr Richard Duffy, Consultant Psychiatrist, Rotunda Hospital
The workshop considered issues relating to reproductive rights in the light of mental health policy and capacity. Presentations were delivered by Dr Richard Duffy, Consultant Psychiatrist at the Rotunda, and his research colleague Dr Eimear McGuire on 'Women's reproductive and sexual health in mental health policy: what is and what should be?' and by Dr Claire Murray from UCC on 'Unwanted interventions in childbirth: the evolving role of capacity and the importance of supporting decision-marking in Ireland' with network members participating in a virtual discussion. In the afternoon the group reconvened and, with short overviews on current working practices provided by a range of clinicians and service providers, considered the impact and implications of public health measures put in place during the Covid-19 pandemic on a range of family health services and policy areas.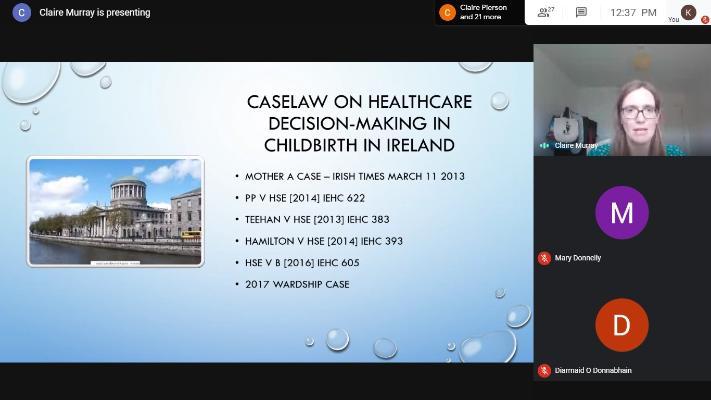 Dr Claire Murray, School of Law, UCC and ELPIN Principal Investigator
Despite the logistical challenges of delivering an interactive workshop online, the network rose to the occasion and thankfully experienced no significant technical difficulties on the day. Discussions were managed via the chat system on Google Meet, with the Chairs, the School's Dr Claire Murray and Professor Mary Donnelly, moderating carefully to ensure everyone had a chance to contribute. As we all adjust to the "new normal" way of working, the ELPIN team is confident that their workshop series can continue to be successfully delivered online.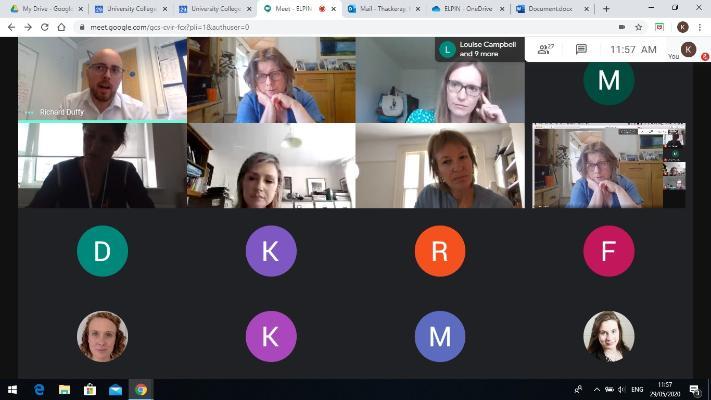 Some of the ELPIN network members at the virtual workshop
About the ELPIN project
The ELPIN (Ethics, Law and Pregnancy in Ireland) project is led by Dr Claire Murray in the UCC School of Law and is funded by the Wellcome Trust. ELPIN is intended to engage academics across different disciplines, as well as women's health/reproductive rights advocates, and health professionals. Its broad range of participants will best capture the complexities of pregnancy and childbirth and will provide participants with the skills and knowledge to best address emerging ethical and legal questions.
ELPIN was set up in late 2019 and the first of its planned workshops was held in February 2020 where UCC hosted over 20 network members for a full day workshop exploring the framing of the pregnant subject. Over the next year, ELPIN will host further virtual seminars and workshops, develop online information from the project and plan to hold a final conference event at UCC in 2021.
Further information
For more information on the ELPIN project, visit: https://www.ucc.ie/en/elpin/