News and Events
News and Events
Alumni Spotlight: Kathy McKenna - PPI Award Winning Journalist and Public Relations Executive with the Law Society of Ireland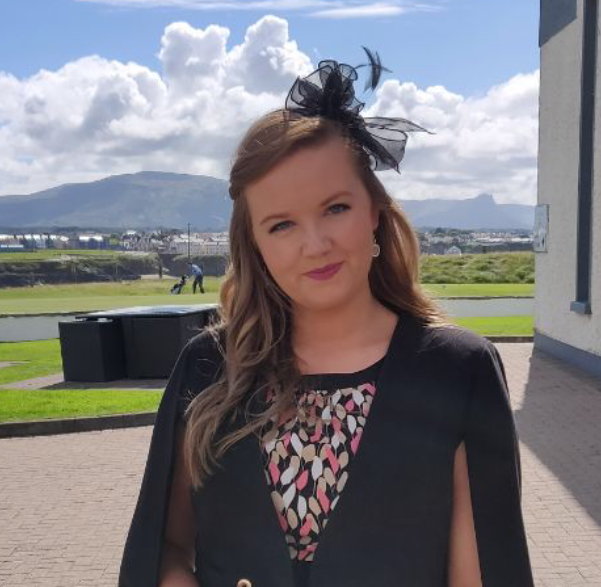 Kathy McKenna assumed she would become a solicitor before embarking on a career in the media.
After completing her LLM in 2008, Kathy McKenna quickly put the skills she developed at UCC to work as a journalist.
1. What was your ambition when you first came to study Law at UCC in 2004?
To be completely honest, I was very focused on enjoying my time in college first and foremost. Simply getting to UCC was my main ambition in many ways. It had been a dream of mine for a long time and I wanted to live that experience to the full.
Career-wise, I had a very linear (naïve!) idea of how my studies and career would progress back in 2004. I assumed I would complete my degree and go straight into solicitor training and on to a career as a solicitor, so I suppose that was my wider ambition.
2. How did you get involved in media and communications after completing your LLM?
It had become clear to me during my LLM that neither solicitor training nor the King's Inns was the next step in my career for a variety of reasons. So, after finishing my LLM and traveling a bit, I moved back home to Kerry and began a full-time retail job while I considered my next move. While working, I began a City & Guilds training course in broadcasting, based in the Radio Kerry Training Centre in Tralee.
If I can take a brief tangent - looking back now, I'm very proud of my younger self for taking this opportunity, for two reasons. Firstly, it kept me within the realm of studying and training while I was earning a very important post-college wage. Secondly, it allowed me to explore a life-long interest in radio and broadcasting, which I wouldn't have considered really possible before the course began.
Broadcasting is a difficult industry, but an exciting one, and towards the end of the course options and opportunities for my career really started to open up, little by little. Just before the course finished in 2010 I secured a brilliant job in the newsroom of Cavan/Monaghan radio station, Northern Sound.
Later, in 2012, I made the decision to leave broadcasting and, following a well-trodden path to "the dark side", I joined the Irish Cattle and Sheep Farmers' Association as PR & Communications Officer. Having grown up on a dairy farm, this was a brilliant amalgamation of my personal and professional experience.
In 2014, I joined the Law Society Of Ireland as its first-ever Public Relations Coordinator and in early 2018 my role was developed and I became the Society's Public Relations Executive.
3. Was it relatively easy to deploy the skills you learned at UCC in the media sphere?
The first thing I noticed when I was on the job market (both at the start of my career and throughout) was that the people who mattered really sat up and took notice of my academic achievements and qualifications from UCC, even though they weren't directly related to the media industry. There is no doubt in my mind that my UCC degrees combined with hard broadcasting skills made me stand out among other job candidates in what was an extremely competitive media jobs market, back in the depths of the recession.
The skills I learned in UCC were highly valued in the newsroom in quite a surprising variety of ways; my knowledge of defamation law is just one example. Reporting in a fair and balanced way is, of course, crucial for any journalist and what I learned in UCC was hugely beneficial in this regard. Being able to identify and articulate two or more sides to a story was inherent in me with the BCL and LLM in my back pocket. I really wouldn't have been half the journalist I was without them.
4. How challenging was it to develop the skill set that allowed you to become a broadcast journalist?
It wasn't difficult at all. The main challenge was learning to write for the ear and not the eye. In other words, I had to un-learn the long sentences with many clauses I had become accustomed to as a law student!
5. You returned to you legal roots in 2014 as PR coordinator with the Law Society of Ireland, how have you found the role?
All of my jobs to date have been really important in my professional and personal development, and I look back fondly on each. However, my role in the Law Society of Ireland has been the best of my career. I have been so fortunate that the entirety of my academic and professional experience has meshed perfectly within a job that I have thrived in and continue to enjoy almost five years later.
6. Given the nature of the modern media environment, being able to write clear and precise press releases must be hugely advantageous?
Absolutely, and the proof is in the pudding. When we develop and send out thoughtful, interesting press releases in plain English, they catch attention and our key messages end up on air and in print. A press release that's a little muddled or confusing simply doesn't work.
The same goes for a press release that's overly simplistic and doesn't acknowledge or address, directly or indirectly, any questions or conflicts that it generates. Clear, precise writing that identifies and addresses any questions the reader will have after reading it is absolutely key to success in press releases.
7. What has been the proudest moment of your career?
I'm going to divide this into two parts. Every year, the Law Society hosts the Justice Media Awards here at our beautiful and historic headquarters at Blackhall Place, Dublin 7. The whole process is a huge undertaking and planning begins in darkest December; but it always finishes on a stunning day in June and is the single most satisfying professional achievement in a given year.
The Justice Media Awards is the longest continuously-running media awards programme and I really believe in its mission. It's growing massively each year and it's a source of huge pride to me personally that it is held in such high regard across the media industry.
The absolute proudest moment of my career was in 2011 when I won gold in the PPI Radio Awards (now IMRO Awards) Best Newcomer category. I was absolutely privileged to be surrounded by the most enthusiastic, supportive colleagues that evening and I don't know when that moment will ever be topped, or if it can be.