News and Events
News and Events
A Year in Review 2021: Event Highlights
As we bid farewell to another challenging year, we reflect on some of 2021's highlights at the UCC School of Law.
Campus closures and an uncertain climate didn't stop us from offering a high-profile package of events to a range of external audiences. This post reflects on our 2021 event highlights at the School.
Prescriptive Easements: Another Cliff Edge?
We started the year with a hugely successful CPD webinar on Prescriptive Easements. Led by the School of Law's Professor John Mee and chaired by The Hon. Ms. Justice Marie Baker, this topical event attracted over 500 attendees.
Discussions in Dispute Resolution – A Bitesize Series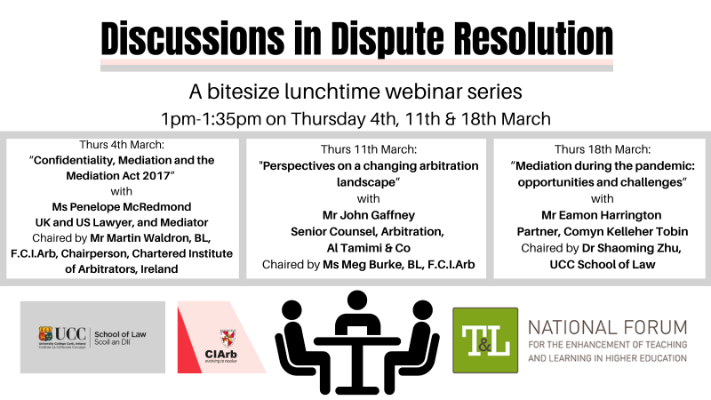 In the spring, Dr Mary Tumelty hosted a bitesize lunchtime webinar series over three consecutive weeks on "Discussions in Dispute Resolution". Organised in collaboration with the Chartered Institute of Arbitrators, Ireland, the popular series considered timely, relevant issues in the area of dispute resolution in a short and interactive format. These external-facing events were followed by a virtual negotiation competition specifically tailored for UCC Law students, which saw participants from across our undergraduate and postgraduate programmes partner up to showcase their negotiation skills in front of a panel of judges including Her Honour Judge Helen Boyle.
Later in the year, we received confirmation that our Masters module on Dispute Resolution has been awarded Recognised Course Provider Status by the Chartered Institute of Arbitrators, Ireland. We are delighted to receive accreditation for this module, which provides students with the knowledge and skills needed in alternative dispute resolution (ADR) processes, and gives students an understanding of the theoretical foundations of ADR.
Reflecting on 20 years of the Children Act
We marked the 20th anniversary of the Children Act this year with a special online symposium led by Professor Ursula Kilkelly. "The Children Act at 20: Reflections on Progress and the Future" brought together some of the key influencers in both the development and the implementation of the Children Act 2001 to reflect on the origins of the legislation, the challenges associated with its implementation and the impact that the Act has had on the lives of children who come into conflict with the law. We were also delighted to welcome young people from the Cork Life Centre who spoke eloquently about their own experiences with the Act.
'Advancing Children's Rights in Detention - A Model for International Reform'
Professor Ursula Kilkelly (UCC School of Law and Chairperson of the Board of Management at Oberstown Children Detention Campus) and Pat Bergin (Director of Oberstown Children Detention Campus 2013-2020) published a new book this year detailing how how reform of children's detention facilities can take place through the application of a child-centred model of detention that fulfils the rights of the child under the five themes of provision, protection, participation, preparation and partnership. The book uses Oberstown Children Detention Campus as a case study to present a powerful argument for a progressive, rights-based approach to child detention. You can watch the book launch, organised by publishers Bristol University Press here, listen to a UCC School of Law podcast episode with Professor Kilkelly and Mr Bergin here, and read a blog post written by the authors here.
Avosetta 2020
A year later than planned, Professor Áine Ryall hosted EU environmental law experts from across the continent – the Avosetta Group – at their annual meeting, the first of its kind to be held virtually. The theme of this year's meeting was "Strategic Environmental Assessment & Developments in Climate Litigation". Whilst we were sorry not to be able to physically host the group here in Cork, we were still able to provide them with an array of cultural highlights via Zoom, including a lively and engaging talk about UCC and the city from the university's very own JP Quinn, Head of the University's Visitors Centre.
EU Law in the Spotlight
We hosted a number of events this year on the theme of EU law, including a Brexit and the Future of Europe webinar series, led by Dr Stephen Coutts, which culminated in a keynote lecture from Professor Brigid Laffan back in April and an online conference, organised by Dr Luigi Lonardo, on European Law and Policies Against Hybrid Threats. In the environmental European Union law sphere, the Centre for Law and the Environment at UCC's successful webinar on Enforcing EU Environmental Law returned this autumn, chaired by The Hon. Ms. Justice Marie Baker with an excellent panel of experts. Organised by Professor Áine Ryall, this hugely popular webinar was accompanied by a podcast series on Communicating EU Environmental law featuring interviews with key stakeholders in the field, each with their own unique perspectives on the issues at hand.
Face-to-face for IALT Annual Conference
After over a year of running successful webinars – which will certainly continue into 2022 – we were delighted in November 2021 to be able to host an in-person event for the first time since March 2020. Dr Stephen Coutts, President of the Irish Association of Law Teachers (IALT) and Lecturer at the School of Law, brought the 2021 Annual Conference of the IALT to Cork. Held in the River Lee Hotel – just a stone's throw from UCC campus – the event showcased the research of over 60 speakers from all over the island of Ireland as well as delegates from overseas.
Inaugural Event for the School's Newest Research Centre
The School's newest research centre, the Centre for European Integration at UCC (CEI@UCC) held its first webinar in December of this year. 'The Polish and other Constitutional Courts in context – constitutional identity as a poisoned chalice?' welcomed expert speakers from around the globe to an event led by Professor Dagmar Schiek, discussing issues surrounding an apparent disjuncture between national constitutional courts and the primacy/supremacy of EU law.