Collections
Collections
Portrait, Basil Blackshaw HRHA HRUA (1932-2016), 'Michael P. Mortell'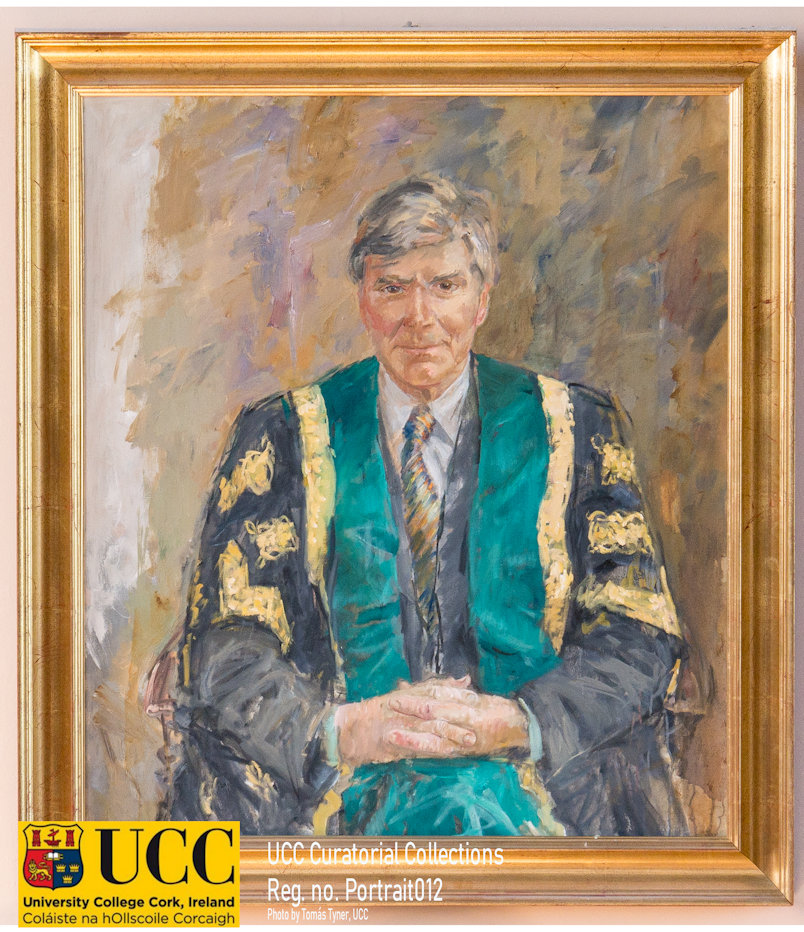 Painting in oil on canvas, framed, of Michael P. Mortell (President, University College, Cork, 1989-1999).
Ref: UCCHS.Portrait012 © University College Cork
Portrait, Michael P. Mortell. Basil Blackshaw HRHA HRUA, Northern Irish. Oil on canvas. Signed top right. 1999. University College Cork.
Dr Mortell (President, 1989-99) is seated wearing the President's gown, with hands clasped at the front.
Artist: Basil Blackshaw HRHA HRUA (1932-2016)
Provenance: Commissioned by UCC in 1999.
Read more about Michael P. Mortell here
More about the artist
Basil Blackshaw was born at Glengormley, Co. Antrim, in 1932 and brought up in Boardmills, Lisburn, Co. Down. He attended Methodist College Belfast and studied at Belfast College of Art (1948–1951). In 1951 Blackshaw was awarded a scholarship for further study in Paris by the Committee for the Encouragement of Music and the Arts. His home and studio was by Lough Neagh, Co. Antrim. He became well known for his country scenes including landscapes, farm buildings and horses, painted in an expressionist style. He also painted many portraits and designed posters for the Field Day Theatre Company.
A major retrospective of Blackshaw's work was held in 1974 at the Arts Council Gallery in Belfast, and another in 1995 was organised by the Arts Council of Northern Ireland. The latter was exhibited at the Ormeau Baths, Belfast; Royal Hibernian Academy, Dublin; Crawford Municipal Gallery, Cork; and a selection of the works travelled to the United States for a further tour. In 2001 Blackshaw received the Glen Dimplex Award for a Sustained Contribution to the Visual Arts in Ireland. The Ulster Museum held a major exhibition of his work in 2002 – see Brian McAvera's article 'Basil Blackshaw: a new vision', Irish Arts Review 2002 (vol. 19 no 3). A major book on the artist was edited by Eamonn Mallie, published in a limited edition in 2003 (Blackshaw (Mallusk: Eamonn Mallie, 2003 ISBN 9780900903458)). The artist created a collection of fifteen new paintings for an exhibition at the Fenton Gallery in Cork (2005). In 2006 his work was exhibited at the Centre Culturel Irlandais, Paris. Blackshaw was a member of Aosdána, Royal Ulster Academy and the Royal Hibernian Academy. His works can be found in the collections of the Arts Council of Northern Ireland, Arts Council of Ireland, Hugh Lane Municipal Gallery, Irish Museum of Modern Art, National Gallery of Ireland, Trinity College Dublin, Ulster Museum, University College Cork, University of Ulster.
Basil Blackshaw died on 2 May 2016.
© University College Cork 2021