Collections
Collections
Portrait, Derek Hill HRHA (1916-2000), 'Tadhg Ó Ciardha'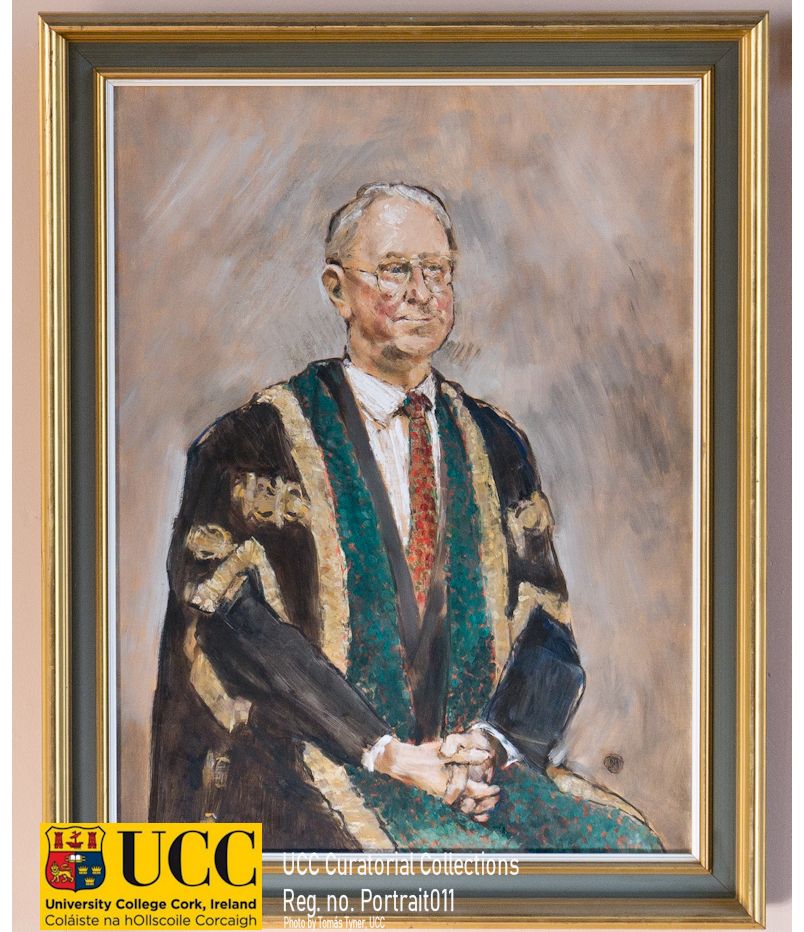 Painting in oil on canvas, framed, of Professor Tadhg Ó Ciardha (President, 1978-88).
Ref: UCCHS.Portrait011 © University College Cork
Portrait, Tadhg Ó Ciardha. Derek Hill HRHA, British. Oil on canvas. Artist's monogram in a circle, 'DH', on bottom right. University College Cork.
Prof. Ó Ciardha, wearing the President's gown, is seated with hands clasped at the front.
Artist: Derek Hill HRHA (1916-2000)
Provenance: Commissioned by UCC.
More about the artist
Arthur Derek Hill was born 6 December 1916 at Southampton, Hampshire, son of Arthur J. L. and Grace Lilian (née Mercer) Hill. Educated at Rottingdean and Marlborough College, he initially trained as a theatre set designer, studying at the Münchner Lehrwerkstaten, Munich, Germany, and also in Paris and Vienna. After this he travelled to Russia, China, Bali and Thailand. Back in London, in 1937 he designed sets and costumes for Frederick Ashton's ballet The Lord of Burleigh in the Sadler's Wells. On an extended visit to Paris in 1938 he was encouraged by a friend to take up painting, exhibiting at the Reid and Lefevre Gallery, London, in 1940 followed by a one-man show in the Nicholson Gallery in 1943. With family connections to the O'Mahonys of county Wicklow, he was familiar with Ireland and Hill travelled to the west where he spent long periods. In 1953 he was made art director of the British School in Rome, where he worked for almost five years. In 1954 he bought St Columb's (Glebe House) at Lough Gartan, county Donegal, where he lived intermittently for the remainder of his life while also keeping a house in London. His interest in Islamic architecture and art resulted in two books on the subject. At Donegal, he created the Glebe Gallery and a guesthouse for friends. He was also involved with the Wexford Opera Festival since its inception in the early 1950s. He was a prize-winner at the 1956 'Seasons' Exhibition, Contemporary Arts Society, Tate Gallery, London. Hill became a member of the committee of the Contemporary Art Society in 1958. Hill lived for long periods on Tory Island, also in Donegal, where he produced many landscapes. Best known for his landscape and portrait work, he offered interest and support to the Tory Island Painters. His Paintings of Tory Island 1958-1959 was published in 1960 by the Dolmen Press. In 1981 the house and garden at Lough Gartan and most of his collection was presented to the Irish nation. Subjects of his portraits include Erkine Childers, Noel Coward, Garret FitzGerald, Archbishop J. C. McQuaid, Yehudi Menuhin, Lord Longford, and many others including Tory islanders. Hill won numerous prizes and awards for his achievements. These included honorary life membership to the Royal Dublin Society in 1988, membership to the RHA, CBE in 1997 and honorary Irish citizenship in 1999. Hill died at London on 30 July 2000 and he was buried in the churchyard of St Margaret of Antioch, East Wellow, Hampshire, with his parents.
Works by Hill are in public collections such as the Arts Council of Northern Ireland, National Gallery of Ireland, Office of Public Works (OPW), the Ulster Museum, Belfast, and the Hugh Lane Municipal Gallery, Dublin. Works by himself and other artists from his personal collection were donated to the National Trust and are on display at Mottisfont, Romsey, Hampshire.
Read more about Tadhg Ó Ciardha here
Sources
Bridget Hourican, 'Hill, (Arthur) Derek', Dictionary of Irish Biography
National Irish Visual Arts Library (NIVAL), NCAD, 'Derek Hill' (accessed 3/2/2021)
Office of Public Works, 'Glebe House and Gallery' (webpage)
Further reading
Derek Hill: paintings of Tory Island 1958–59 (exhibition catalogue; Belfast Museum and Art Gallery, 1960)
Monk Gibbon, 'Paintings of Derek Hill', Dubliner (Jan.–Feb. 1963), 40–43
Grey Gowrie, Derek Hill: an appreciation (London: Quartet, 1987)
Francis Bailey, The Glebe House and Gallery (1990)
Brian Ferran, 'Derek Hill at St. Columb's: an artist and his collection', Irish Arts Review Yearbook 1995, xi
Derek Hill HRHA (exhibition catalogue, RHA, 1998)
Derek Hill: a maestro of portraiture … a master of landscape (Ulster Museum, 2002)
Bruce Arnold, Derek Hill (London: Quartet, 2010)
© University College Cork 2021