previous concerts
previous concerts
1:10 PM, 05 Apr 2019 - , 1.10pm, St. Fin Barre's Cathedral
---
An award-winning song-writing trio from Austin, Texas.
BettySoo, Rebecca Loebe, and Grace Pettis are award-winning songwriters and performers from the United States. They write, record and perform individually and collectively, as the trio "Nobody's Girl." Their songwriting recognitions are numerous and include top honors at National Public Radio's (NPR's) Mountain Stage New Song Contest (a nationally syndicated program, broadcast across the United States) and at the Kerrville Folk Festival, a storied songwriter festival in Texas where the three met. All three women are winners of the prestigious "New Folk" contest at Kerrville and have become mainstays in the Texas songwriting community. Other honors include grants from the National Endowment for the Arts, the Buddy Holly Educational Foundation, Boomerang Fund, and the Texas Commission on the Arts, as well as wins at Sisters Folk Festival (Dave Carter Memorial Songwriting Contest), Big Top Chautauqua, Wildflower! Festival, Falcon Ridge Folk Festival, Rocky Mountain Folks Festival, and Telluride Bluegrass Songwriting Competition.
In addition to their achievements as songwriters, BettySoo, Rebecca Loebe, and Grace Pettis are recognized individually and collectively as world-class performers and entertainers. Collectively, Rebecca, Grace, and BettySoo have toured in 49 states (all but Hawaii) and over a dozen countries. As "Nobody's Girl," the trio has toured across the United States, been signed to a record deal with Lucky Hound Music, and has just released a debut EP, Waterline, to critical acclaim. Nobody's Girl was also recently chosen to represent the United States internationally as a part of the prestigious "American Music Abroad" program, sponsored by the U.S. State Department. The group will travel the world in 2019, bringing American music to global audiences.
https://www.nobodysgirlmusic.com/story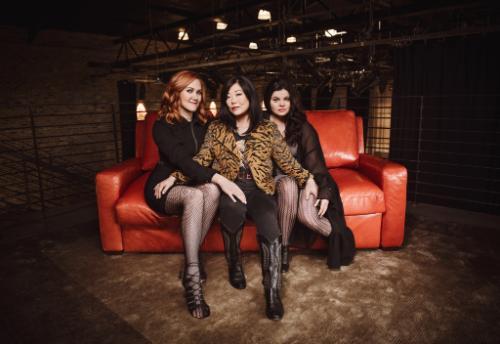 Free. Organised by FUAIM