previous concerts
previous concerts
1:10 PM, 02 Feb 2018 - , 1.10pm Aula Maxima - UCC
---
Contra/Bass Clarinet and Electronics
Ingólfur Vilhjálmsson, Clarinets
Jesse Ronneau, Electronics
Works by Franco Donatoni, Jesse Ronneau, Jesper Pedersen
Ingólfur Vilhjálmsson clarinetist was born in Iceland and lives in Berlin. He studied in Amsterdam with Herman Braune, Harmen de Boer and on bass clarinet with Harry Sparnaay and Eric van Deuren. He has a great preference for the bass clarinet which he performs regularly also as a solo instrument. He received a scholarship as a member of the Ensemble Modern Academy 2006-2007. Ingólfur is a member of Adapter ensemble, (Berlin) and his other chamber activities include Duo Plus with accordionist Andrea Kiefer and also a duo with percussionist Tobias Guttmann (Duo Dualism). He has worked with many composers of his generation and given concerts in Germany, Holland, Finland and Iceland, including in festivals like, März Musik (Berlin), Invention (Berlin), Dark Music Days, Frum- (Reykjavík) and De Suite (Amsterdam). Ingólfur has worked with known composers such as Hosokawa and with Lachenmann on his avant-garde landmark piece Dal niente. His playing has been recorded by the WDR, The Icelandic Radio and the Hessische Rundfunk. http://www.ingobassclarinet.com/
Jesse Ronneau is a composer, improviser, performer, author and lecturer.
His music has received performances in Europe, the United States, and Asia.
Numerous leading interpreters of New Music have performed his compositions including Ensemble Sur Plus, ensemble cross.art, Pascal Gallois, Carin Levine, Ian Pace, Junko Yamamoto, Geoff Deibel, the h2 Quartet, et al.
His music concentrates on extreme timbres, extended instrumental techniques, acoustic phenomena as construct, and often live processing of the above using max/msp.
Originally from Chicago, Jesse received his Doctorate in Composition from Northwestern University in 2006 after degrees in Composition from The University of Cincinnati College-Conservatory of Music (Bachelors) and Roosevelt University (Masters).
He studied composition under Allen Sapp, Al Otte, Don Malone, Steve Syverud, Amy Williams, Jason Eckhart, and Jay Alan Yim.
He has taught at the University of Illinois-Chicago and Northwestern University.
In 2006 Jesse was named Lecturer of Music at University College Cork in Ireland.
In 2010 he became Lecturer of Acoustic Composition and Contemporary Music at the National University of Ireland, Maynooth, just outside Dublin.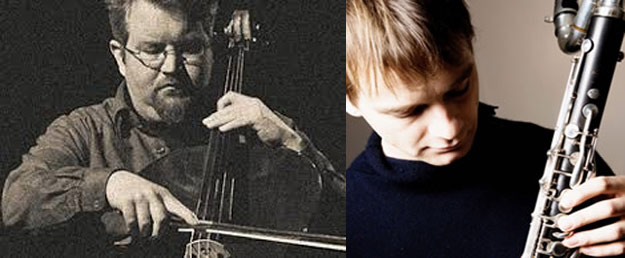 Free. Organised by FUAIM