News
News
The Ireland Wildlife Film Festival 2020, Sep 10-24th.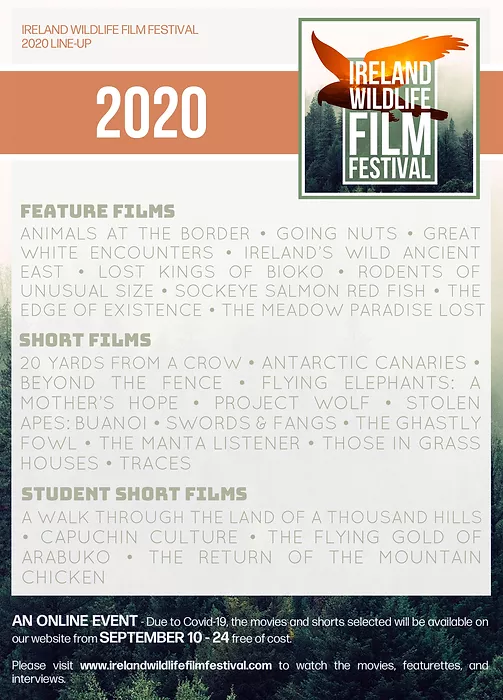 Following on from last year's inaugural Ireland Wildlife Film Festival, which was organised by Mr. Carter McCormick, filmmaker and PhD candidate in the Department of Film and Screen Media and by filmmaker Ms. Paula Sprenger, we are delighted to announce the lineup for this year's online event. The Festival will showcase an incredible array of films from around the world, directed by some of the leading practitioners in wildlife filmmaking and featuring a dazzling variety of animals!
Please see the Press Release, below, or check out the website: https://www.irelandwildlifefilmfestival.com/
All screenings are online and free to view
The Ireland Wildlife Film Festival has an incredible selection of twenty-four stunning feature length wildlife films and shorts in our 2020 lineup. This year the festival will be held online allowing us to take you to some of earth's most breathtaking places from the comfort of your own home. Travel to remote islands off the African Coast where troops of drill, some of the world's largest and most mysterious primates, roam. Fly above frigid Russian rivers gazing down on schools of dazzling sockeye salmon. Swim alongside giant manta rays or dive into a bait ball off the coast of the Baja peninsula in Mexico. Take a tour with a game ranger through Nyungwe National Park in Rwanda. Rediscover the wild side of Ireland just outside your door. Learn about issues impacting wildlife species both here in Europe around the globe. The best part? It's all totally free on our website at https://www.irelandwildlifefilmfestival.com/
The event starts on September 10th and we hope to see you there.