News
News
New exhibition on unique Youghal Print Shop runs at Triskel Project Space 28 January – 19 March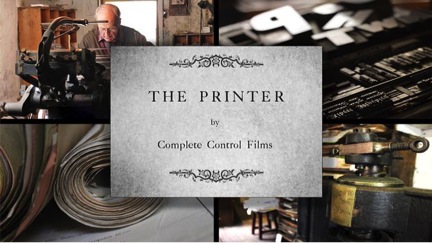 New exhibition on unique Youghal Print Shop runs at Triskel Project Space 28 January – 19 March
The Printer is a short documentary screening at Triskel Project Space with accompanying exhibition 28 January - 19 March. The event launches with a reception and a special screening of the documentary on the big screen at Triskel Christchurch 7.30 Wednesday 27 January
The Printer documentary looks at Field Printers in Youghal, Co.Cork, a unique printing house and shop dating back to 1850, now run by Bill Field, the last in the family line. The exhibition meditates on the dying art of handcrafted setting and printing processes and showcases artefacts from the workshop as well as archive posters from the 1930s and 1940s. Poster highlights include the original premiere poster for Moby Dick and a town council poster urging Youghal natives to delay implementing the new regime of changing the clocks for Daylight Saving Time.
The documentary was conceived and shot by filmmakers Michael Twomey and Kieran McCarthy of Complete Control Films. "The motivation for making the film was twofold," says Michael Twomey. "Firstly, I was very attracted to the idea of shooting old metal and wood, particularly their worn industrial aspect because they make for very effective composition in the right light. The typefaces are so varied and beautiful and the whole place is steeped in a Victorian atmosphere."
The print house and shop were ideal locations for the filmmakers who were keen to find a subject that would create space in between the white noise of constant hyper-stimuli of the modern age. "I love the dynamic between the mechanical rhythm of the printer and the long silences," says Twomey. "The craftsmanship of the lettering, and the prints it produced, along with the time invested is in sharp contrast to our current gravitation to disposability. There is a haunting quality in such longevity and the stories the prints reveal. I was also determined to film Billy at work before the art of printing in this way is lost to us entirely. Secondly, the importance of the place in terms of heritage cannot be overstated."
The Printer is the first exhibition at Triskel Arts Centre for 2016 and the very first exhibition at Triskel Project Space. Triskel previously staged much loved exhibition Last Days: The End of Carpets at Youghal in 2007.
The Printer launches 7.30 Wednesday 27 January at Triskel Christchurch and runs at Triskel Project Space 28 January - 19 March. Triskel Project Space is open 10 – 5, Tuesday – Saturday.
Kindly supported by the Arts Council, Cork Film Centre and Bus Eireann.
Press Contact Tina Darb 087 7826500 //TINADARB@TRISKELARTSCENTRE.IE