News
News
Columbo: Paying Close Attention to Screens under 24/7 Capitalism. Professor David Martin-Jones, University of Glasgow. Tuesday 7th March at 4pm.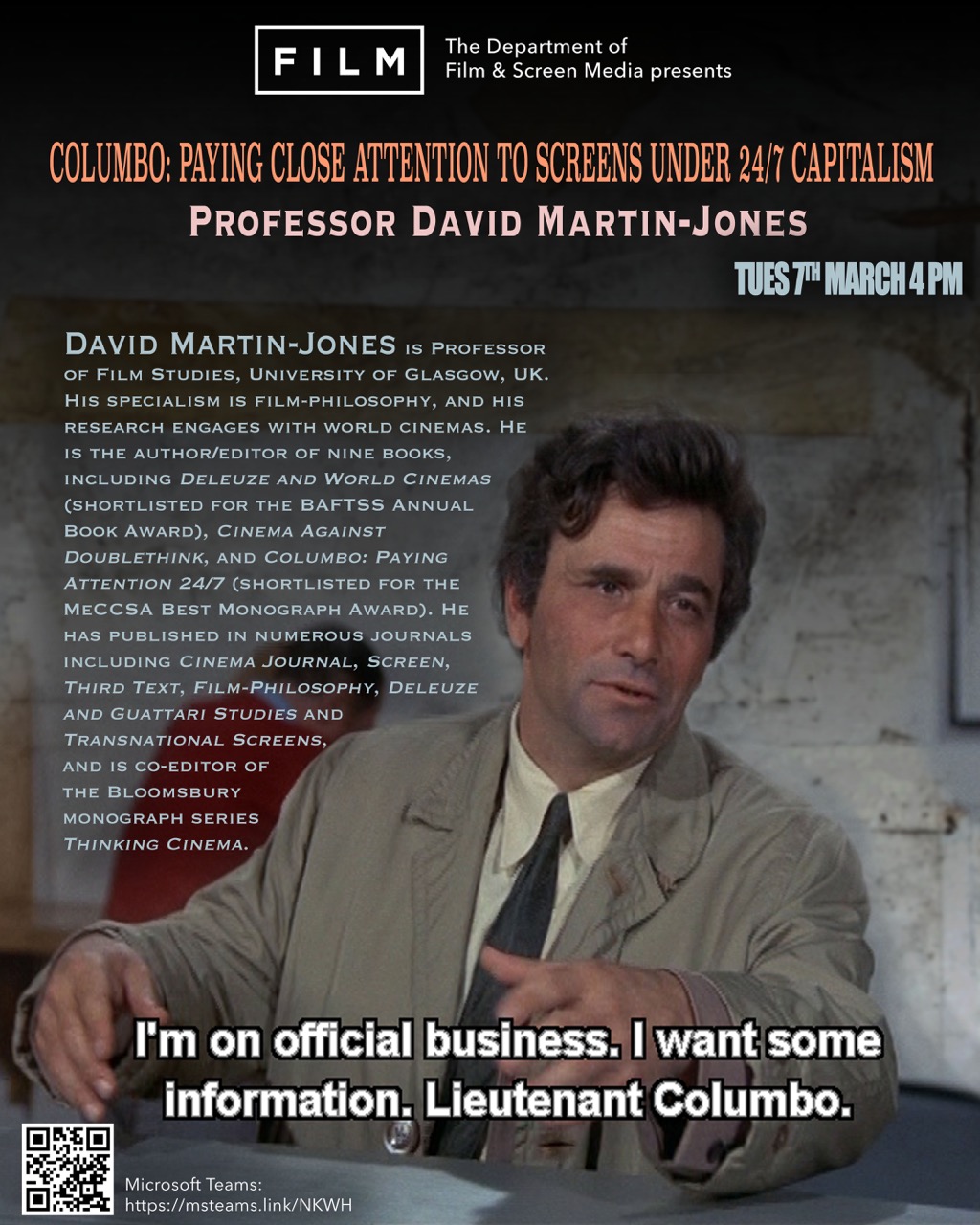 The Department of Film and Screen Media is delighted to present David Martin-Jones Professor of Film Studies, University of Glasgow, UK. His specialism is film-philosophy, and his research engages with world cinemas. He is the author/editor of nine books, including Deleuze and World Cinemas (shortlisted for the BAFTSS Annual Book Award), Cinema Against Doublethink, and Columbo: Paying Attention 24/7 (shortlisted for the MeCCSA Best Monograph Award).

He has published in numerous journals including Cinema Journal, Screen, Third Text, Film-Philosophy, Deleuze and Guattari Studies and Transnational Screens, and is co-editor of the Bloomsbury monograph series Thinking Cinema.
Why was Columbo such a good detective? Because he paid attention - to his work - 24/7. The real question, though, is why was Columbo - a show ostensibly about a shabby workaholic - so popular over so many decades (69 episodes from 1968 to 2003)? This paper will explore the latter question, focusing in particular on the memorable performance of Peter Falk as the absentminded but incisive sleuth. Falk's distinctive performance of the Lieutenant emphasises how we are encouraged to pay attention under late capitalism, a process which still resonates for our lives today. Drawing out how Columbo encourages us to attend to the world requires engagement with both the attention-seeking nature of Television as a medium (as discussed by Ellis, Mellencamp, Caughie, Lotz, et al.), as well as with theories of attention more broadly (e.g. those of Crary, Beller, Citton). In so doing we can uncover much about society's transformation in recent decades, and indeed, how we are now expected to perform, learn, police, and situate ourselves in an all-surveilled world of 24/7 attention to screens.
This event will take place online on Microsoft Teams on Tuesday 7th March at 4pm.
Please follow this link to attend: https://msteams.link/NKWH
All are welcome.