Curated for You
Curated for You
Community Focus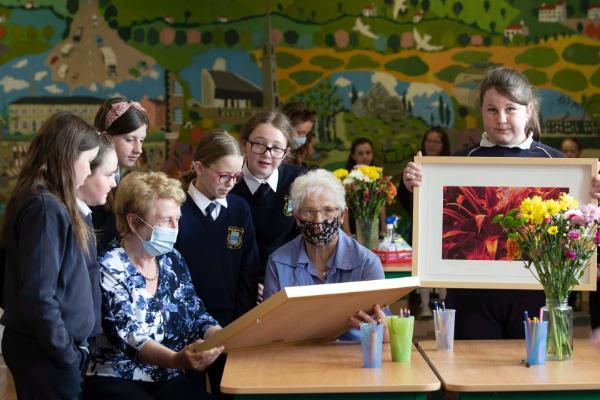 UCC Community Week is a moment in the year where we celebrate with our community partners the wonderful university and community interactions that take place all year round across Cork, Munster, nationally and globally. Here is our pick of events that will interest Community Groups, as many of the events showcase exemplary approaches and provide practical insights on how communities and universities are collaborating together to address global challenges and build strong and cohesive communities.
Community Academic Research Links (CARL) Tree Audit, Monday 11 October, 2-3pm
Opened by the Lord Mayor of Cork, this online event will share the story of three students from School of Biological, Earth and Environmental Sciences, who collaborated with Green Spaces for Health to conduct a Tree Audit for the community. The project was delivered under supervision of Dr Eoin Lettice and through UCC's Community Academic Research Links (CARL) initiative. Join the community, student researchers and academic partners behind this project as they describe their experiences and how they benefitted from engaging in a community based research project. Find out more about connecting with UCC's Community Academic Research Links (CARL) initiative.
Public Participation Workshop: Monday 11 October, 6pm-7.30pm
Making submissions to development plans, or objections to planning applications can be a daunting process. Join us for a workshop demystifying the process and learn how to have your voice heard in consultation processes.
This collaboration between Cork Environmental Forum and UCC Green Campus Network aims to equip people with the tools and knowledge to actively engage in their community through public consultation processes, development plans, and planning objections.
Service Learning Practice Insights, Tuesday 12 October, 1pm-2pm
Service-Learning, also called Community Based Learning, is a novel way of encouraging students to become active citizens and participants in society by linking the curriculum with hands on learning experiences delivered in partnership with community.
Dr Seth Pollack from California State University Monterey Bay gives an introduction to best practice Service-Learning and together with Kieran O'Connell, Social Inclusion Development Worker in Cork City Council shares practice insights on bringing this to life in with community organisations in Cork.
Cork Food Policy Council Webinar: Sustainable Food Systems, Monday 11 October, 2pm-4pm
This webinar will explore the topic of sustainable food production in the community, discussing among other things, access to produce, healthy eating and food waste in a community setting. The event will host conversations with guest contributors sharing their insights including from Sarah Carr, Community Health Worker NICHE Community Health Project, Jack Crotty co-founder Neighbourfood and Taran Kelly, The Ballyhoura Community Food Initiative.
Community Coaching: Unlock Your Potential, Wednesday 13 October, 12.30-1.00pm
Celebrating Community Week 2021, the UCC Executive Coaching Panel will launch a unique offer to provide free professional coaching to 25 individuals from the community sector in Cork. Join the Coaching Panel for this launch event which will provide an introduction to coaching and provide useful tips to support increased confidence and heightened self-awareness and wellbeing.
More info and registration here
Reconnecting Communities: Healing, Recovery, and Looking to the Future
This online panel discussion looks at how engaged research emerging from partnerships between CACSSS (College of Arts, Celtic Studies and Social Sciences) and community-based organisations working with children, young people and older adults plays an important role in helping us adapt to changes in the world around us. Hosted by Prof. John McCarthy, Chair of ISS21 and panellists from engaged research partnerships with Young at Heart Group, Douglas; Giving Voice Through Music with Music Generation and Freedom of the City with Cork City Council.
Restoring a Connection to Nature: A Native American Perspective - With Native American spiritual elder Mona Polacca, Thursday 14 October, 5-6pm
Current environmental crises may stem from the belief that we are separate from our natural world and are concerned most with human development. What can we learn from an indigenous perspective? Join us to hear from guest speaker and Native American spiritual elder Mona Polacca, a Senior Fellow at Centre of Earth Ethics in New York. This special collaborative event is run in partnership with The Centre for Earth Ethics in New York and the Spirit of Mother Jones Festival, Shandon, Cork.
MindYourSelf
Cork University Press are offering a Community Week special 20% discount promotional code on publications of their book series MindYourSelf. Use the Promotional code: MYS (in capitals) when ordering from their website. During Community Week Cork University Press will release MindYourSelf video shorts, where Series Editor Dr. Marie Murray talks with Dr. Seán Ruth, Author of 'Personal Struggles'. This book is aimed at a general readership, at those who wish to understand the origins of the personal struggles they experience. It is also aimed at social, educational, community and mental health workers and health service providers who work with such people.
25 Years of The Cork Folklore Project, Friday 15 October, 12noon-1pm
Join the Cork Folklore Project for this online event as it celebrates 25 years of collecting, archiving, and sharing the memories, stories, tradition, and folklore of Cork. The Cork Folklore Project has evolved considerably since our foundation in 1996 but has remained true to the instinct value of testimony, folklore and the everyday experience of the people of Cork.