Corn Bhab Feiritéir
Corn Bhab Feiritéir
Corn Bhab Feiritéir
Ag Oireachtas na Gaeilge 2005 i gcathair Chorcaí bronnadh an corn nua, corn buan scéalaíochta urraithe ag Roinn an Bhéaloidis, Corcaigh, don chéad uair riamh. Ba chara mór leis an Roinn Bab le blianta fada agus is minic a roinn sí a chuid scéalta agus seanchais le scoláirí an Béaloideas. Ba mhaith an oidhe uirthi corn breá, an corn is mó de chuid an Oireachtais faoi láthair, a bheith ar a greis, bhí, mar a dhéarfadh sí féin, ana-lúb istigh again inti agus ana-mheas againn ar a healaíon. Tá dóchas againn gur leigheas ar bhailbhíocht é, dála corn sí scéal buacach an chomórtais ag Dómhnall Mac an tSíthigh.
In Cork city, Corn Bhab Feiritéir, a perpetual trophy for storytelling was proudly sponsored by Roinn an Bhéaloidis, the Department of Folklore and Ethnology in UCC. Bab was a valued friend of the department and the students of Béaloideas with whom she generously shared her stories on many memorable occasions. It is a fitting tribute and memorial to a fine female storyteller that was held in such regard and remembered with such affection. It is hoped that, like the otherworldly cup of Dómhnall Mac an tSíthigh's winning story, it will also be a remedy for silenced voices, a first of many firsts.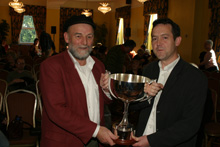 Corn Bhab Feiritéir 2014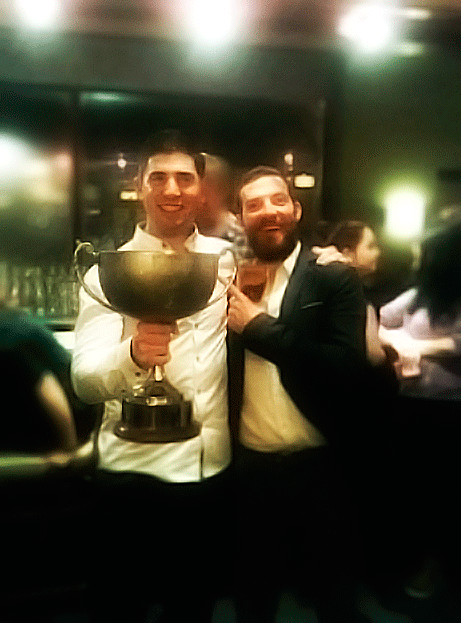 'Pádraic ó Griallais, An Lochán Beag, Indreabhán, buaiteoir Chorn Bhab Feiritéir sa scéalaíocht ag Oireachtas 2014 i gCill Áirne.
'Pádraic Ó Griallais, An Lochán Beag, Indreabhán, winner of Corn Bhab Feiritéir for storytelling, Oireachtas 2014, Killarney.'
‌