DPR News
DPR News
Construction completed on state-of-the-art Hub Building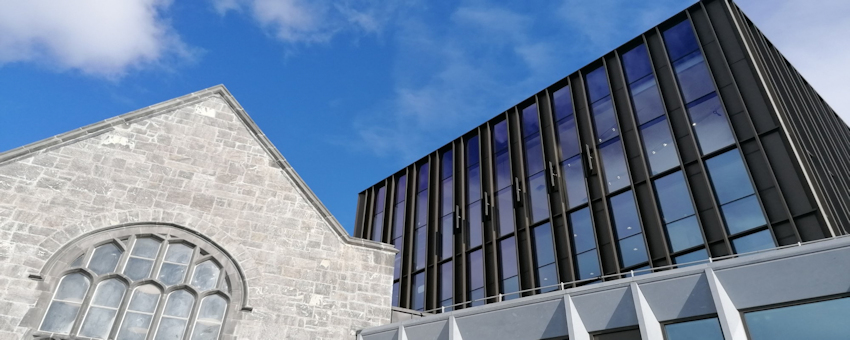 The new hub building, designed by architects O'Donnell and Tuomey, opened its doors to students on 6th January 2020, ahead of the upcoming academic term.
The Hub will provide a new and inclusive social dynamic at the centre of the campus which will facilitate learning communities, networking, student interaction, internationalisation, and student friendly service provision. The building houses new places for creativity, innovation, and collaboration across disciplines, in a supportive environment. It delivers on Goal 5 of the UCC Strategic Plan 2017 – 2022 by supporting the creation of 'a seamless student-centred administrative, academic and extracurricular experience'.
The contemporary building design includes a range of different types of space over five floors. The Atrium is a large multi-purpose event space that makes up the majority of the ground floor. The Maker Space, also on the ground floor, provides room for students to work on creative projects. The Global Lounge on the first floor is a unique space for people to relax and work together in a dynamic environment. The Shtepps is a flexible space for people to work on projects, and also to give talks & run events, and is located on the first floor. The third floor has a range of different work spaces, including different-sized study rooms and open learning spaces. The fourth floor is home to the Dr Dora Allman Room, as well as the Dr Lucy E. Smith Room and the Viewing Window, which provides a beautiful panoramic view across UCC's main campus and the city beyond.
The new hub building will transform the way the University supports student life, and will make services more accessible and convenient. It is home to a range of student services and activities; learning and teaching spaces; and facilities. These include Student Societies; Student Clubs; Student Central, Career Services; Disability Support Services; Mature Students Office; Scholarhips and Prizes; Campus Radio; University Express; Motley Magazine; and many more.
The new building represents an important investment in our future, as we improve our facilities and and spaces to support the student experience and enhance academic excellence. www.ucc.ie/en/thehub.
For more on this story contact:
Dr. Sandra Irwin, Deputy President & Registrar's Office, 021 4904874 or s.irwin@ucc.ie