Shaping Society News
Shaping Society News
Professor Ursula Kilkelly Contributes to International Children's Rights Law Symposium in New Zealand
Professor Ursula Kilkelly, Director of the Centre for Children's Rights and Family Law and a professor at the School of Law undertook a week-long research visit to Wellington, New Zealand in August 2019.
As one of four international experts (including Prof Laura Lundy of the Centre for Children's Rights, Queen's University Belfast; Bruce Adamson, Children's and Young Person's Commissioner for Scotland and Justice Vui Clarence Nelson, member of the UN Committee on the Rights of the Child and acting Chief Justice of Samoa), the primary purpose of Prof Kilkelly's invited visit was to contribute her expertise on international children's rights law to a symposium on contemporary issues for children's rights.
She also engaged in a week-long activity of dialogue and engagement with the children's sector in what was a busy but invigorating series of events.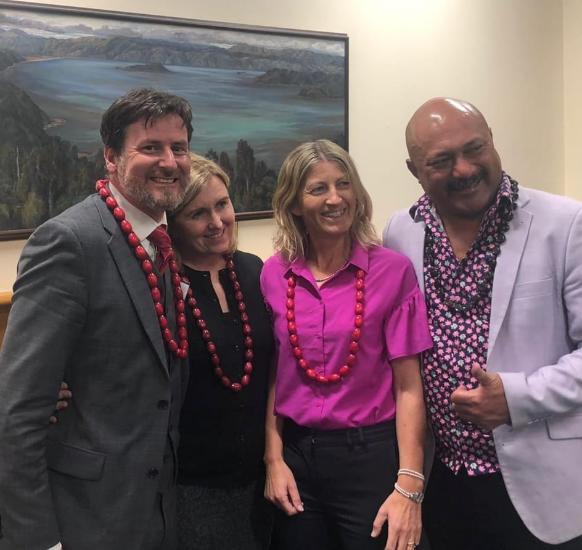 Bruce Adamson, Professor Laura Lundy, Professor Ursula Kilkelly and Ken Ah-Kuoi
Supported by the New Zealand Law Foundation and the Borrin Foundation, the symposium was convened by Dr Nessa Lynch, Associate Professor of Law at Victoria University's Faculty of Law in Wellington (a Cork native and graduate of UCC School of Law). Dr Lynch was supported by a cross sector steering group comprised of New Zealand's Children's Commissioner Judge Andrew Becroft and representatives from civil society, academia and government agencies.
The resulting dialogue, with an invited audience from New Zealand's children's sector, took place over two days and involved informative and important exchanges on matters affecting children's rights in the care and justice systems as well as in law, policy and society generally in New Zealand, across the Pacific and around the world.
The schedule also involved a number of specially organised public lectures and seminars as well as private meetings with Oranga Tamariki (the Ministry of Children), the Children's Commissioner and others working in the children's sector on matters of children's rights, children's participation and youth justice and detention.
Professor Kilkelly shared learning from her work as Chair of the Board of Management of Oberstown Children Detention Campus. Clearly, protecting the rights of children deprived of their liberty is a common challenge, and sharing experience across borders is mutually beneficial. Prof Kilkelly met colleagues involved in the policy and management of New Zealand's residences in Oranga Tamariki, while a separate meeting took place with the Children's Commissioner's office where the residence inspection function resides.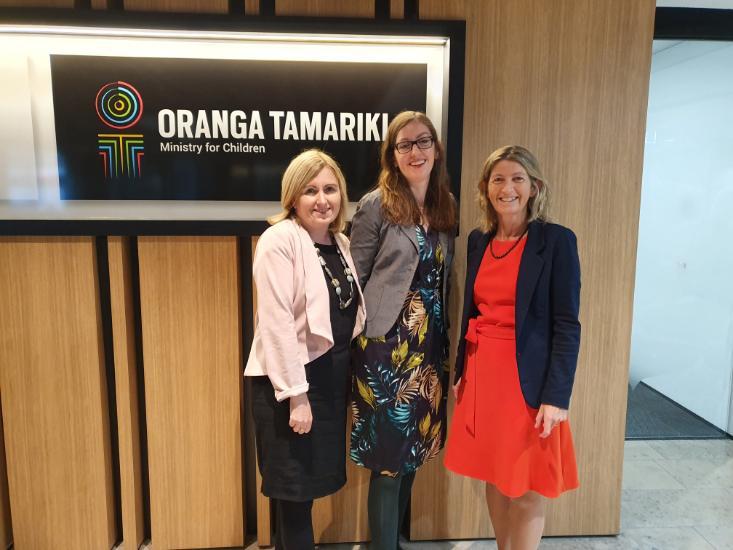 Professor Laura Lundy, Dr Nessa Lynch, and Professor Ursula Kilkelly
Discussions took place with Principal Youth Court judge AJ Fitzgerald as to how New Zealand's judicial creativity could be applied in Ireland's Children Courts. Given that the Children Act 2001 draw heavily from the New Zealand model, this was a timely opportunity to review the direction our respective systems have taken.
Clear parallels with the Irish experience were evident throughout the visit and illustrations of progress were as common as were the challenges and resistance to children's rights in both countries. The treatment of Maori and Pacific children was highlighted as a particular concern, while respect for the indigenous community's traditions featured strongly in every session.
A highlight of the visit was the special invitation by the Irish Ambassador to New Zealand, Peter Ryan, to a lunch reception with invited New Zealand and Irish friends.
The trip provided exciting opportunities to learn and share innovative ways to advance children's rights in a challenging environment. Ideas for a shared policy forum on children's issues between the two countries are now in development so that the maximum impact of the fruitful exchanges can be sustained.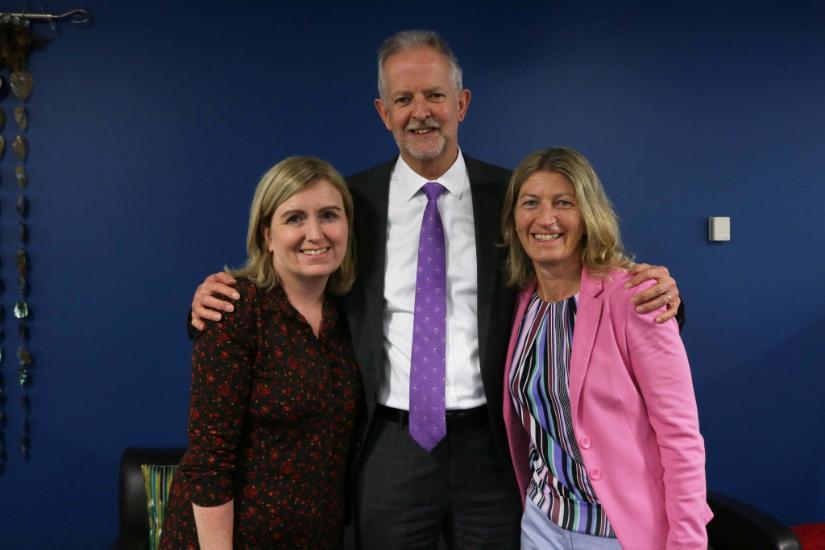 Professor Laura Lundy, New Zealand's Children's Commissioner Judge Andrew Becroft and Professor Ursula Kilkelly