Research News & Events
Research News & Events
Developments in Mental Health Law Discussed at School of Law Conference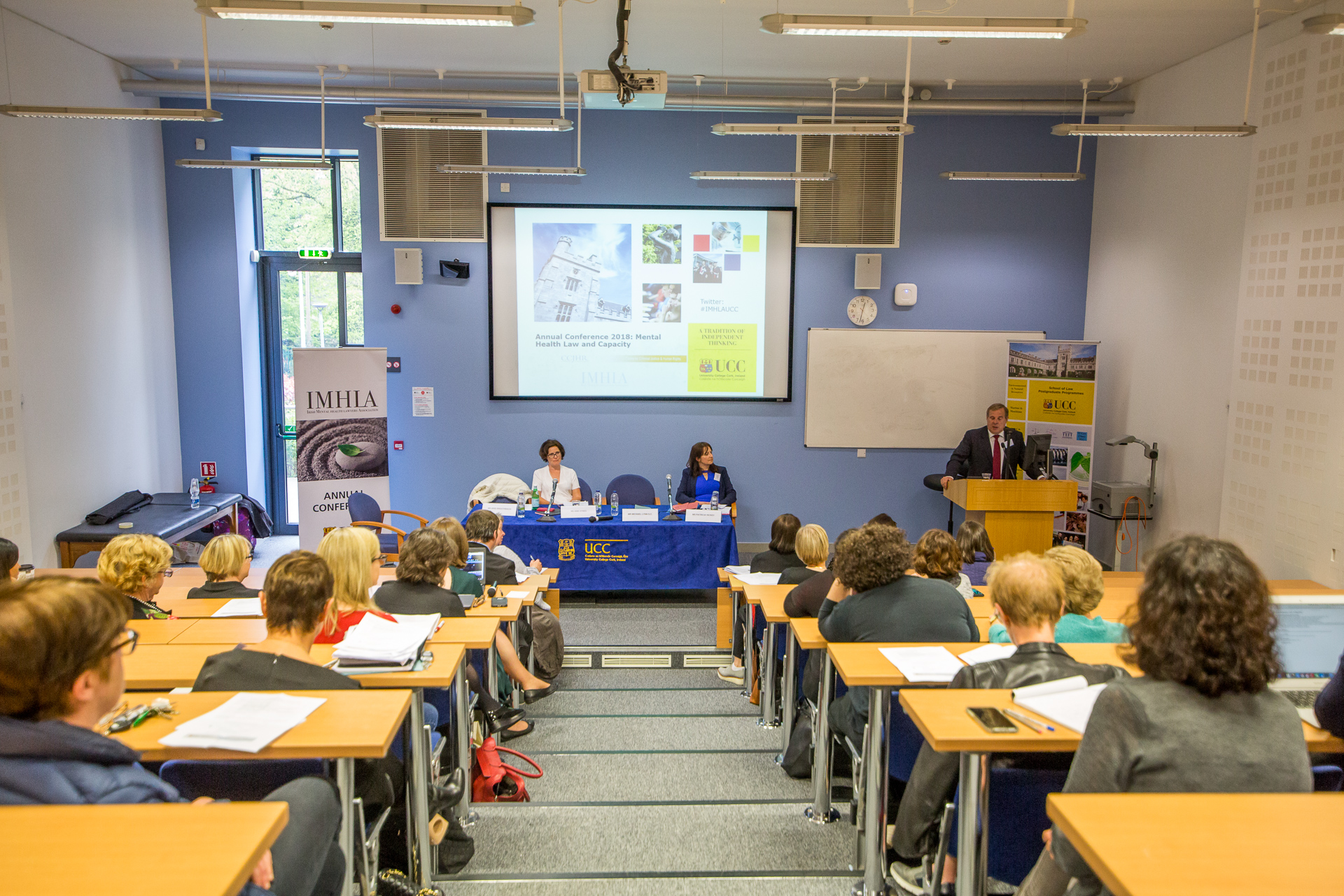 The Centre for Criminal Justice and Human Rights, School of Law, University College Cork and Irish Mental Health Lawyers Association held their 2018 conference on Mental Health Law and Capacity Law in UCC on Saturday 12 May 2018.
Topics discussed included Recent Developments in Mental Health Law, Dealing with Capacity Issues in Practice, and Children and the Mental Health Act 2001.

Ms Katharine Kelleher, Partner, Comyn Kelleher Tobin, Solicitors, Cork, spoke on 'Section 25 Mental Health Act 2001 in practice from a legal perspective'. Ms Kelleher outlined how children with mental disorders are detained in approved centres by the District Court. She discussed the evidence required at these court hearings and issues such as what happens when the children reach the age of 18.

Ms Freda McKittrick, Head of Barnardos Guardian ad Litem Service: 'Catching or Falling? The experience of working with children in the Mental Health and Child Care Systems'.
In this paper, Ms McKittrick outlined what works for children with mental health issues: continuity of service, structural integration of services, and where services are well established and prepared to manage risk.

Dr Anne Jeffers, Consultant Psychiatrist, spoke about the College of Psychiatrists of Ireland REFOCUS Group. REFOCUS is the Recovery Experience Forum of Carers and Users of Services. REFOCUS is made up of 10 people with experience of mental illness, and ten people who had family members who used the services. The aim of the forum is to actively engage with the College of Psychiatrists, in order to improve the education of psychiatrists, and thereby improve mental health services.

Dr Lisa Butterly, Historian: 'A Jury of My Peers'.
Dr Butterly said she feels resentful of how poorly Ireland treats people with schizophrenia. She highlighted the stigma attached to schizophrenia and noted that stigma bypasses self-determination, destroys self-esteem and destroys self-identity.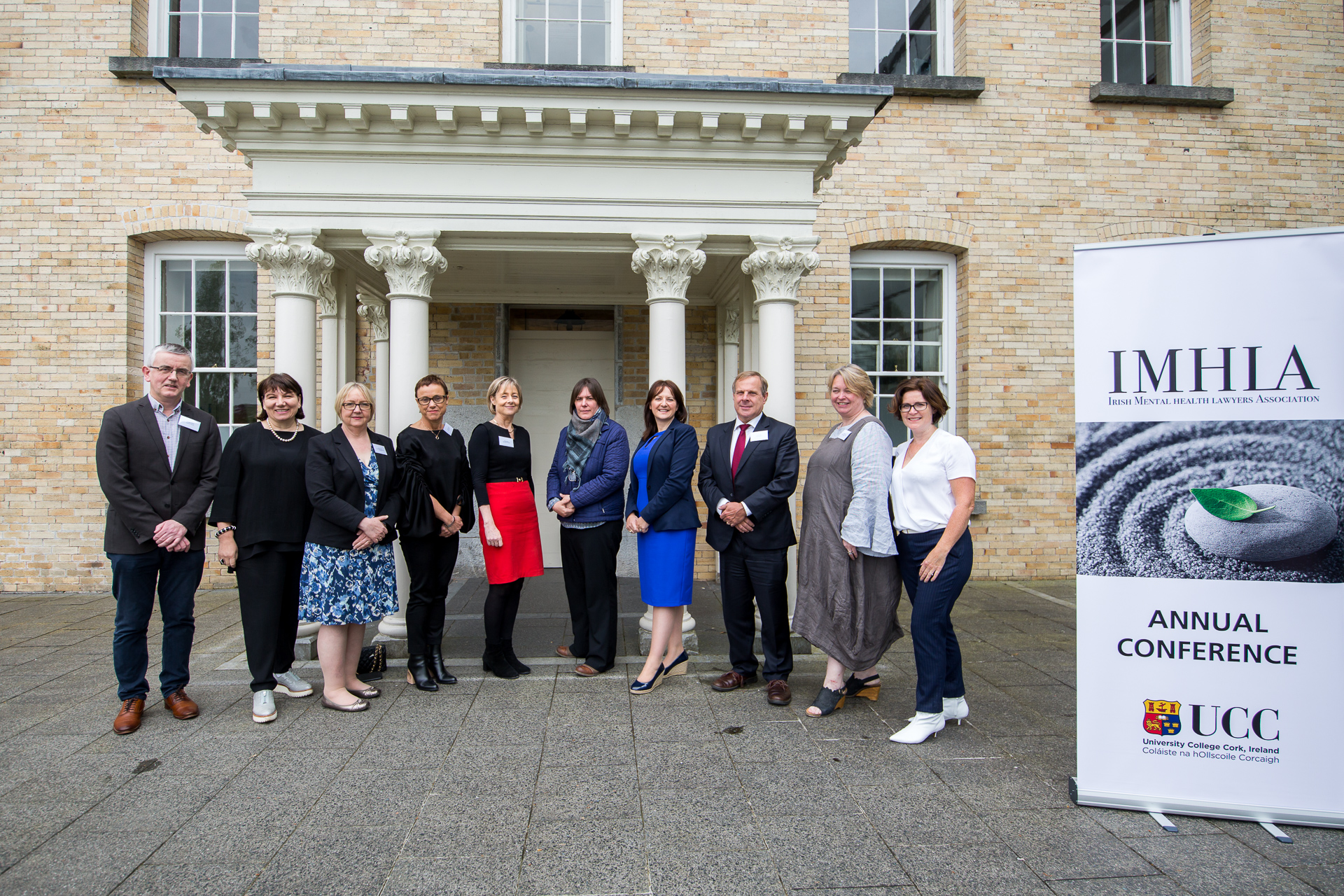 Ms Brid Breathnach, Deputy Official Solicitor and Senior Civil Litigation Lawyer, Office of the Official Solicitor, London: 'Serious medical treatment applications in the Court of Protection in England and Wales - a practitioner's perspective':
Ms Breathnach said that the use of independent experts was an important safeguard in medical treatment cases. She spoke about recent cases in the Court of Protection, including cases concerning termination of pregnancy and persons in a vegetative state.

Mr Michael Lynn, Senior Counsel: 'Recent Developments in Mental Health Law':
Mr Lynn discussed important cases such as A.B. v. Clinical Director of St. Loman's Hospital,
Court of Appeal, 2018, where the court declared that s.15(3) of the Mental Health Act 2001 is unconstitutional. The declaration stands suspended until November 2018.

Ms Áine Hynes, Partner, St. John Solicitors, Dublin: 'Dealing with Capacity Issues in Practice - Recent Developments':
Ms Hynes discussed how the High Court's wardship jurisdiction has become more flexible in recent years. She also noted that a solicitor has a special duty of care in respect of vulnerable clients, and that a family member cannot give instructions to a solicitor for another family member lacking in mental capacity.

The conveners of the conference were Dr Darius Whelan, School of Law, UCC and Ms Joan Doran, Solicitor, Chairperson of the Irish Mental Health Lawyers Association.

Videos and slides from the conference are available at
https://www.ucc.ie/academic/law/docs/mentalhealth/conferences/