News and Events
News and Events
UCC School of Law at the Oireachtas: Student and Professor call for an end to image-based sexual abuse
Representing the campaign group Safety Over Stigma, UCC School of Law student Alicia O'Sullivan was joined by faculty member Professor Louise Crowley to give evidence to the Oireachtas Joint Committee on Tourism, Culture, Arts, Sport and Media on 21 July 2021, as they held a pre-legislative scrutiny session on the Online Safety and Media Regulation Bill.
The Bill seeks to establish a robust regulatory framework to deal with the spread of harmful online content. It provides for the appointment of an Online Safety Commissioner as part of a wider Media Commission to oversee the new regulatory framework for online safety.
Alicia O'Sullivan set up Safety Over Stigma after a fake Instagram profile was set up in her name and used to post multiple explicit images of another woman. Speaking to the Committee about her personal experience, Alicia detailed the reluctance of the social media giant to remove the offending account. She said:
From my experience, the perpetrator was more protected than I was at all times. From the moment they were allowed to sign up under my name, to the present day where there are little repercussions for that. And every day I see another girl that I know facing the exact same situation on Instagram.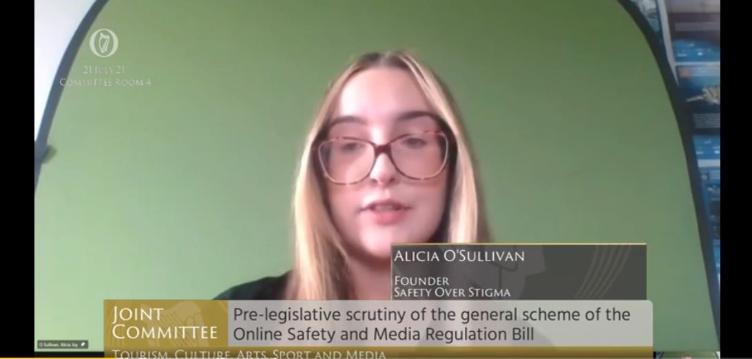 Alicia also recounted her negative experience with members of An Garda Síochána who were uninformed of the law surround online harms – incorrectly advising her that what had happened was not illegal – and dismissive of her reports. She called for gardaí to receive training on how to deal with such crimes; for a public awareness campaign to highlight "Coco's Law", which criminalises the distribution of intimate images without consent; and for all victims of image-based abuse to be treated with the respect and empathy that they deserve.
Highlighting that social media companies are currently failing to self-regulate and tackle online abuse, the pair supported the Committee's proposal for an independent complaints mechanism where members of the public could report incidents of social media companies failing to remove harmful and abusive content.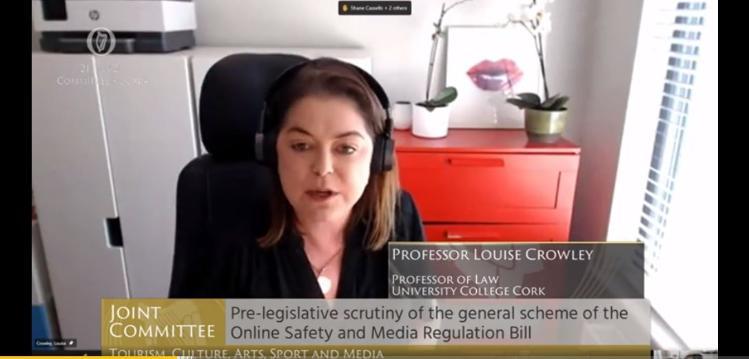 Professor Louise Crowley went on to note that it is not enough for social media companies to make their own rules, but rather Government must hold them to account. She told the Committee:
As someone who works in the area of seeking to address all forms of sexual harassment, I believe the Oireachtas should go as far as it needs to go. We know that sexual harassment and abuse is a huge societal challenge… Ultimately the key role and responsibility of the Oireachtas is to identify the issue and to govern and regulate it in a way that supports and respects all our citizens.
For more information on the Safety Over Stigma campaign, visit: https://www.safetyoverstigma.ie/
The full Oireachtas Joint Committee on Tourism, Culture, Arts, Sport and Media evidence session can be viewed at: https://www.oireachtas.ie/en/oireachtas-tv/video-archive/committees/4556/