News and Events
News and Events
Maples Group Scholarship in Business Law Awarded to UCC School of Law Student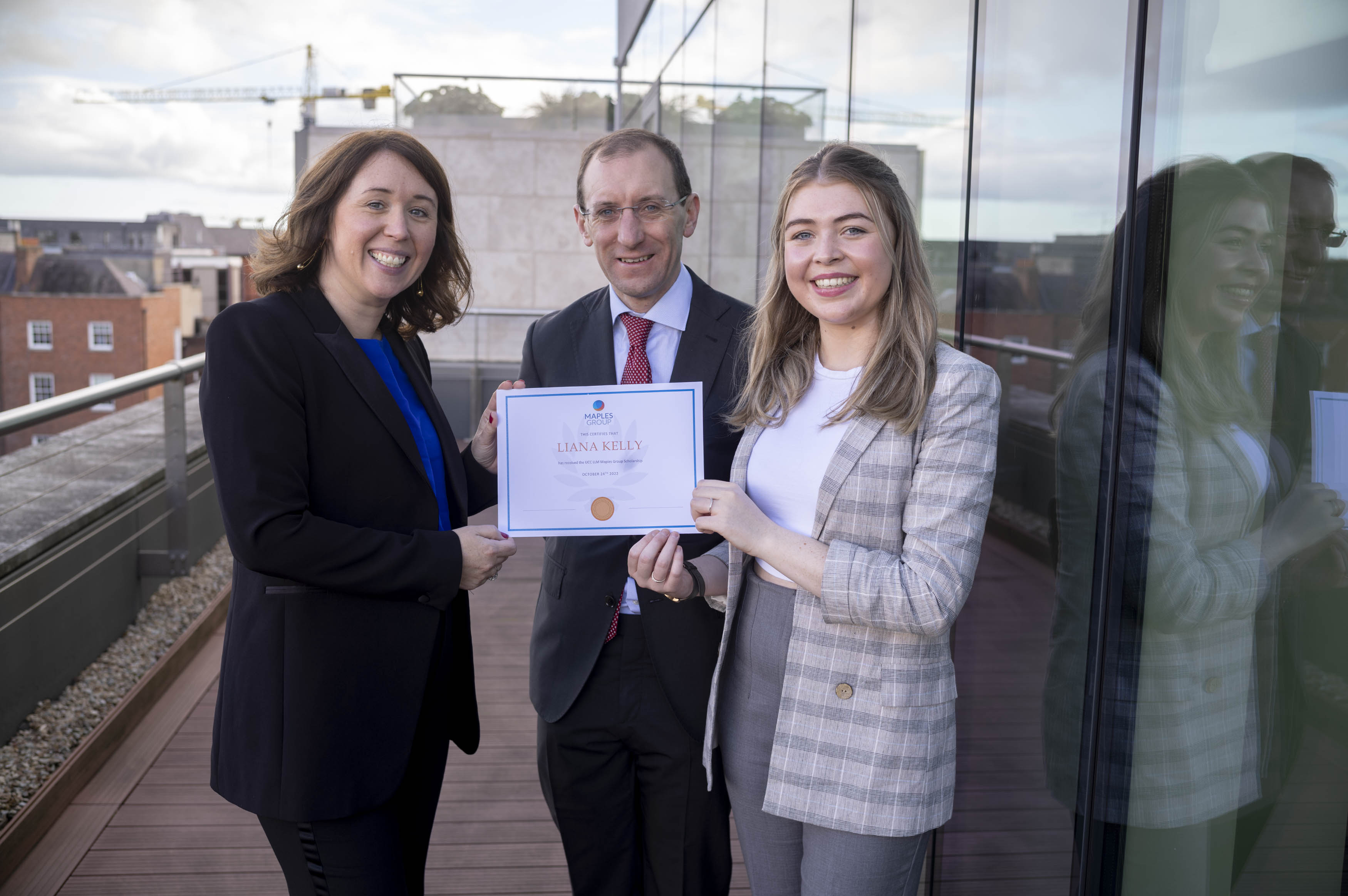 Liana Kelly, a postgraduate student on the LLM in Business Law programme, received a €5,000 scholarship from Maples and Calder (Ireland) LLP, the Maples Group's law firm.
Now in its second year, the 'Maples Group Scholarship - LLM in Business Law' benefits one postgraduate student studying for the LLM in Business Law each year.
Liana was awarded it following an application process involving the submission of a personal statement and an interview with a panel comprising of representatives from the Maples Group and UCC School of Law.
Speaking following receipt of her scholarship, Liana said:
"Receiving the Maples Group Scholarship is an absolute dream come true for me. The Scholarship is a personal game changer in enabling me to reach my current and long term educational and career goals. I am incredibly grateful to the School of Law in UCC for providing me with this opportunity and to the Maples Group for supporting me in my future endeavours. I cannot thank the Maples Group enough for awarding me this scholarship."
Commending Liana on her achievement, Graduate Recruitment Partner at the Maples Group, Deirdre McIlvenna said:
"On behalf of the Maples Group, I would like to congratulate Liana on this achievement and wish her continued success as she commences her LLM studies. Liana is the second UCC student to benefit from the Maples Group LLM in Business Law scholarship and we look forward to continuing our partnership with UCC, to support more students as they develop their legal careers."
Dr Fidelma White, Programme Director of the LLM in Business Law at UCC, said:
"The LLM in Business Law combines a focus on the realities of business law in practice with a broader discussion of relevant theoretical and policy issues. The Maples Group Scholarship is a further example of the close working relationship between academia and practice, providing much needed support to students at the UCC School of Law."
Acknowledging the generous scholarship, Professor Mark Poustie, Dean of the UCC School of Law, said:
"LLM study can be really valuable in terms of ensuring competitiveness in the jobs market through gaining specialist knowledge and upskilling. Maintaining wide access to LLMs through financial supports is hugely important at a time when our students are under considerable financial pressures as a result of the cost of living crisis. The School is thus very grateful to the Maples Group for continuing their generous provision of this scholarship which contributes to addressing those needs and ensuring wider access. My sincere thanks to Maples and my congratulations to the second recipient of the Scholarship."
About UCC School of Law
The UCC School of Law is a globally recognised law school, ranked in the top 100 law schools worldwide. It provides a wide range of high-quality programmes at undergraduate and postgraduate level. Faculty members are highly engaged in cutting-edge legal scholarship, and their work is regularly published in leading international journals or funded by agencies such as the Irish Research Council or European Commission. Public engagement is a hallmark of the School's work, which benefits local, national and international communities through 'shaping a just society' for all.
About the LLM in Business Law
The LLM in Business Law at UCC combines a focus on realities of business law in practice with a broader discussion of relevant theoretical and policy issues. The course builds on the School of Law's wide range of expertise and knowledge in a broad range of aspects of business law, including banking, commercial, corporate, financial services, and insolvency, and in regulation and compliance in the business area. Students complete a research dissertation in their chosen aspect of business law under expert individualised supervision. Students also benefit from guest seminars with experts from legal and business practice, relevant Government departments, regulatory bodies and legal practitioners and international experts in this field. Graduates of the programme are equipped with the knowledge and skills needed to engage with the practical operation of business law and work in a range of careers, including specialist legal practice in the commercial and corporate fields.
About The Maples Group
The Maples Group, through its leading international law firm, Maples and Calder, advises global financial, institutional, business and private clients on the laws of Ireland, the British Virgin Islands, the Cayman Islands, Jersey and Luxembourg. The firm's Irish practice provides full service legal on all aspects of Irish corporate, data commercial & technology, dispute resolution & insolvency, employment, finance, financial services regulatory, funds & investment management, projects & construction, property and tax law, as well as related areas. For more information, please visit: https://maples.com/dublin