News and Events
News and Events
Lecture at UCC in honour of the late High Court Judge, The Honourable Mr Justice Kevin Feeney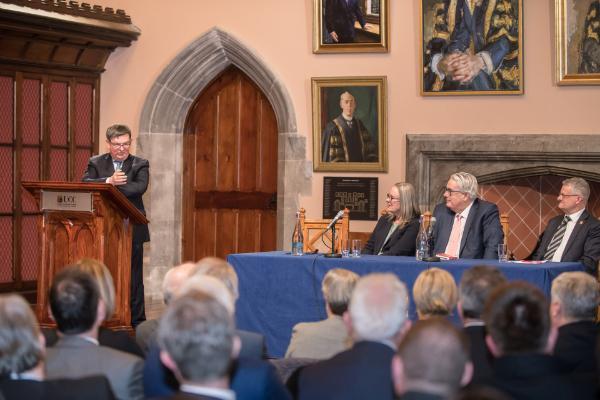 The School of Law was delighted to collaborate with the Bar of Ireland, the Cork Bar and the Southern Law Association to host a lecture in honour of the late High Court Judge, The Honourable Mr Justice Kevin Feeney, on 4 December 2019 in the Aula Maxima, UCC.
The lecture, on the theme "Sentencing Guidelines: Flavour of the Month?", was delivered by the President of the Court of Appeal, the Hon Mr Justice George Birmingham.
The Hon Ms Justice Marie Baker, who was appointed to the Supreme Court by President Michael D. Higgins on 2 December 2019, chaired the lecture.
The Chief Justice of Ireland, Mr Justice Frank Clarke, an adjunct professor at the School of Law, delivered the Opening Address.
President Birmingham delivered his lecture to a packed Aula Maxima. The lecture provided a fascinating account of the origins and evolution of sentencing guidelines in Ireland, against the background of the Judicial Council Act 2019. It then turned to the comparative dimension, with an insightful analysis of the experience of jurisdictions such as England and Wales, Scotland and the United States.
In the audience were Mrs Geraldine Feeney and members of the Feeney family, members of the judiciary, members of faculty and students from the School of Law, and practitioners from Cork City and County.
Also in attendance were two members of the Ukrainian judiciary and one Candidate Judge who are in Ireland participating on a study visit organised by the EU Advisory Mission (EUAM) Ukraine and the Department of Foreign Affairs and Trade. The visiting judges were accompanied by Ms Rosalyn Sheehan, EUAM Deputy Head of Operations.
This was the third lecture held at UCC in honour of the late Mr Justice Kevin Feeney.
The first lecture took place in March 2015 and coincided with the Supreme Court sitting in Cork for the first time. The second lecture was held in November 2017. The lecture is now an important fixture in the Cork legal calendar.