News and Events
News and Events
Dr. Maria Cahill and Dr. Conor O'Mahony Recognised at UCC Staff Awards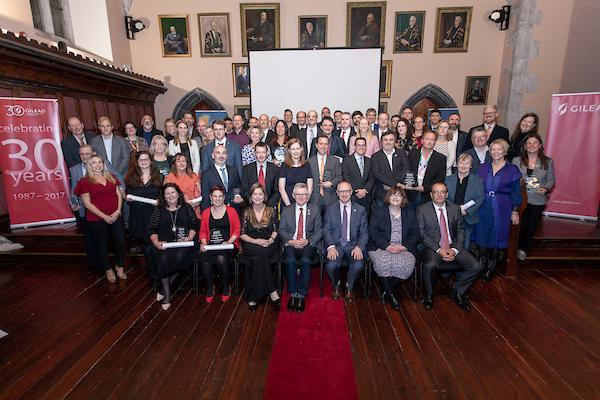 Dr. Maria Cahill and Dr. Conor O'Mahony were recognised at the UCC Staff Awards on Thursday 10 October 2019.
Inaugurated in 2010, the Awards Programme provides a formal process for acknowledging outstanding achievements by UCC staff and for recognising and celebrating these achievements.
This year, Dr. Cahill received a President's Award for Excellence in Teaching 2018-19 having been nominated by students and graduates of her LW3366 Advanced Legal Reasoning module. This module provides an exemplar of how to create the conditions for students to engage in effective collaborative reasoning and thereby develop confidence in the power of reason in a world of fake news.
Dr. O'Mahony won a UCC Research Award in recognition for his work in communicating research in an accessible form to non-academic audiences, including regular appearances in the print and broadcast media, and contributing in various forms to the work of the Citizens' Assembly, the Oireachtas Committee on Justice and Equality, and the Department of Children and Youth Affairs.
Dr. Cahill's teaching of this pioneering module was commended by the selection committee for the innovative and bespoke pedagogical approach that she uses, for the ways in which it promotes the graduate attributes that UCC is committed to fostering in all students, and for the multiple contributions that, through it, she has made to the scholarship of teaching and learning.
Dr. Cahill designed and developed the module having in mind the following five kinds of goals:

1. An Intellectual Skills Goal: to increase students' capacity for thinking and reasoning through law (rather than learning off rules) so that they would be at ease with argumentative nature of the discipline

2. An Employability Goal: to allow students to develop established capacity for critical thinking in a collaborative context, which they could evidence to future employers

3. A Good Citizenship / Civic Engagement Goal: to graduate citizens who have experienced-based capacity for reflective and reasoned dialogue with 'others'

4. A Democracy Goal: to foster in students an experienced-based appreciation for the advantages of disagreement as a foundation for reasoned and defensible conclusions

5. A Self-Development Goal: to inculcate in students an experience-based confidence in reason and the process of reasoning, and especially the process of collaborative reasoning

Student performance in the module, external examiner feedback over the years on that performance, student feedback as well as graduate feedback demonstrate that these goals are being achieved in a consistent and reliable way. The teaching award that Dr. Cahill received from UCC's President, Dr. Patrick O'Shea, is a fitting acknowledgment of the important pedagogical work that it accomplished in this module.
In nominating Dr. Cahill for the award, one of the students wrote: "The influence of ALR extends beyond the module itself as students often find a new appreciation for critical reasoning which helps them to engage with and critique material covered in other modules. … This class does not proffer a singular approach to reasoning and interpretation but acts as a means to develop the skills necessary to form an approach. These skills are absolutely essential to legal careers and undoubtedly useful beyond. Reflections at the end of the course also show that students feel inspired and equipped to be self-directed, critical thinkers and independent, lifelong learners."
Another wrote: "This model is innovative and effective because it allows the lecturer to take a strong role in guiding students and ensuring correct understanding of material but equally forces student learners to critically engage with that material (and its application) and take ownership of the development of their ideas. It teaches students that everyone – judge, academic, student – is fallible and that they should question and critical assess the material they read and engage with. It encourages students to assess whether a judge or academic relies on presuppositions, is internally consistent and/or ideologically coherent. The benefit of this model is that it inverts the learning process – students have responsibility for the first exposure to the material and the lecturer supports experimentation and encourages mastery – and empowers students to be self-directed and independent learners."