News and Events
News and Events
A tribute to the late Judge Patrick Moran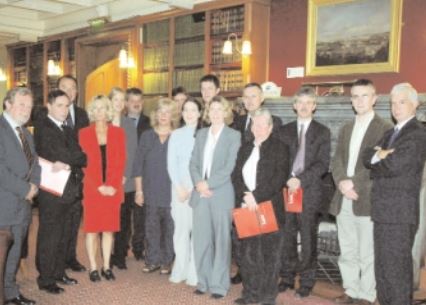 UCC School of Law wishes to extend sympathies to the family and friends of retired Circuit Court Judge His Honour Judge Patrick Moran, who has died aged 78.
Originally from Mayo, Judge Moran served nearly 25 years on the bench in Cork. A Mulranny man by birth, he frequently returned there over the years, but truly loved Cork as his adopted home. He was the longest-serving Circuit Judge when he retired in 2013.
A great friend to the UCC School of Law, his decades of experience presiding over criminal cases proved invaluable in his strong support of our LLM in Criminal Justice. A great advocate for skills-based education at UCC, Judge Moran chaired the School's Clinical Advisory Board for this LLM for many years and actively supporting student learning in his court room.
Professor Ursula Kilkelly, Head of the UCC College of Business and Law and former Dean of the School, knew Judge Moran both through his work with the School and as a family friend from Mayo. She reflects:
Patrick was a true gentleman, a kind and generous man. He was hugely loyal to and committed to UCC and the Law School, and took his responsibilities to our very innovative clinical programme very seriously. The students had a unique learning experience due to the great care he took to support their education about the court and its workings.
Professor Caroline Fennell of the School of Law, a former Dean who developed the LLM in Criminal Justice and its Clinical programme, fondly remembers Judge Moran's valued contributions to the programme:
Judge Patrick Moran was an early supporter of the LLM Criminal Justice and its Clinical Programme, agreeing to chair the Clinical Advisory Board of the fledging -and fairly radical at the time- programme. His presence added gravitas, and his skill as Chair helped to leverage the various perspectives of members of the Board on the criminal justice process to enhance and develop the programme. In so doing he was central to bridging the gap between the practice and theory of law, which was central to the ethos of the programme and its ambition to enhance the education of UCC law students. Courteous and kind to a fault, he enjoyed his adopted home of Cork and Baltimore in particular.
Professor Mark Poustie, Dean of the School of Law, concludes:
Even though I had sadly not met Cork Circuit Court Judge Patrick Moran, I knew from my colleagues of his staunch support for UCC School of Law and its students over the years. He will be much missed. May he rest in peace.
Ar dheis Dé go raibh a hanam.