News and Events
News and Events
"A slow but progressive path emerging towards climate action" - Reflections on COP26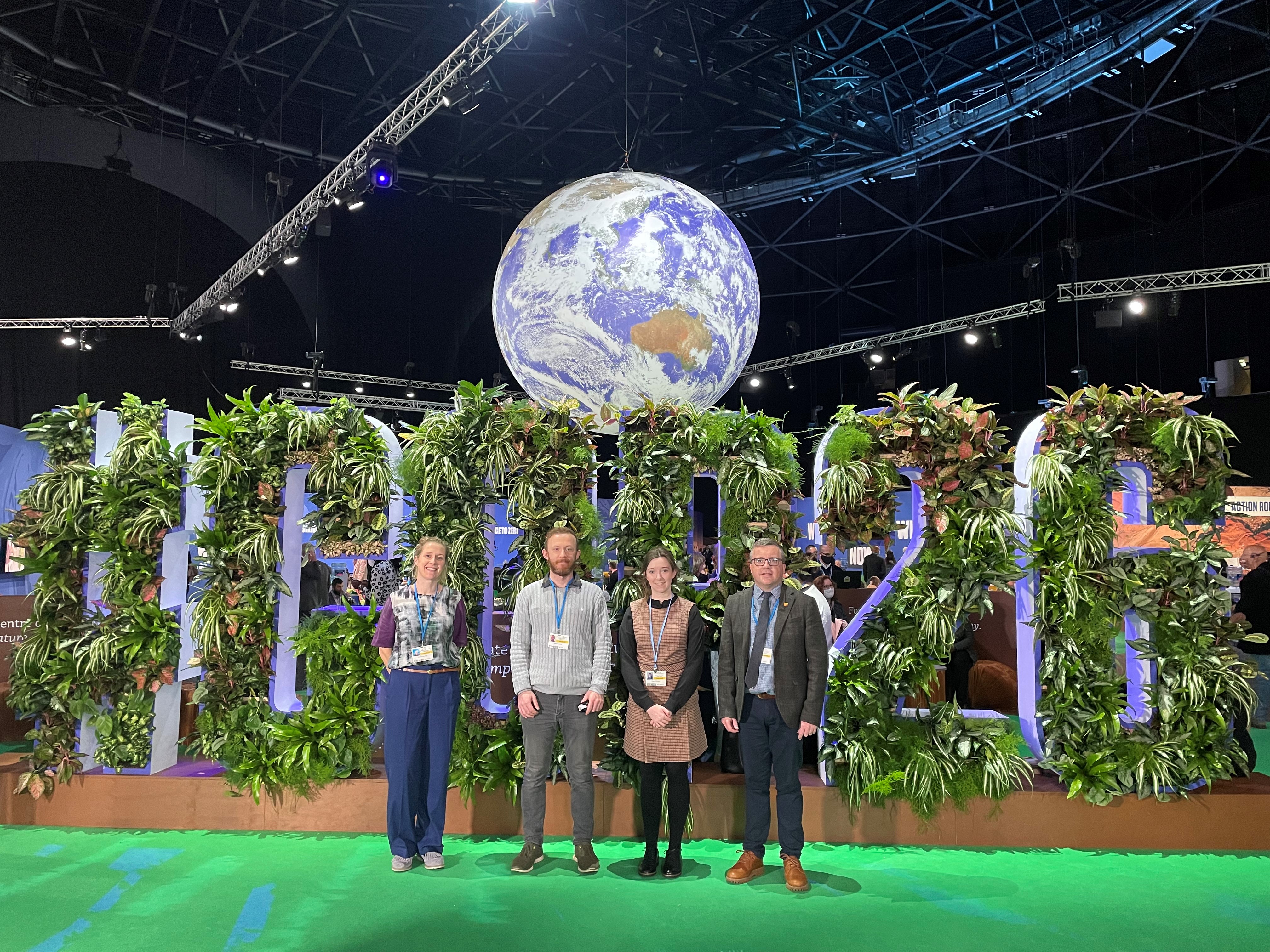 Rhoda Jennings is a PhD candidate at the UCC School of Law. She recently travelled to Glasgow for the COP26 climate conference as part of the UCC observer delegation. Read Rhoda's reflections on this monumentous event below.
During the first two weeks of November, COP26, the meeting of the parties to the UN Framework Convention on Climate Change (UNFCCC), was held in Glasgow. I was lucky enough to be able to attend as part of an observer delegation sent by UCC, led by Prof Brian Ó Gallchóir, Director of MaREI.
There were nine of us in total from a variety of areas:- law, engineering, philosophy and science. Not quite a Tolkien fellowship, but not far off, we travelled via train and boat instead of air. This cut our CO2 emissions in half.
Conference on a grand scale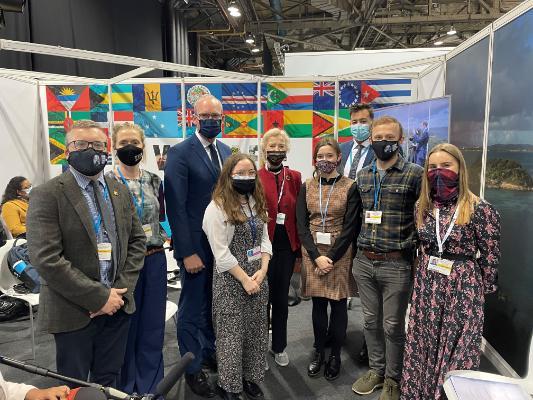 COP is a conference on a grand scale. Over 20,000 delegates from all over the world attend. This conference was criticised as being particularly difficult to access due, not only to its location, but also due to travel and quarantine restrictions introduced in response to the COVID pandemic. Coming from Ireland, the restrictions were minimal, but other delegates had to quarantine and produce evidence of a negative PCR test. All attendees had to show proof of a negative antigen test every day before being admitted to the venue.
It is important for a conference such as this to have representation from all stakeholders and all countries. Climate change is a global issue and emissions from developed nations impact disproportionately on developing countries. We heard first-hand accounts from those directly affected by adverse weather events and rising sea levels. Representatives from Fiji spoke of the 100 communities that are at risk of inundation by rising sea levels and of the communities already permanently relocated to higher ground.
An underlying urgency
The conference was reminiscent of a music festival for climate change. There were stages and hubs, simultaneous meetings and events, pavilions and coffee docks. While outwardly the atmosphere was positive, there was an underlying urgency. Negotiations were held behind closed doors and two large auditoriums held the plenary sessions, where delegates gathered to listen to the latest drafts of the COP decision and to air their interventions, their comments.
The first week of the conference focused on the World Leaders' Summit. Over three days the leaders of the various parties to the UNFCCC had the opportunity to state their commitments and plans to tackle climate change and halt temperature increase.
By the end of week one, there was a feeling of optimism. It looked like we were on track to achieve a 1.8°C reduction in temperature. However, a flurry of number crunching over the weekend by the Climate Action Tracker, an independent scientific analysis, revealed that the commitments were not as positive as thought to be. Some promises had been double counted, already contained in national plans to reduce carbon. By the beginning of week two a more sobering, but more realistic estimate of a 2.4°C temperature increase was given.
The Glasgow Climate Pact
The real negotiations took place during week two. The various ministers of state and climate envoys debated the commitments announced by the world leaders. The outcome was the Glasgow Climate Pact. A final decision reflecting the agreement of all the parties.
The aim of the conference was to 'keep 1.5 alive'. Arguably, it is still alive but on life support and 'its pulse is weak' as Alok Sharma, the President of COP26 stated in his final speech. The 1.5°C target was not reached. The Glasgow Climate Pact 'reaffirms' the commitment to hold the increase in global temperature to well below 2°C and 'resolves' to pursue efforts to limit the increase to 1.5°C.
A dramatic finish to proceedings
There was a dramatic finish to proceedings as China and India tabled a last-minute change to the decision wording. This COP decision was the first to explicitly mention fossil fuels. The first draft of the decision caused great excitement as it contained a simple but significant reference to 'accelerating the phasing out of coal and subsidies for fossil fuels.' The reference evolved to a more holistic provision, referring to accelerating the transition towards low-emission energy systems and as part of this, the 'phase-out of unabated coal power and inefficient fossil fuel subsidiaries.' China and India would only agree to a 'phase down' of coal. A small but significant change. The fear is that such open wording will leave the way for coal to be used indefinitely, but it is a step forward.
While the temperature target wasn't reached, the Glasgow Climate Pact has proved to be a progressive and holistic approach to halting climate change. In addition to the fossil fuel reference it incorporates references to a range of stakeholders, recognising the impact of climate change on indigenous peoples, local communities, children, persons with disabilities and women. It links the twin crises of climate change and biodiversity loss. It urges parties to integrate adaptation into local, national and regional planning.
There are positives to be taken from the decision and with increasing political and public peer pressure, there is a slow but progressive path emerging towards climate action. The focus is now on COP27 which will be held in Egypt and whether it can get closer to the 1.5°C target.
It was an honour to be able to attend COP26 and represent UCC. I was able to attend with thanks to the UCC Head of Law Strategic Fund (2021-22).
Rhoda Jennings' PhD is funded through the EPA-IRC Government of Ireland Postgraduate Scholarship Programme.