News
News
IT Services working towards a Sustainable Future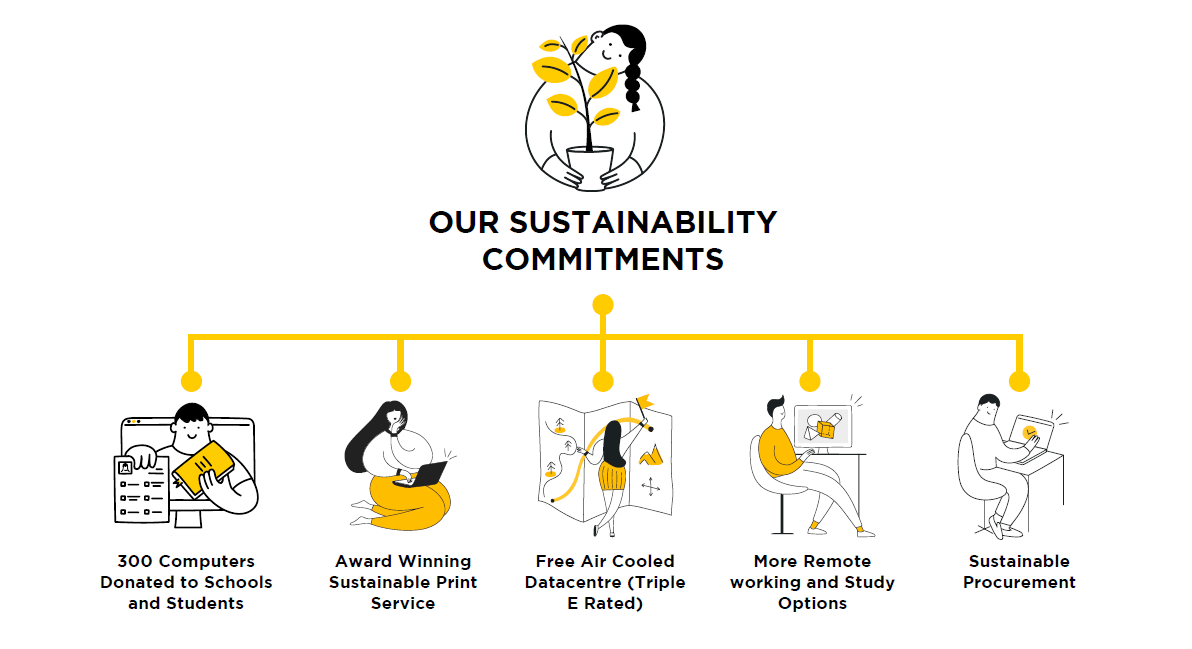 Our Sustainable Future
Remote working tools have demonstrated in the pandemic that there can be an effective alternative to travelling and therefore can help us reduce our carbon footprint. In addition to this overall commitment to helping us live more sustainably, IT Services is also actively making the following contribution to continuing UCC's progress on sustainability.
IT Services have donated over 300 old computers from our student labs to local schools, Camara, UCC students and Cork Penny Dinners over the past 3 years, driving a more circular lifecycle for these devices.
We have re-imagined printing in UCC, moving from hundreds of small printers, each consuming a high volume of toner and paper, to our sustainable print service. This printing solution uses less paper (double sided print), less toner, reconditioned devices and centralised services.
All IT hardware purchasing follow the EPEAT® gold energy 6-star rating and include sustainable packaging. All server/network hardware is recycled by Wisetek for responsible recycling.
Our Datacentre uses free air cooling, and all equipment has a Triple E rating from SEAI (Sustainable Energy Authority of Ireland), making it the most efficient on the market.
Our network equipment now powers our CO2 monitors, room lighting and all network equipment is rated at the highest energy efficiency rating.
Remote Working, our remote working solutions allow staff to work from home, saving huge levels of carbon footprint on travel and car use. Whatever the future of work might look like, we have more sustainable options now available to our staff and our students.
But there is so much more we can do, and we plan to use digital services and data to help the University make its contribution to a more sustainable future for this planet. Gerard Culley discusses these matters and our plans for 2022 on The Green Campus Podcast, which you can listen on Spotify or Apple podcast platforms.
Together with our colleagues in the Library, we are sourcing sustainable means of transport to carry out our work across our campus.