News
News
WiFi survey results see rollout of improved WiFi across the O'Rahilly Building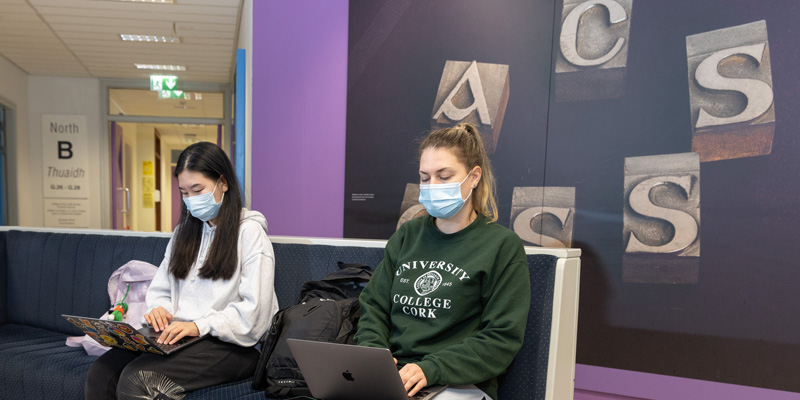 As part of the IT Services Mobility Strategy "Stay Mobile! Stay Flexible!" we have been enabling staff to work from anywhere on any device during the pandemic and we want to continue this flexibility while working on campus. We realise there are issues with the WiFi service in some locations, which prompted us to publish a WiFi survey to all staff with the primary goal of identifying areas on campus with poor WiFi coverage. We used the output of this survey to inform an investment in our WiFi infrastructure for the academic year 2021/22.
The WiFi Survey Findings
The survey was published in July 2021, understanding this was peak leave season coupled with staff working from home, we were satisfied that 310 staff members responded to the survey and gave us some valuable insights: -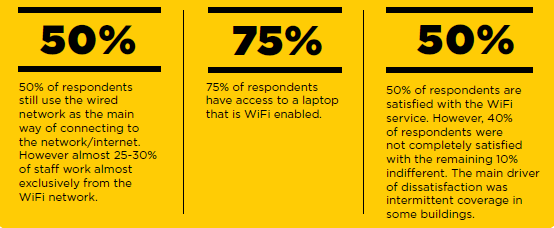 You spoke and we listened.
We are pleased to advise that we have completed a WiFi upgrade in the O'Rahilly Building. We finished the upgrade in October and deployed the latest WiFi technology across all floors. Both staff and students should experience a significant improvement in connectivity.
What is next?
Our focus is to upgrade the Western Gateway Building and the Food Science Building. Dependent on funding, we also plan to upgrade the WiFi in the Kane Building.
Western Gateway Building
We are in the process of planning an on-site survey with the local facilities team to plan out the logistics of the deployment. However, there is the global shortage of computer components that directly impacts lead times and we have been advised that it may be summer 2022 before stock is delivered and we can start on the upgrade.
Food Science Building
We have some supply of equipment from the O'Rahilly Building upgrade that we will use to deploy in some areas of this building. Works here are due to commence in early Q2 2022.
Printing
:
We are also investigating solutions for staff printing over WiFi. This is a key service that currently requires staff to be connected to the wired network. We are confident that a solution can be put in place to facilitate WiFi printing.
Feedback
Over the coming weeks we will promote the completed WiFi rollout and upgrade in the O'Rahilly Building. We would welcome feedback from staff or students on notable improvements or any weak spots. Please email wifi@ucc.ie