Collections
Collections
Portrait, Colin Davidson RUA (1968- ), 'Michael B. Murphy'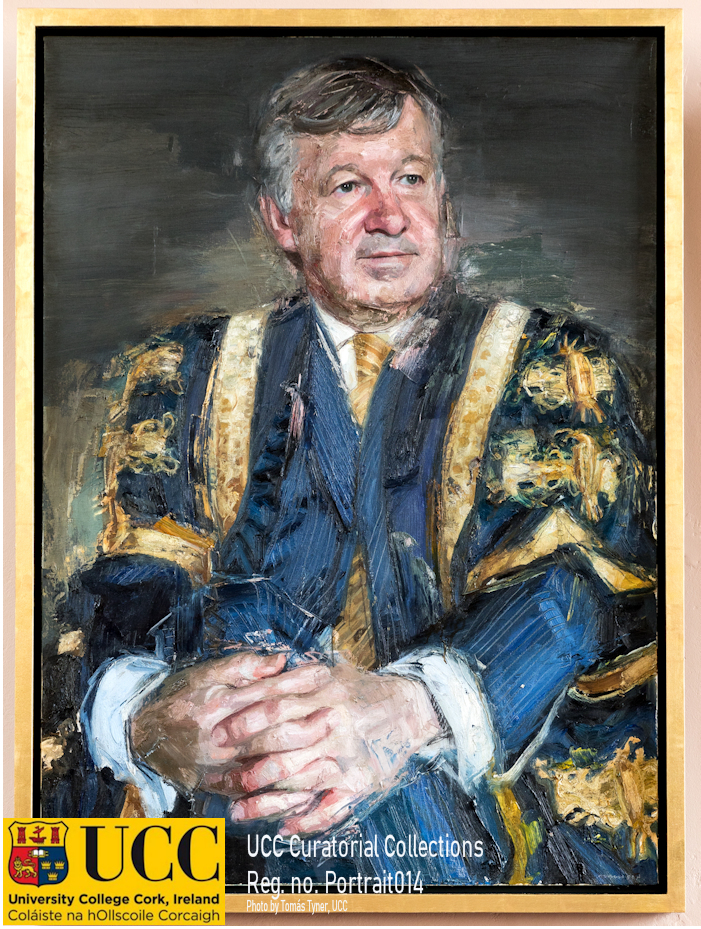 Painting in oil on canvas, framed, of Michael B. Murphy (President, University College, Cork, 2007-2017).
Ref: UCCHS.Portrait014 © University College Cork
Portrait, Michael B. Murphy. Colin Davidson RUA, Northern Irish. Oil on canvas. 2017. 138 x 103 cm (frame). University College Cork.
Dr Murphy (President, 2007-2017) is seated wearing the President's gown, with hands clasped at the knee.
Artist: Colin Davidson RUA (1968- )
Provenance: Unveiled by UCC in 2017.
Read more about Michael B. Murphy here
More about the artist
Colin Davidson was born in Belfast in 1968 and was educated in Methodist College, Belfast from 1980-87. He then furthered his education at the University of Ulster graduating in 1991 in Fine Art and Design. In 2006, Colin became an academician of the Royal Ulster Academy and in 2012 he was elected President of the Royal Ulster Academy of Arts. In 2016 Davidson was conferred with the honorary degree of Doctor of Social Sciences (DSSc) by the Queen's University, Belfast and in 2017 he was elected an honorary member of the Royal Society of Ulster Architects. Davidson has received many awards for his work including gold and silver medals from the RUA, 1994 Communication Arts Award, California, 1994 ICAD Craft Award, Dublin, 1994 Association of Illustrators, London, 1994 Winsor & Newton Gold Award, London, 1994 Creative Review Award, London, 2001 RUA Conor Prize, Belfast.
Since 2010 his focus has been on portraiture. Portraits by Davidson include people from the arts such as Brian Friel, Seamus Heaney, Bronagh Gallagher, Jennifer Johnston, John Montague, Christy Moore, Liam Neeson, Brad Pitt, and public life, for example, President Michael D. Higgins, Queen Elizabeth II, President Bill J. Clinton, John Hume and Martin McGuinness. In December 2015 he was commissioned by Time Magazine to paint the German Chancellor, Angela Merkel, for the cover for its 'Person of the Year' issue.
Davison has exhibited widely in Northern Ireland, Ireland, USA and the UK. His work is held in many public collections worldwide, including Queen's University, Belfast; the Ulster Museum, Belfast; Abbey Theatre, Dublin; the National Gallery of Ireland, Dublin; Office of Public Works, Ireland; the Smithsonian National Portrait Gallery, Washington DC; and the National Portrait Gallery, London; and corporate collections such as Hilton Hotels and Standard Life UK.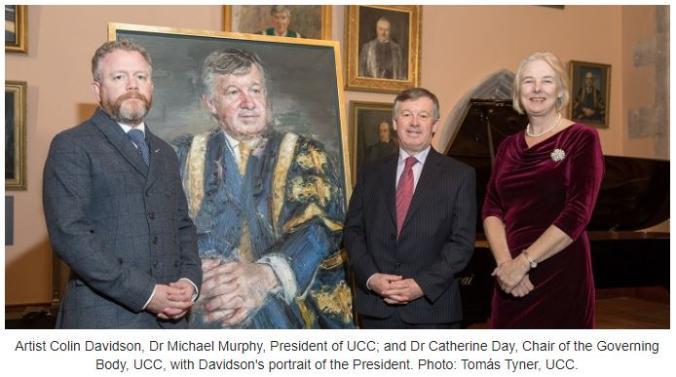 © University College Cork 2021