Collections
Collections
Portrait bust, Séamus Murphy RHA (1907-75), 'Seán Ó Riordáin'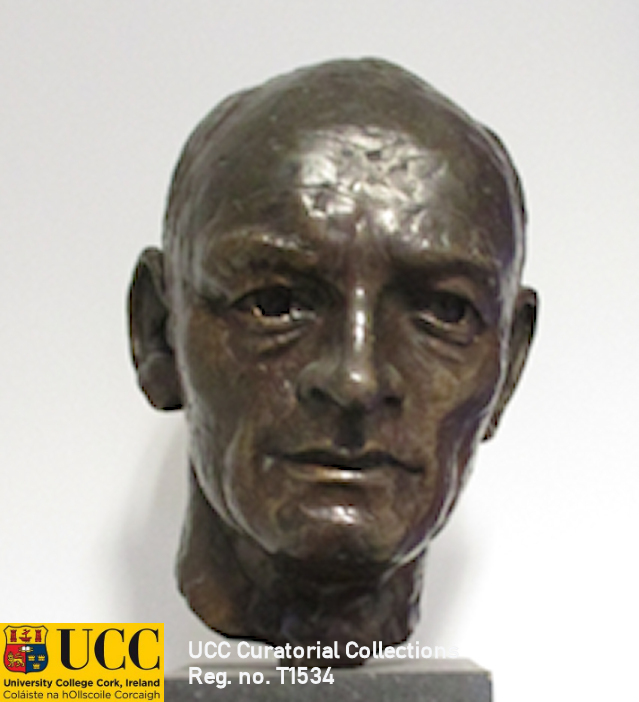 Bronze: 'Seán Ó Riordáin', 1957, signed and dated.
Ref: UCCHS.T1534 © University College Cork
Sculptor: Séamus Murphy RHA (1907-1975), Irish.
Peter Murray, Catalogue No 371 (p252, with photo): "1957, bronze, life-size, signed and dated; note: 4 bronze casts made".
Date: 1957
Seán Ó Riordáin (1916-1977)
Seán Ó Riordáin (3/12/1916-21/02/1977) was born at Ballyvourney, Co. Cork. After the death of his father in 1926, the family moved to Inniscarra in 1932. He worked in the motor taxation office in Cork from 1936 until 30/09/1965. Stricken with pneumonia when he was thirteen, a diagnosis of tuberculosis in 1936 affected his lifelong health. His collections of poetry included: Eireaball Spideoige (1952), Brosna (1964), Línte Liombó (1971) and Tar éis mo Bháis (published posthumously in 1978). He wrote a weekly column in The Irish Times from 1967 until 1975. Ó Ríordáin was awarded an honorary D.Litt. by the National University of Ireland in 1976. Ó Riordáin died at Sarsfield's Court Hospital, Glanmire, and is buried with his father and paternal grandparents in St Gobnait's cemetery, Ballyvourney, Co. Cork. The gravestone was carved by Séamus Murphy RHA.
His papers were purchased by UCD in 1984 and are held in the UCD Special Collections, James Joyce Library, UCD: ÓR 'Seán Ó Riordáin Papers/Aircív Sheáin Uí Ríordáin' (1940-77). His library is in the Boole Library, UCC 'Ó Ríordáin Collection', eighteen items removed from these books are accessible in Special Collections, Boole Library, BL/L/SOR, Seán Ó Riordáin Collection.
Connection with University College Cork
Appointed visiting part-time lecturer in the Department of Irish in 1969 [DIB].
Artist
Séamus Murphy was born on 15 July 1907 at Greenhill, Burnfort, near Mallow, Co. Cork, but moved with his family to Cork city when he was very young. He received his early education in Cork. He then became an apprentice stone-carver at John A. O'Connell's Art Marble Works, Watercourse Road, Blackpool, where he specialised in architectural and foliage carving. He was also attending the Crawford School of Art in Cork city centre at this time. In 1931 he was awarded the Gibson Bequest Scholarship and exhibited at the Royal Hibernian Academy exhibition. In 1932-33, he studied in Paris at the Académie Colarossi and at the Académie de la Grande Chaumière. He returned home in 1934 and opened his studio at the Watercourse Road. Murphy was elected associate of the Royal Hibernian Academy in 1944 and a decade later became a full member. In 1964 he was appointed RHA Professor of Sculpture and became a member of the Arts Council of Ireland in 1973. The National University of Ireland conferred him with an honorary LLD in 1969.
His exhibitions included: Salon de Printemps, Société des Artistes, 1933; a group exhibition at UCC in 1935; World Fair, New York, 1939; solo exhibition in Cork Public Library, 1956; joint exhibition with artist William Harrington, 1967; Adare, Co. Limerick, 1973; exhibited at ROSC '75, Cork; as well as at the Royal Hibernian Academy. A retrospective exhibition was held in 1982 at the Crawford Municipal Gallery of Art, Cork, and at the Douglas Hyde Gallery, TCD. His memoir Stone Mad, first published in 1950, remains in print, and in 2013 was chosen as Cork's Favourite Book.
Séamus Murphy married Maighread Higgins (daughter of sculptor Joseph Higgins (1885-1925) and Katherine Turnbull), with whom he had two daughters and one son. He died in Cork on 2 October 1975 and is buried in Rathcooney cemetery, north of Cork city.
The RTÉ website has several online films that feature Séamus Murphy:
'Sculpting in Cork' (1965)
'Stone Mad' (1969)
'Working with stone' (1973)
See also: 'A home for sculpture in Cork' (1967)
Sources
Minch, Rebecca, 'Murphy, Séamus', Dictionary of Irish Biography
Murray, Peter (ed.), Séamus Murphy 1907-1975 Sculptor (Kinsale: Produced for the Crawford Gallery of Art by Gandon Editions, 2007)
Breathnach, Diarmuid and Máire Ní Mhurchú 'Ó Ríordáin, Seán (1916–1977)', Ainm.ie
Ó Coileáin, Seán, 'Ó Ríordáin, Seán', Dictionary of Irish Biography
RTÉ Writer in Profile: Seán Ó Riordáin, interviewed by Aindreas Ó Gallchoir (1970)
© University College Cork 2020