Collections
Collections
Portrait bust, Joseph Higgins (1885-1925), 'Daniel Corkery'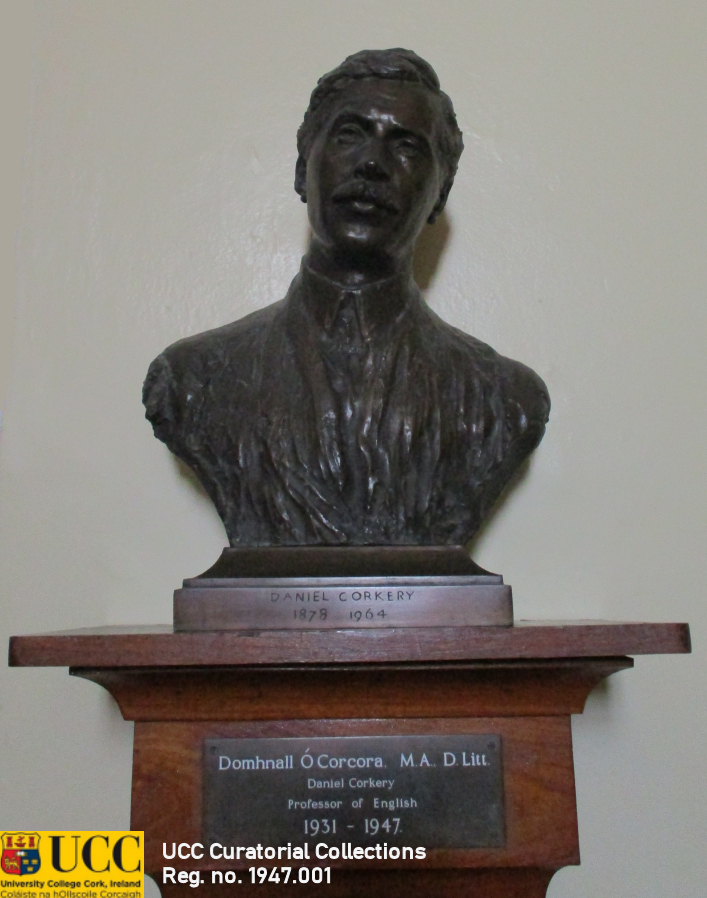 Bronze: 'Daniel Corkery (Domhnall Ó Corcora)', 1909, bust, 60 H, signed by Joseph Higgins.
Ref: UCCHS.1967.001 © University College Cork
Sculptor: Joseph Higgins (1885-1925), Irish. Originally executed as a plaster cast in 1909 by Joseph Higgins, father-in-law of Séamus Murphy RHA, who assisted in the commissioning of the bronze and who was present with his wife at the presentation to UCC on February 14, 1967.
Inscriptions on base: (left) "Joseph Higgins 1909"; (front) "Daniel Corkery 1878-1964".
Date: 1909 (plaster)
Provenance: Gift from members of the academic staff per Dr Riobard P. Breatnach, MA, Lecturer in English (see UCC Record, No. 42 (1967), p.57-59, photo p.56) or former colleagues, students and friends (see University College Cork Report of the President for the session 1966-67, p.10 "Gifts"). Presentation to UCC was held on February 14, 1967, when Dr Riobard Breathnach, acting head of English Department, UCC, spoke about his deceased colleague.
Prof. Daniel Corkery / Domhnall Ó Corcora (1878-1964)
Professor of English, UCC, 1931-47
Daniel Corkery (Domhnall Ó Corcora; 14/02/1878–31/12/1964) was an Irish politician, writer and academic, best known as the author of The Hidden Ireland, a study of the poetry of eighteenth-century Irish-language poets in Munster.
Corkery was born at Gardiner's Hill, Cork city, one of five children of William Corkery and Mary Corkery (née Barron). He was educated at Presentation Brothers South Monastery school before training as a teacher at St Patrick's College, Drumcondra, Dublin. He taught at St Patrick's School on the northside of Cork city, from where he resigned in 1921. Among his students there were the writer Frank O'Connor (Michael O'Donovan) and the sculptor Séamus Murphy. Frank O'Connor in his memoir, An Only Child, records seeing the bust of Corkery at his home on Gardiner's Hill.
After leaving St Patrick's, Corkery taught art for the local technical education committee, before becoming inspector of Irish in 1925 and Professor of English at University College Cork in 1931. Among his students in UCC were Seán Ó Faoláin and Seán Ó Tuama. Corkery was often a controversial figure in academia for his views on Irish literature, which resulted in conflict with many scholars of the Irish language.
Corkery wrote several plays that were produced in Cork and Dublin. His non-fiction included The Hidden Ireland (1924), a highly influential work about the riches of eighteenth-century Irish poetry. He was a member of Seanad Éireann for Fianna Fáil from 1951 to 1954 when he was nominated by the Taoiseach. Corkery never married. He died at Passage West, Co. Cork, on 31 December 1964 and is buried at St Joseph's cemetery, Cork city.
Corkery's papers are held in the Boole Library, University College Cork [descriptive list].
Publications
A Munster Twilight (Dublin: Talbot Press, 1917)
The Threshold of Quiet (Dublin: Talbot Press; London, T. Fisher Unwin, 1917)
The Yellow Bittern, and other plays (Dublin, Talbot Press; London, T. Fisher Unwin, 1920)
The Hounds of Banba (Dublin: Talbot Press; London, T. Fisher Unwin, 1921)
I Bhreasail. A book of lyrics (London: Elkin Mathews, 1921)
The Hidden Ireland (Dublin: M. H. Gill & Son, 1924)
The Stormy Hills (London: Jonathan Cape, 1929)
Synge and Anglo-Irish Literature: A study (Cork: Cork University Press, 1931)
Earth out of Earth (Dublin and Cork, Talbot Press, 1939)
Resurrection (Dublin: Talbot Press, 1942)
What's this about the Gaelic League? (Dublin: Conradh na Gaeilge, 1942)
The Fortunes of the Irish Language (Dublin: C. J. Fallon, 1954)
Sources
'Mr Joseph Higgins', Mapping the Practice and Profession of Sculpture in Britain and Ireland 1851-1951, University of Glasgow History of Art and HATII, online database 2011 (accessed 21/7/2021)
'Joseph Higgins (1885-1925)', Seamus Murphy RHA, 1907-1975, website (accessed 21/7/2021)
Maume, Patrick, Life that is exile: Daniel Corkery and the search for Irish Ireland (Belfast: Institute of Irish Studies, 1993)
Murphy, John A., 'Corkery, Daniel', Dictionary of Irish Biography
© University College Cork