News 2018
News 2018
5th Annual George Guilbault Symposium
The 5th George Guilbault Symposium was hosted at Tyndall National Institute on Wednesday 3rd October. This event brought together industry, academia and analytical chemistry postgraduate students.
The Symposium provides an opportunity for the taught MSc students to present their research projects. It also gives the incoming class (2018/19) the opportunity to meet and interact with the class of 2017/18 and to network with industry. In total there were approximately 90 attendees with 53 MSc students, 23 company representatives from 10 industries and 15 School of Chemistry and Tyndall staff and PhD students in attendance.
There were three industry keynote (Eli Lilly, Agilent and Janssen) and 9 MSc students shortlisted presentations on the day. This year a special Alumni session allowed the students to meet former students who have gone on to different careers in either industry or academia. All of the 2017/18 class presented posters and the Symposium culminated in an industry speed dating event. Special thanks to our sponsors, Royal Society of Chemistry, Janssen, Eli Lilly and TEL Labs and to Tyndall for hosting the event.
2018 George Guilbault Award winner (sponsored by Janssen)
Student: Colm Hennessy
Presentation Title: Optimisation of SEC Analysis of Therapeutic Protein Drug Substance" Colm did his research project at Eli Lilly in Kinsale.
Best Poster Award (sponsored by Eli Lilly)
Student: Noel Browne
Presentation Title: Determination of anti-inflammatory drugs in surface water by reverse phase liquid chromatography with UV detection". Noel did his research project in the School of Chemistry.
Special Peer Award (sponsored by TEL labs)
Student: Rickard Cahalane
Presentation Title: A Robustness study of CHOP ELISA" Rickard did his research project at BioMarin in Ringaskiddy.
Runner-up Poster Awards (sponsored by Eli Lilly)
Student: Emma O'Sullivan
Presentation Title: Capillary electrophoresis for rapid separation and detection of analgesic formulation and drug abuse" Emma did her research project in the School of Chemistry.
Student: Mohammed Abujennah
Presentation Title: Analytical Method validation: A cleanliness test for automotive components" Mohammed did his research project at Glantreo in Cork.
Photo (2018 George Guilbault Award): (L-R) Brenda Canty , Eric Moore and Colm Hennessy.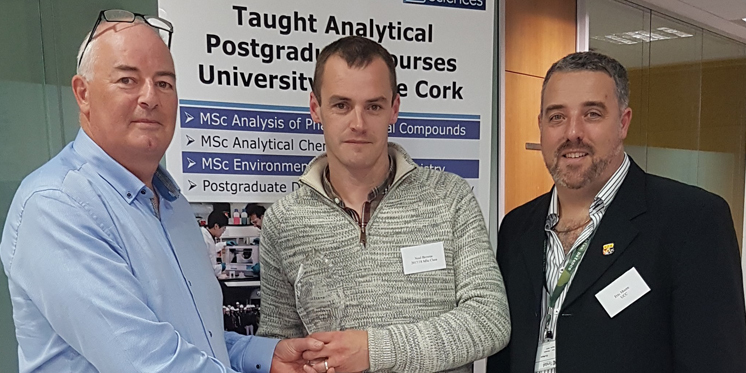 Photo: (Eli Lilly Poster Award) – Kevin O'Sullivan, Noel Browne and Eric Moore.
---
George G. Guilbault was the 1st Chair Professor of Analytical Chemistry at University College Cork, Cork, Ireland. He spent 29 years at the University of New Orleans as Research Professor of Analytical Chemistry. He originated the field of biosensors in 1961 when he described the first immobilized enzyme prototype, a system used by NATO as its Nerve Agent Alarm from 1963 until 1985. In 1969 he described the first potentiometric biosensor for urea assay. He has been involved in all types of biosensor research: new immobilization methods for binding antigens, enzymes, antibodies and other biological compounds; electrochemical, piezoelectric and fiber optic transducers for use in biosensor in the gas phase (the first published report of use of an enzyme in 1984 and of an antibody based sensor in 1987).
Professor Guilbault was author of more than 350 research papers, 56 book chapters, 66 review articles, and 11 books, most in the area of biosensors. Since 1987 he was the editor of Analytical Letters (Marcel Dekker, Inc.), an international journal which currently publishes a very large section on biosensors and remained the chief editor until his unexpected death in Dec 2008. He was the co-ordinator of the M.Sc. program in analytical chemistry at University College Cork. He received the B.S. degree (1958) from Loyola University, Chicago, Illinois, and the M.S. (1959) and Ph.D. (1961) degrees from Princeton University, New Jersey. He won the Potts award in Life Science in 1983 by The Franklin Institute for developing improved techniques, less expensive determination of substances of biological instances.