News 2018
News 2018
UCC Staff Awards 2018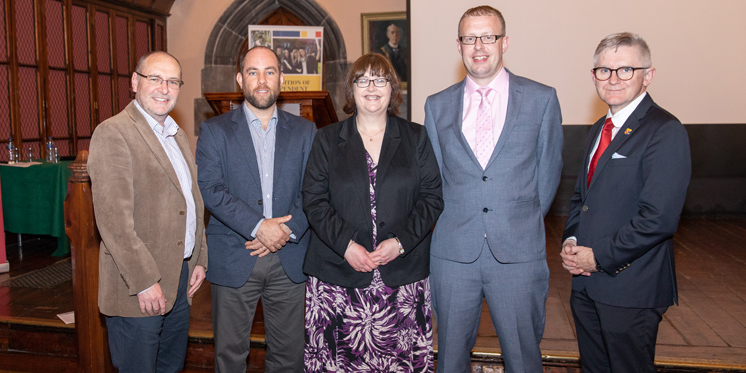 School of Chemistry staff members Prof. Colm O'Dwyer and Dr. Trevor Carey have been honoured in the 2018 University Staff Recognition Awards Programme and the University Research Awards.
Open Researcher of the Year - Prof. Colm O'Dwyer
The Selection Committee determined that Professor Colm O'Dwyer should be honoured with the Open Research of the Year Award. Professor O'Dwyer is an advocate for open access in all forms, including openness in peer review not just as an author, but as editor, reviewer and policy maker. His experience as an associate editor in some of the primary open access publishing houses and open access journals and contributing role in the largest Free Open Access movement by any scientific society so far, is testament to this experience and engagement with the Open Access movement.
Professor O'Dwyer ensures that all his research and that of his group are accessible to anyone, using open access through funding author processing charges to enable gold open access, open access repositories such as the Cork Open Access Repository, and most importantly, by choosing to publish open access even at the expense of the standard impact factor-oriented publishing goal model in some cases. As an open access leader in one of the world's largest scientific societies, Colm has championed the engagement of many researchers from a wide range of scientific disciplines to embrace and use open access publishing.
The Free The Science policy in conjunction with the Board of ECS and the Centre for Open Science, including fundraising infrastructures in support of open science, will give full access to the important research conducted by hundreds of thousands of scientists and technologists worldwide. Colm actively promotes, engages and uses open access as an ECS Board member, editor, author, reviewer, symposium organizer, conference organizer, and on social media. The research output that constitutes all the work done by every member of this lab is now accessible to everyone, free of charge.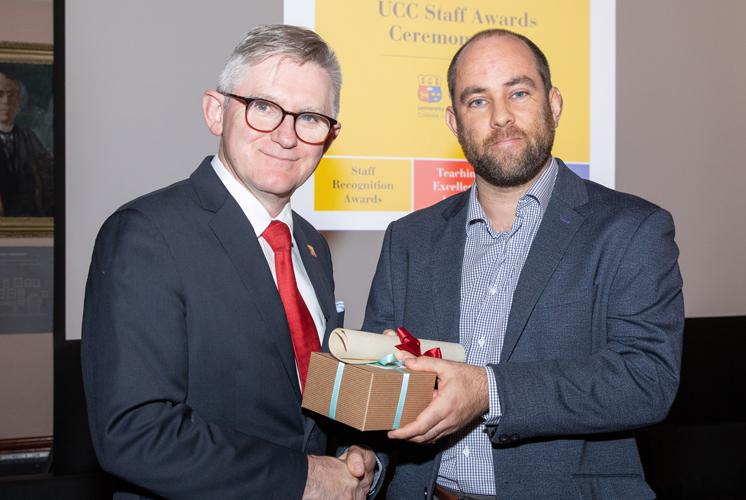 Photo (L-R): Prof. Patrick O'Shea (UCC President) and Prof. Colm O'Dwyer (School of Chemistry).
---------------------------------------------------------------------------------------
Outstanding Colleague Award - Dr Trevor Carey
The Selection Committee determined that Dr Trevor Carey should be honoured with an Outstanding Colleague Award. Trevor is a senior technical officer in the area of Physical Chemistry with the responsibility of running all aspects of undergraduate physical chemistry laboratory classes. He has demonstrated outstanding competence and technical support and excels also in his teaching and outreach activities. He has led the way implementing modern techniques and methods to improve in-house administration processes that have resulted in significant and lasting contributions for colleagues and which have greatly improved the student experience. He routinely carries out work that is considered above and beyond expectations and shows tremendous collegiality.
His contribution in coordinating the Spectroscopy in a Suitcase initiative saw him recognised by a prestigious international award. Trevor is an exceptional, well-respected colleague who cares passionately about what he does and his commitment to colleagues and to students alike is exemplary.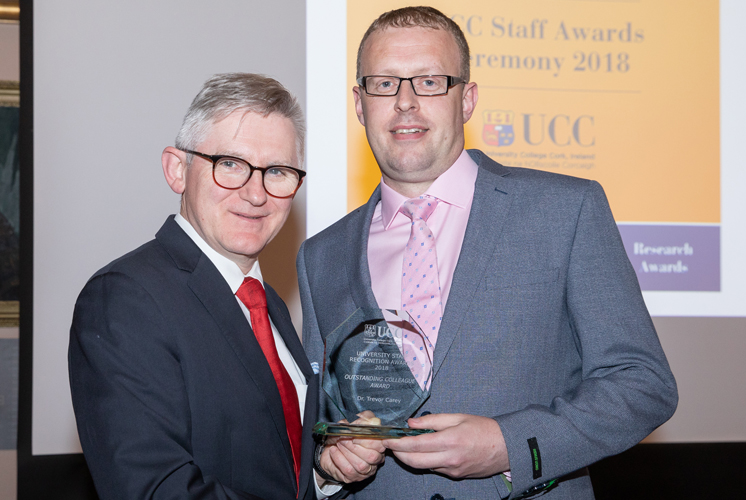 Photo (L-R): Prof. Patrick O'Shea (UCC President) and Dr. Trevor Carey (School of Chemistry).