Ageing
Ageing
About the Ageing Cluster
The Ageing Research Cluster brings together researchers with interests in the social science of ageing, from a wide range of disciplines, including Adult and Continuing Education, Applied Psychology, Applied Social Studies, Architecture, Economics, Medicine, Music, Nursing and Midwifery, Occupational Sciences, Public Health.
Aims and Objectives:
Inform views on ageing in Ireland and policy making
To contribute to positive, active constructions of ageing within Irish society.
To address the multi-factorial influences on the experience of ageing.
To support the translation of research into effective policy and practice.
Excellence in ageing research
To make a significant contribution to ageing research nationally and internationally.
To develop novel methodological approaches.
To foster strategic collaborative links and partnerships with key stakeholders and civil society
To develop research capacity within UCC in ageing research.
Cluster Events
Climate Action Across Generations, 30 April 2021
This online event, hosted by the ISS21 Ageing Research Cluster, explored climate activism and attitudes to environmental issues across different generations. Speakers included Dr Tracey Skillington (Department of Sociology & Criminology, UCC), Frank Dorr and Eileen Lynch (Elders for Earth/SHEP Earth Aware) and Terri Morrisey, Chair and Director of This Is..., an international organisation and leadership development practice. The discussion with Elders for Earth was led by Asha Woodhouse, Environmental Studies student & incoming president of the UCC Students' Union. Further details and a recording of the seminar are available here
Challenges in Current Ageing Research, 10 April 2019
In April 2019 the Ageing Research Cluster organised a half-day workshop to discuss current themes in ageing research in Ireland and foster networking between researchers interested in different aspects of ageing. Keynote speeches were delivered by Seán Moynihan (CEO, ALONE) and Cathal McCrory (The Irish Longitudinal Study on Ageing, TILDA), followed by a series of short presentations from researchers and PhD students from a range of disciplinary backgrounds, including psychology, biochemistry, public health and music. Further details available here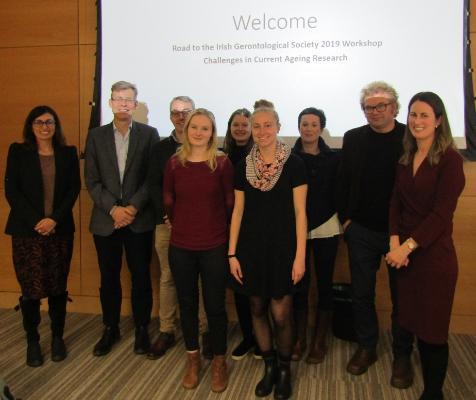 Cluster Members & Speakers at the Challenges in Current Ageing Research Workshop
Research Projects
ISS21 research projects linked to the themes of the Ageing Research Cluster include:
AAPRI: Agency and Ageing in Place in Rural Ireland (2020-2021)
EMNaH: Elderly (non)migrants' Narratives of Home: a Comparative Study of Place-making in Ireland and Slovakia (2020)
Caring for Family Members with Dementia (2018-2019)
Age, Income and Food (2010-2011)
Cluster Membership
For a list of cluster members, please click on the following link: Cluster members
If you are interested in joining the cluster, please contact the cluster leaders, Dr. Annalisa Setti (a.setti@ucc.ie) or Dr. Edel Walsh (e.walsh@ucc.ie).