Castlewhite Bridge
Castlewhite Bridge
Location
History
Castlewhite House was accessed from the Western Road via a bridge that, while the house is gone, still remains today.
Looking under the parapet of the bridge, at both the northern and southern ends, a metal plate is rivetted to the frame.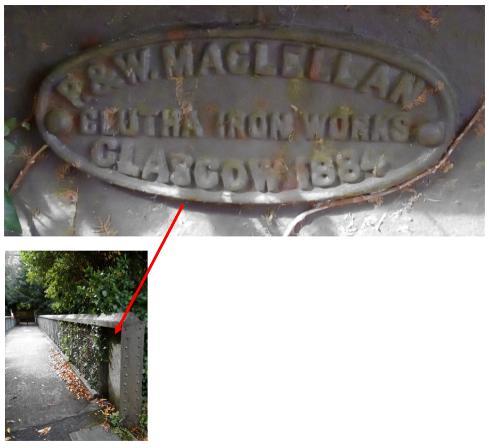 On the plate is the information: "P. & W. MacLellan, Clutha Iron Works, Glasgow, 1884." This tells us that the bridge dates to 1884 and that it was made by the firm of Peter and Walter MacLellan in Glasgow.
Founded in 1811, the firm underwent a major expansion in 1871 with the opening of the Clutha Works in MacLellan Street in Kinning Park, Glasgow, Scotland. Customers for their products, of which many survive today, were found all over the world. The company finally ceased trading in 1979. https://www.gracesguide.co.uk/P._and_W._MacLellan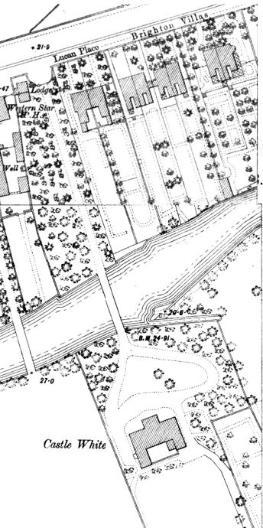 The Ordnance Survey map of 1892 shows Castlewhite House, the bridge, lodge and the gates on the Western Road. The lodge is now a shop but has been extended. The gates, railings and limestone pillars also remain. UCC Castlewhite Apartments were built in 1991 to the rear of the houses at Lucan Place and Brighton Villas. This is not the first time that Cork students stayed at this location: in November 1849, when Queen's College Cork opened first, a Mr John O'Brien of Castle White House advertised that he was licensed to keep a Boarding House for students (Cork Examiner, 7 November 1849).
Castlewhite House was the home of the White family (also of Castle White, Rochfordstown in county Cork), the last of whom was George Martin White who died in 1883. His widow Kate died in 1896 and Lucia Parkes Hawkes inherited the White properties; she died in 1925.