Collections
Collections
Portrait bust, Dennis B. Sheahan (fl. 1870-1900), 'Thomas Moore'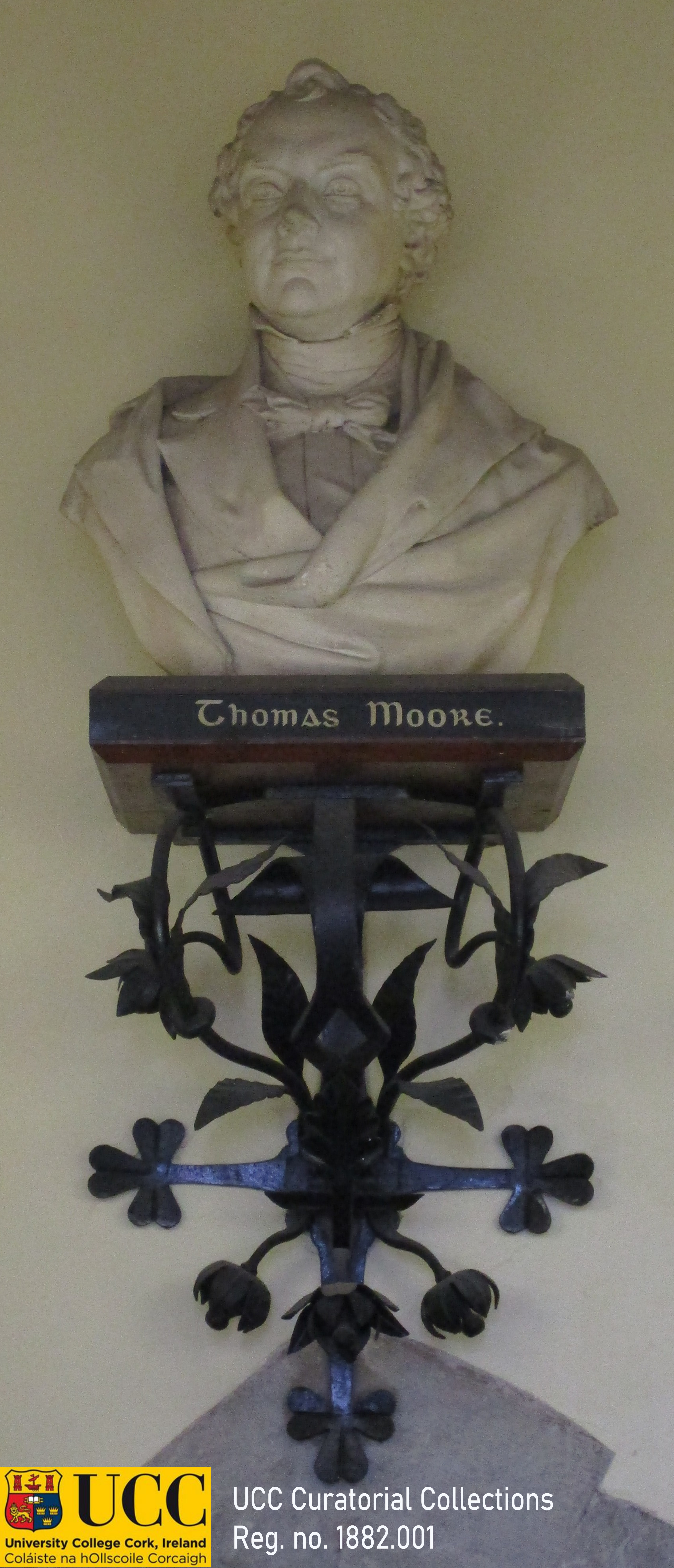 Plaster: 'Thomas Moore', c.1879, bust.
Ref: UCCHS.1882-001 © University College Cork
Sculptor: Dennis B. Sheahan (American, fl. 1870-1900). Original model of the bronze memorial bust of the poet Thomas Moore, by the sculptor, Dennis B. Sheahan, erected in Central Park, New York, in 1879 (unveiled 28/05/1880). Commissioned by the Friendly Sons of St Patrick, New York.
Date: c.1879.
Provenance: Presented by the Hon. George Shea, Chief Justice, Marine Court, New York, to Queen's College, Cork, in 1881-2 (Queen's College, Cork, Report of the President 1881-2, p.30).
Thomas Moore, born Dublin, on 28 May 1779; died Bromham, Wiltshire, UK, on 25 February 1852. Moore had a prolific career as a poet and author of lyric songs, notably the Irish Melodies, published between 1808 and 1834, and National Airs (1818-1827). His Oriental romance, Lalla Rookh (1817), consisting of four narrative poems, was a publishing sensation. He also published a history of Ireland (4 vols., 1835-46), and several biographies, including the Life and Death of Lord Edward Fitzgerald (1831). His songs were immensely popular – including "The Minstrel Boy", "The Last Rose of Summer", "Believe Me If All Those Endearing Young Charms" and "Oft in the Stilly Night" – in Ireland and England. Moore was a strong supporter of Catholic Emancipation, which would have had resonance with Irish emigrants.
The Hon. George Shea, Chief Justice, Marine Court, New York, a native of Cork, moved with his family to the USA when he was a boy (born c.1823). He donated a small collection of books to the Cork Library Society in June 1877 and was conferred with the freedom of the city of Cork in August 1877 during his brief visit (Cork Constitution, 27/08/1877, p.2). Shea features in an article about Irish judges in New York, see 'Special Correspondence of The Pilot. Irish-American Judges. The large and creditable Irish representation in the New York judiciary' (The Pilot, Vol. 46, No 2, 13/01/1883, p.1). He authored a biography, Alexander Hamilton: A Historical Study (1877) and in 1894 he published Recollections of my own times, a fascinating, if brief, account of his life in the United States from 1832 to 1894.
© University College Cork 2020