News Archive 2019
News Archive 2019
UCC Government and Politics Graduate, Dr. Silja Bára Ómarsdóttir, awarded PSAI 2019 Basil Chubb Prize for the Best PhD in Political Science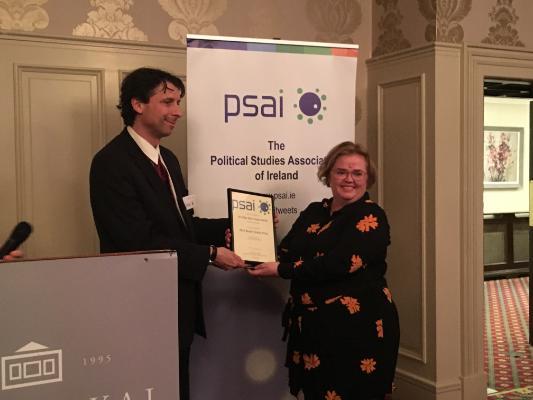 Dr Silja Bára Ómarsdóttir, an associate professor at the Faculty of Political Science at the University of Iceland, and a graduate of the UCC Department of Government and Politics, has received the 2019 Basil Chubb Prize for the Best PhD in Political Science.
The Political Studies Association of Ireland (PSAI) has established an annual award, named after Professor Basil Chubb, to recognise the best PhD thesis (produced in an Irish university) in any field of politics.
Dr Bára Ómarsdóttir was supervised by Dr Andrew Cottey and Dr Niall Duggan and graduated in 2018.
She was awarded for her thesis entitled: Icelandic Security Discourses: A Grounded Theoretical Analysis.